12 Best Shows Like Abbott Elementary That Fans Should Check Out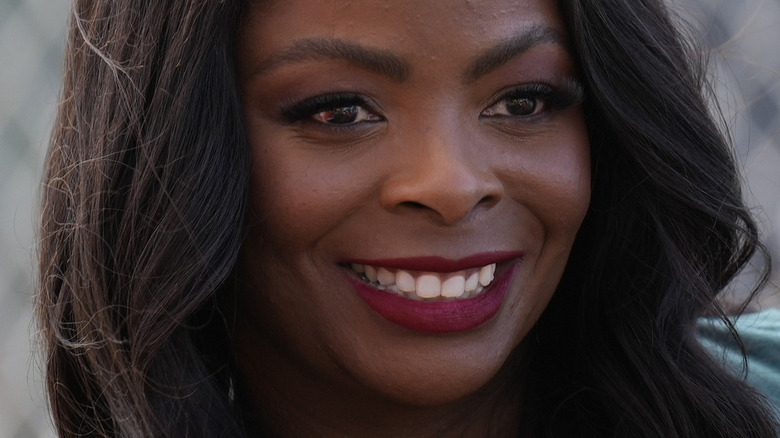 ABC/Scott Everett White
With three Emmy Awards and seven nominations to its name so far, plus a near-perfect score on Rotten Tomatoes, ABC's "Abbott Elementary" is officially on everyone's radar, and it really deserves the accolades and attention. A sitcom about a group of teachers working at an inner-city school in Philadelphia, "Abbott Elementary" is a workplace, mockumentary-style comedy with an excellent ensemble cast and a sharp writers' room. That being said, there's only one season of "Abbott Elementary" available to watch at the time of this writing, and in binge-culture that's about a day's worth of entertainment.
To help you fill the void you feel when you're done watching the first season of "Abbott Elementary," we've compiled a list of other great TV shows that are similar in terms of vibe, subject matter, style, comedy, and more. When you're done binging the brilliant freshman season of "Abbott Elementary," you can move right on to another one of these impeccable, laugh-out-loud shows.
Reservation Dogs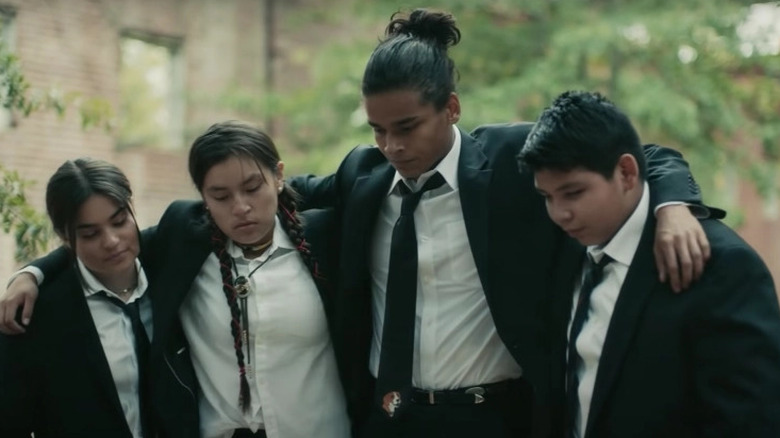 Hulu
"Reservation Dogs" is a comedy-drama that follows four indigenous teens as they cope with the death of their friend Daniel and deal with the complexities of life on a reservation. It features all indigenous writers, directors, and a mostly indigenous cast, and it has a rare and impressive 99% approval rating on Rotten Tomatoes. While it doesn't have the same comedy-to-drama ratio as "Abbott Elementary" (which is definitely more pure comedy), "Reservation Dogs" is similar in its desire to tell new stories and focus on voices that haven't had much time in the spotlight up until now.
The show's four main characters, Elora, Bear, Cheese, and Willie Jack, are three-dimensional and charmingly endearing despite their flaws, much like the characters in "Abbott Elementary." Like the title of the show, the first season of "Reservation Dogs" has some Quentin Tarantino vibes, but things get a lot more heartfelt in the sophomore outing. "Low-key humanity dominates Season 2," Entertainment Weekly said in its review. "Here, in short, is a show everyone should see and most will love."
Parks and Recreation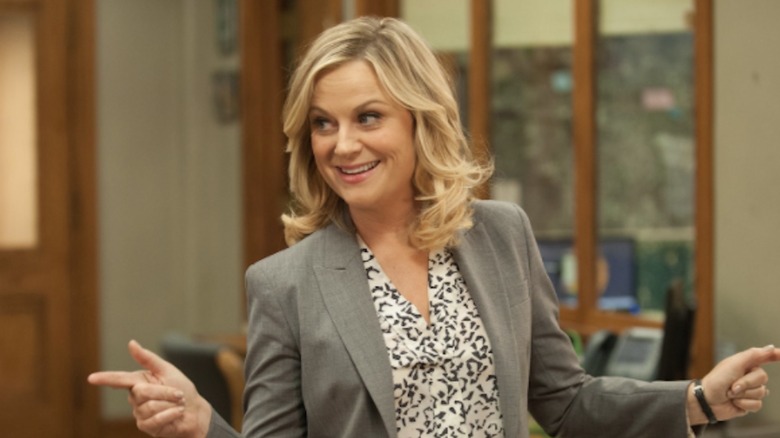 NBC
While it's difficult to imagine that someone might not already be familiar with the comedic TV juggernaut "Parks and Recreation," it would be impossible to write about shows similar to "Abbott Elementary" without mentioning one of the best workplace mockumentary sitcoms ever created. Initially, "Parks and Rec" had a difficult time distinguishing itself from "The Office" (the show that really started the mockumentary trend in American television), but by the end of Season 2 it had found its own identity and brand of comedy, featuring a wickedly talented ensemble led by "Saturday Night Live" alum Amy Poehler.
"Parks and Rec" uses talking heads like "The Office," but it boasts a much more positive overall vibe and has more relatable characters. "Abbott Elementary" found its groove faster than "Parks and Rec" ever did, mirroring the idea of an endearing group of co-workers but allowing a little more room for its characters to be morally ambiguous in very real (and very funny) ways. Plus, its issues are more rooted in the real world. Additionally, Quinta Brunson's idealistic and awkwardly charming Janine is very reminiscent of Poehler's similarly positive Leslie Knope, and both characters make for excellent leads. Previously seen on both Netflix and Hulu, "Parks and Rec" is now streaming on Peacock.
Superstore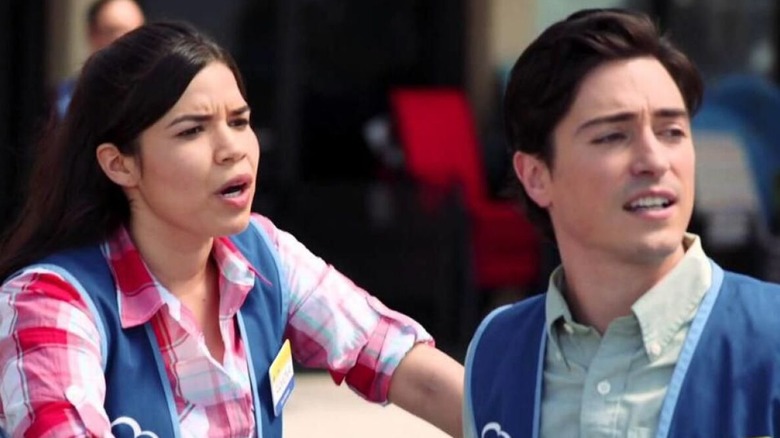 NBC
"Superstore" is a hidden gem of a network sitcom that ran for six seasons on NBC. Centering on the lives of a group of employees at a discount department store called Cloud Nine (think Walmart), "Superstore" found great comedic success in an unlikely premise. It doesn't necessarily seem like discount store employees would have the most entertaining stories to tell, but part of what makes "Superstore" so great is that it doesn't shy away from larger issues faced by lower income workers.
Throughout its six seasons, "Superstore" spends a lot of time addressing the economic injustices faced by its employees — issues surrounding unionizing, the gap between salary versus hourly workers, maternity leave, and more. In the same way that "Abbott Elementary" has been able to find joy without sacrificing cold hard truth, so too did "Superstore." It was especially interesting to see the store employees deal with life as essential workers during the height of COVID-19. That all being said, it is truly a hilarious show, with standout performances from America Ferrera (Amy), Ben Feldman (Jonah), Lauren Ash (Dina), Nichole Sakura (Cheyenne), and Nico Santos (Mateo). Here's how you can watch all of "Superstore" right now.
Loot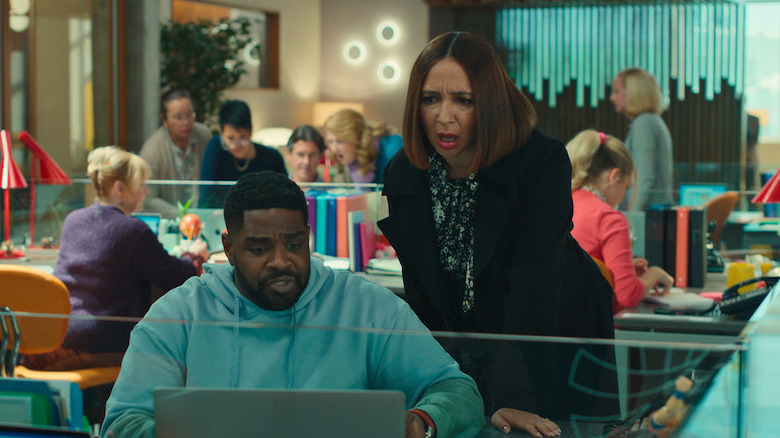 Apple TV+
Apple TV+ has made huge strides in programming over the past few years, and one of its most recent successes is the sitcom "Loot." It follows Molly Novak (Maya Rudolph), a recently divorced woman who finds herself in possession of billions of dollars thanks to the fact that she married her successful software CEO husband well before he got wealthy enough to bother with a prenup agreement. At first this doesn't really sound like something that would relate to the down-to-Earth premise of "Abbott Elementary," but Molly finds that something in her life is lacking, and so she decides to get more directly involved with her charity foundation and its staff.
Working at a nonprofit is a thankless job, much like teaching at an underfunded public school, and even though "Loot" and "Abbott Elementary" do differ quite a bit in premise, they're both, at their core, shows about a group of people who want to have a positive impact on their community. Comedic highlights include Nicholas (Joel Kim Booster) and Howard's (Ron Funches) fantastic, odd-couple friendship and the adorable will-they-or-won't-they romance brewing between Molly and Arthur (Nat Faxon).
Brooklyn Nine-Nine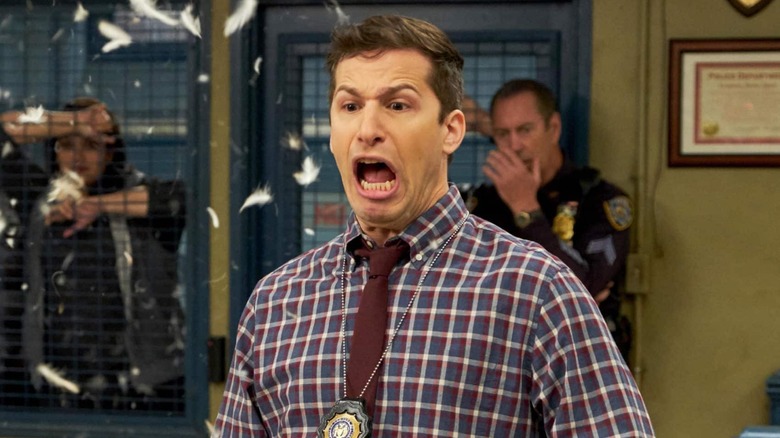 NBC
Above all else, "Brooklyn Nine-Nine" is a happy show. It may be a sitcom about a New York City police precinct, but more than anything it's just another workplace comedy, one that bears little resemblance to serious procedurals like "CSI" or "Law & Order." It is much more similar to sitcoms like "Parks and Rec," "Superstore," and, of course, "Abbott Elementary." From the dry-as-a-desert Captain Holt (Andre Braugher) to the lovable, childish, yet surprisingly competent Detective Jake Peralta (Andy Samberg), "Brooklyn Nine-Nine" has brought at least half a dozen iconic sitcom characters into the zeitgeist.
Much like "Abbott Elementary," "Brooklyn Nine-Nine" boasts an impressive stream of self-contained gags, with numerous iconic cold opens. But there's also a sense of history for its characters, with plenty of callbacks and running jokes. In the mid to later seasons, "Brooklyn Nine-Nine" didn't shy away from addressing the many serious issues surrounding policing in America, and it is most likely this willingness to take accountability that paved the way for shows like "Abbott" to jump onto the scene with more socio-political awareness from the get-go.
Schitt's Creek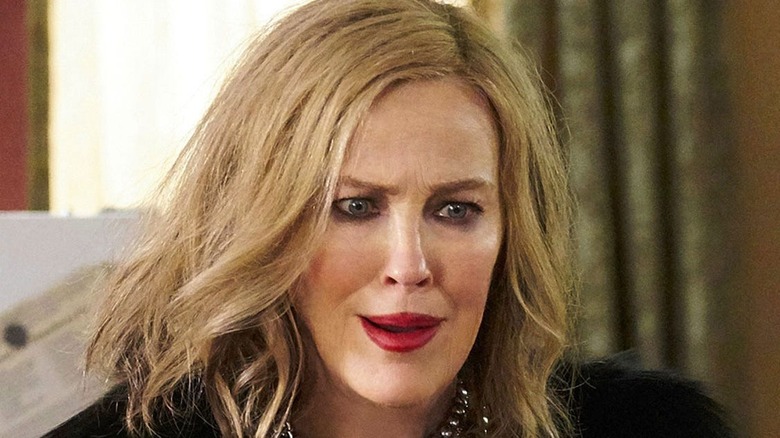 CBS
The hilarious sitcom "Schitt's Creek" snuck up on a lot of people, finding a good amount of attention and success much later into its run than many other shows thanks to streaming and binge culture. The show follows the Rose family — led by Catherine O'Hara's Moira and Eugene Levy's Johnny — as they deal with the loss of their fortune and property after being scammed by their financial advisor. They find themselves forced to move to the small Canadian town of Schitt's Creek, where they end up learning more about themselves and growing into much more substantial and capable people.
Not too much about "Schitt's Creek" is tangibly similar to "Abbott Elementary," but the vibes are the same. There's a joyful honesty to both shows, and fans of "Abbott Elementary" will no doubt find a lot to love here. "Schitt's Creek" reckons with finding a balance between society's prioritization of individualism and the everyday reality that people owe something to the greater communities of which they are a part, and preserving community is a hugely important theme in "Abbott Elementary" as well. The sixth and final season of "Schitt's Creek" scored a perfect 100% rating on Rotten Tomatoes, praised for having "just the right blend of wisdom and wisecracks" in the website's critical consensus.
Sex Education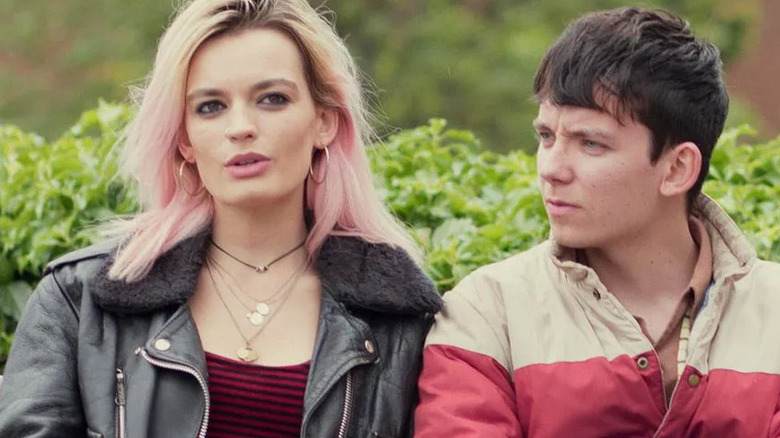 Netflix
Part of what makes "Abbott Elementary" so fun is its emphasis on youth culture and the interaction between young people and the adults with whom they spend their time. Where "Abbott" centers more on the perspective of those adults, the hit British comedy "Sex Education" follows the students of Moordale Secondary School. Otis Milburn (Asa Butterfield), whose mother (the always fantastic Gillian Anderson) is a renowned sex therapist, begins unofficially counseling his peers on their sex lives for money thanks to the entrepreneurial spirit of fellow student – and fast crush – Maeve Wiley (Emma Mackey).
"Sex Education" is another show that leans more towards drama than "Abbott Elementary" does, but it's still wickedly funny. However, "Sex Education" is definitely a different kind of funny (for one thing, it's on Netflix, which means it doesn't have the same content restrictions as a network sitcom like "Abbott"). Despite what parents and teachers may wish, kids and teens today are living more globally than ever before, with a totally new way of seeing the world thanks to their access to the internet and tech savviness. This fact of life plays into both shows, and fans of one will no doubt enjoy the other.
Atlanta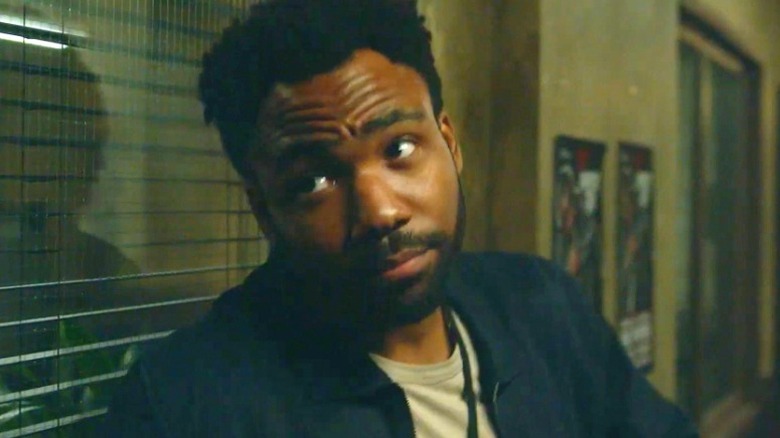 FX
"Atlanta" is not about teachers at an underfunded public school, but it is about a predominantly Black community in a big city. Donald Glover stars as Earn, a smart guy who takes on the management of his up-and-coming rapper cousin Alfred (aka Paper Boi) in order to escape the low-income cycle he finds himself in. "Atlanta" is far less dedicated to TV formula than "Abbott Elementary" thanks to its FX origins and Glover's particularly artistic and experimental approach to comedy, but at its core it's a show about Black people and the spectrum of stories — ranging from funny to thoughtful to sad — that aren't given the spotlight in television and film anywhere near often enough.
Earn's on-again-off-again love interest — and the mother of their daughter — Vanessa (Zazie Beetz) actually works as an educator in Atlanta, and in Season 1 we see her lose her job thanks to a half-baked, barely functioning drug testing policy in place for teachers at her school. While "Abbott Elementary" takes a more optimistic outlook on the education system than that episode of "Atlanta," it still depicts a similar level of institutional incompetence. With a score of 98% on Rotten Tomatoes at the time of this writing, "Atlanta" is widely seen as a seminal and highly important series. "This peerless show's impact will live forever," The Guardian said in its review of the third season.
Mythic Quest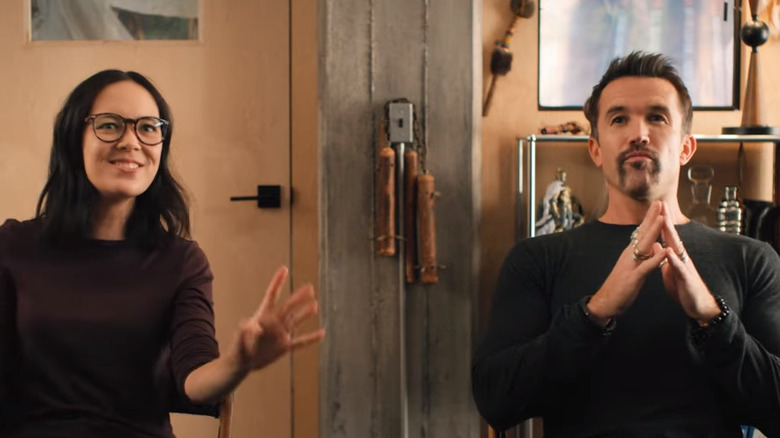 Apple TV+
"Mythic Quest" is another great comedy from Apple TV+ that — despite glowing reviews from critics — not enough people are talking about. The show follows the staff responsible for the production and upkeep of an online MMORPG video game called Mythic Quest. There are a lot of great jokes for folks who either work in the gaming industry or follow it very closely, but at its heart, "Mythic Quest" is another workplace comedy seeking to explore the dynamics between people who wouldn't otherwise interact if it weren't for the fact that they work together.
The characters don't have the same endearing quality as those on "Abbott Elementary;" in fact, they tend to lean more toward "Veep" characters in terms of selfishness and ruthlessness. Yet, there are still plenty of people and relationships worth rooting for here. "Mythic Quest" isn't a mockumentary-style show and is pretty different from most network sitcoms, but at its heart, it seeks to find the levity and fun in every plot line and character arc it explores. That same sense of levity and intra-cast chemistry provides the spark in "Abbott Elementary." As YouTuber and Rotten Tomatoes critic Jessie Gender put it in their review, "'Mythic Quest' is workplace comedy for the millennial generation, and it understands its audience well."
Ted Lasso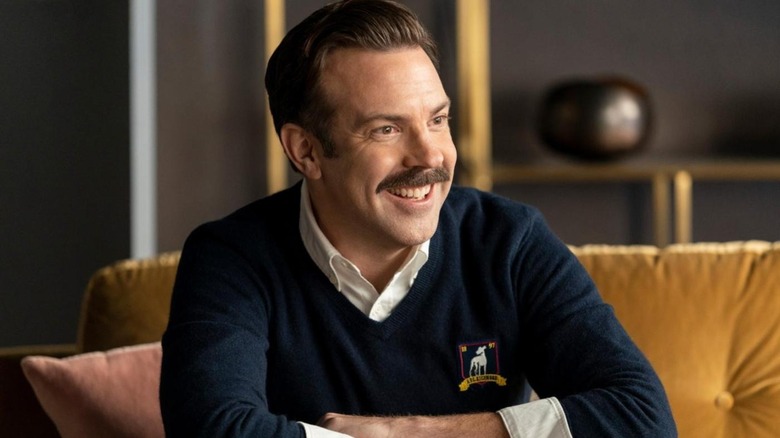 Apple TV+
We've talked a fair bit in this article about the positive vibes of "Abbott Elementary," and it would be impossible to make a list of similar shows without including what is arguably the most positive show on TV. "Ted Lasso" has won best comedy at the Emmys two years in a row alongside many acting and writing nominations and wins, and it's not difficult to see why the show is so popular with audiences and critics. It's about a man who seeks to prioritize compassion despite working in a field (namely, professional sports) that is often drowning in toxic masculinity.
Ted is an American who gets hired to coach an English soccer team. Like "Abbott Elementary" lead Janine, he is an optimist and idealist despite having gone through some difficult things in his life, and it's refreshing to watch both protagonists on their respective shows. There are a lot of sitcoms that turn the idealist into the most frequent butt of the joke, and even more that steadily reward its more cynical characters, but that's not the M.O. for "Abbott Elementary" and "Ted Lasso."
This is not to say that every character on a TV show should display an almost blinding optimism — after all, what would Ted be without Roy and Beard as his hardline foils? But there's something hopeful about shows like "Ted Lasso" and "Abbott Elementary," which don't hide from the truth but still find a way to serve a greater theme of optimism and goodness.
Welcome to Flatch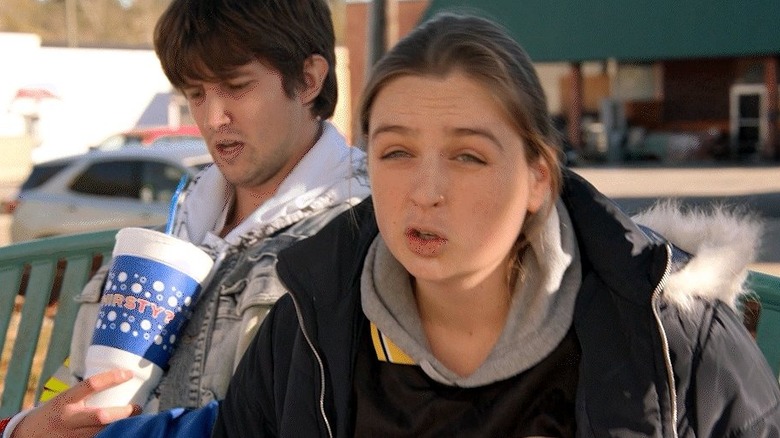 Fox
"Welcome to Flatch" is one of the newest shows on this list, having premiered on Fox in March of 2022. Like "Abbott Elementary," it's a mockumentary-style sitcom. It follows the lives of several eccentric, young characters in the town of Flatch, Ohio, and has already caught quite a bit of buzz thanks to the strength of its writing and the distinctiveness of its characters, led by cousins Kelly and Shrub Mallet (Chelsea Holmes and Sam Straley).
It's destined to follow closely behind "Abbott Elementary" down the endearing, mockumentary path first travelled by network hits like "Parks and Rec" and "The Office," and it will be exciting to see what both shows end up accomplishing in their sophomore seasons. "It's a pretty fun place to relax after a hard day at whatever actual world you live in, one entertaining half-hour at a time," The Hollywood Reporter said in its review. With a rich supporting cast that includes comedy vets Seann William Scott ("American Pie") and Aya Cash ("The Boys"), "Welcome to Flatch" seems to be striking a great balance between familiar comedic stylings and newer methods of storytelling. It's a remake of the British show "This Country," which is also worth your time.
Reboot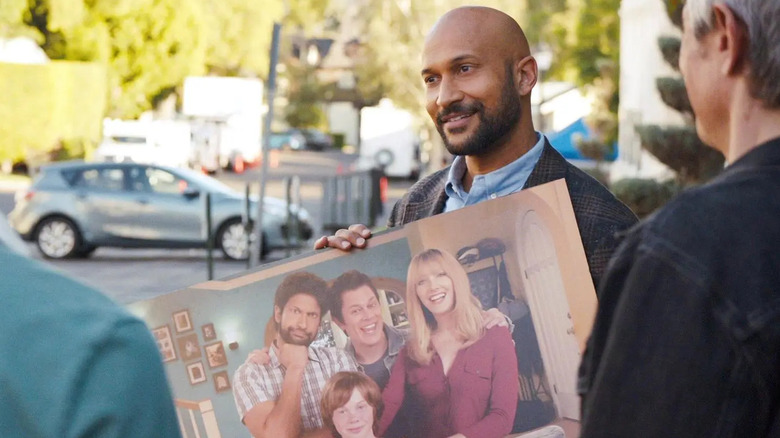 Hulu
If you're the type of person who binges TV at a fast clip, you might have already seen or considered everything on this list, so let us take the liberty of suggesting another newer show. The Hulu series "Reboot" debuted in September 2022 and follows the stars and writers behind a streaming service revival of an old network sitcom. The show stars comedians like Keegan Michael Key and Rachel Bloom, both of whom have a whimsical sense of humor that's very much in line with that of "Abbott Elementary" stars Quinta Brunson and Janelle James.
"Reboot" features an ensemble cast including Key, Bloom, Paul Reiser, Johnny Knoxville, Judy Greer, and many others, and it takes a fairly meta look at what it means to revive intellectual property for an entirely new era and format. It has been described as "crowd-pleasing comfort food" by The Hollywood Reporter. For more information on "Reboot" — as well as even more suggestions for great TV to watch and enjoy — here are some other shows like "Reboot" that fans should check out.