12 Best Shows Like Reboot That Fans Should Check Out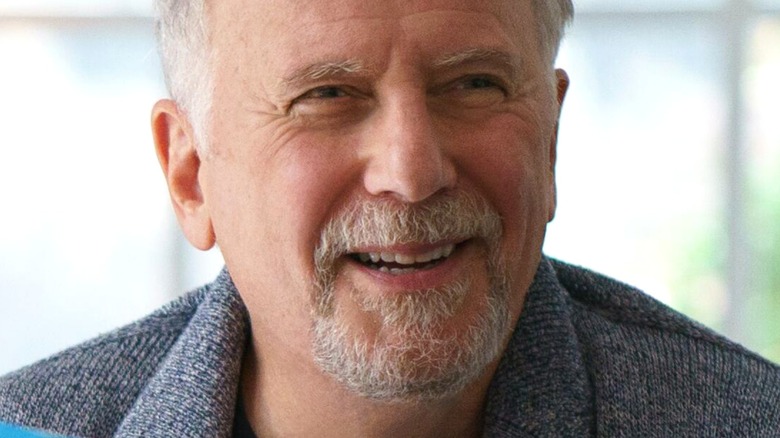 Michael Desmond/Hulu
There are some sitcom records that will never be broken. Certainly, nobody expects a surprise success like "Modern Family" to arrive twice in a lifetime. Hulu's high-powered comedy series "Reboot" is about reuniting the cast of the 2000s sitcom hit "Step Right Up," who must face up to their messy issues and adjust to a swiftly changing world. It's produced and created by Steven Levitan — who is, of course, best known for his work on the long-running smash "Modern Family."
Rachel Bloom stars as Hannah, the sincere young writer who pitches the reboot. Paul Reiser plays Gordon, the hacky narcissist creator of the original show. The reuniting cast consists of Keegan-Michael Key as Yale-educated Reed Sterling, Johnny Knoxville as Clay Barber, a filthy comedian who's only had one acting job, and Calum Worthy plays Zack, a former child star now trying to make a hip-hop career happen. Judy Greer stars as Bree Marie Larson, the female lead who was a pageant girl who grew up wanting to be an actress and a princess. She left the U.S. to marry royalty after the show wrapped, so both dreams came true. Greer replaced Leslie Bibb – Deadline reports that this change was made because the writers took the role in a different direction. 
Segments of the show-within-the-show, "Step Right Up," will also be produced. However, if you just can't get enough of "Rebbot," here are 12 of the best shows to watch while you wait for a new season.
Crazy Ex-Girlfriend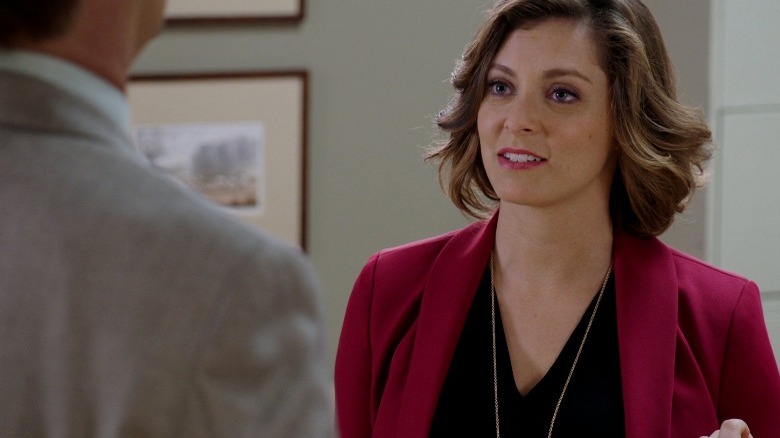 The CW
Rachel Bloom's limitless imagination gave us four seasons of the underrated rom-com "Crazy Ex-Girlfriend," which was known for its forward-thinking and incisive humor. The show took major strides forward in representation,  both politically and socially, deconstructing old antifeminist tropes and giving us an up-close look at mental illness — all while delivering a heartfelt story of romance, tragedy, and self-sabotage.
On "Reboot," Bloom plays a head writer running a room that brings that same inclusive and intelligent spirit: A post-Liz Lemon millennial hipster, she and the original show's creator have a lot to learn from each other.  Where lesser comedies might privilege one viewpoint over the other, the show does a great job of looking at all perspectives with a critical and hilarious eye. This intimate style will be recognizable to all Bloom fans, as it's the hallmark of the comedic voice she brings to everything she is involved in.
Behind the scenes, the "Reboot" staff includes writers from "Modern Family," "Party Down," "Workaholics," "New Girl," "Pen15," and "The Good Place." They know the business, which means we're assured a much more accurate picture of the action behind the scenes.
Episodes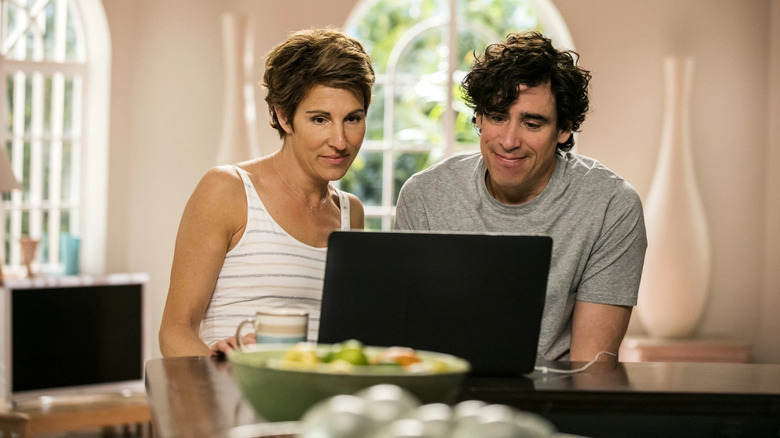 Showtime
"Episodes," which ran from 2011 to 2017 on Showtime, is another behind-the-scenes show about writers. In this case, the series revolves around two Brits whose smash hit comedy "Lyman's Boys" is being remade into a crass, multicamera American version ("Pucks!") by executives who care nothing about art. They move to Los Angeles and find their fates mingled with a fictionalized version of "Friends" star Matt LeBlanc, making this a fish-out-of-water cultural comedy as much as it is about the television gets made.
While the subject matter has plenty of overlap with "Reboot," "Episodes" is still worth checking out for its cerebral take on marriage, sexuality, responsibility, and art. Steve Levitan has said that creating "Reboot" gives him the opportunity to write about his work life in the same way that "Modern Family" explored his home life (via Entertainment Weekly), and here we have a little show that's trying to do both!
The performances of Stephen Mangan and always charming Tamsin Greig as the married British couple stand out, as does Kathleen Rose Perkins in her star-making turn as Carol Rance, the network head of programming. Also worth noting is that Matt LeBlanc won a Golden Globe for his performance as a satirical version of himself and was nominated for four Emmys!
Mythic Quest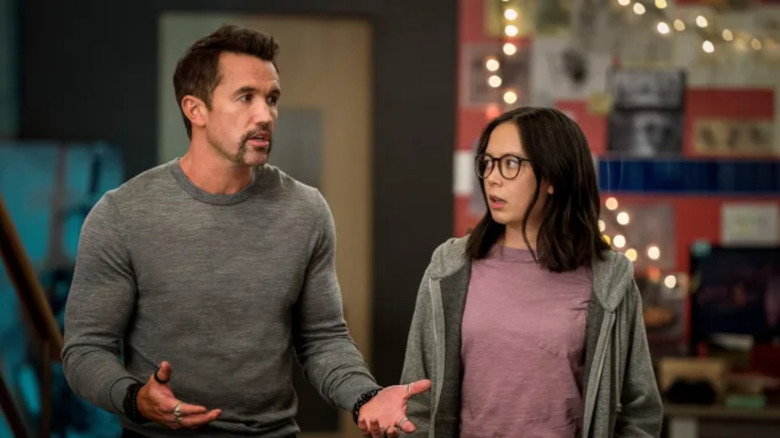 Apple TV+
"Mythic Quest" is a hilarious, often heartfelt look behind the scenes at a videogame company. What sticks out about "Mythic Quest" is its heart, which is funny since the show comes from one of the creators of the famously cynical series "It's Always Sunny in Philadelphia," Rob McElhenney. Here, McElhenney plays Ian Grimm, the studio's creative director — a portrait in equal parts narcissism and charm. The show is at its best when unveiling inner and interpersonal struggles, as everybody tries to contribute in the best way they can to create something truly special.
McElhenney is joined by a fantastic crew. Danny Pudi plays the head of monetization, who is always trying to increase revenue. David Hornsby — Rickety Cricket on "It's Always Sunny in Philedelphia" — appears as the executive producer, David Brittlesbee. Ashly Burch and Imani Hakim are notable as younger-generation game testers. Jessie Ennis has one of the strangest roles as Jo, an assistant with shifting loyalties. Special notice is due to head writer C.W. Longbottom (played by F. Murray Abraham at his drunken best), whose relative age and politically incorrect sensibilities mirror a lot of the behind-the-camera conflict in "Reboot."
Still, the standout is lead engineer Poppy Li, portrayed by Charlotte Nicdao with a brave mix of competence, creativity, and awkwardness — generally, Poppy is a hot mess who is good at her job. If you enjoy how "Reboot" feels like you're really getting a peek behind the curtain, you'll love "Mythic Quest" for its real-feeling portrayal of the AAA gaming world.
Kevin Can F*** Himself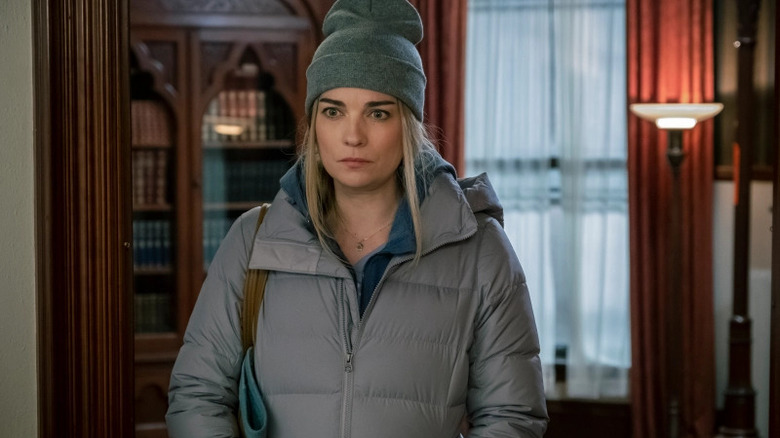 AMC
As Rachel Bloom's Hannah says in the show's opening storyline, the difference between sitcoms of old and comedies of today is that people don't always do the right thing — or even know what the right thing is. Nothing exemplifies this disjunction better than "Kevin Can F*** Himself," a genre-bending and inventive show that presents both an idealized fictional reality in the "Kevin Can Wait" genre as well as a much bleaker and more confusing world outside the fiction. 
Allison McRoberts, played by "Schitt's Creek" megastar Annie Murphy, is portrayed at first as the classic "hot" wife to an insensitive and incurious lout, whose every punchline seems to land squarely on her back. When she's with her husband, there is a multi-camera setup and laugh track, telling us the jokes are funny. However, when she steps out of the fantasy, the show presents a single-camera world that evokes less of a dark comedy feel and something more like an AMC murder drama.
Notable in their roles is Murphy as a woman desperate to advance from supporting player to the main character in her life and Mary Hollis Inboden as her mysterious and hostile but often insightful neighbor Patty O'Connor.
Party Down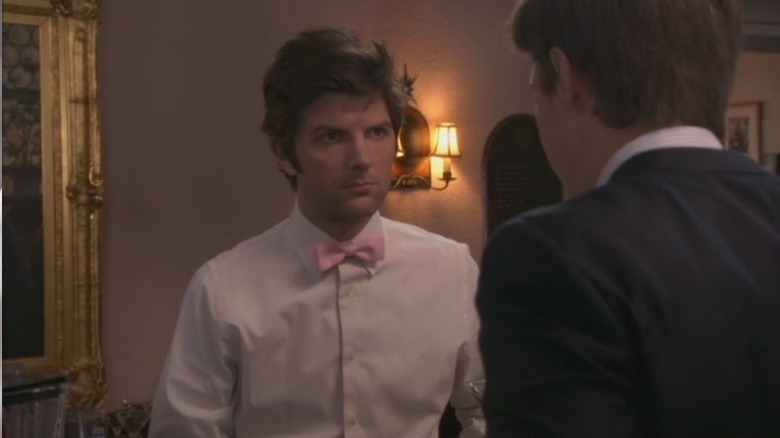 Starz
A half-hour comedy full of high-wattage stars and cameos, this beloved cult sitcom follows a group of disaffected Los Angeles area caterers. Each episode is a different event for them to work, each of which offers a different way for things to get messy and hilarious.
What really stands out here, as with "Reboot," is the cast. While many of the actors featured in "Party Down" were not exactly unknown when the show premiered, the series helped bring several stars up to the level of comedy royalty. Ryan Hansen and Martin Starr offer artistic credibility while comedy legends Ken Marino, Megan Mullally, Jane Lynch, Jennifer Coolidge, and Adam Scott anchor what could easily be a depressing or goofy setup. Lizzy Caplan is also a standout, as always.
You could almost think of "Party Down" as a companion piece to "Reboot," with the former showing us actors and performers desperate for their big break and the latter showing what happens when you make it.
Single Parents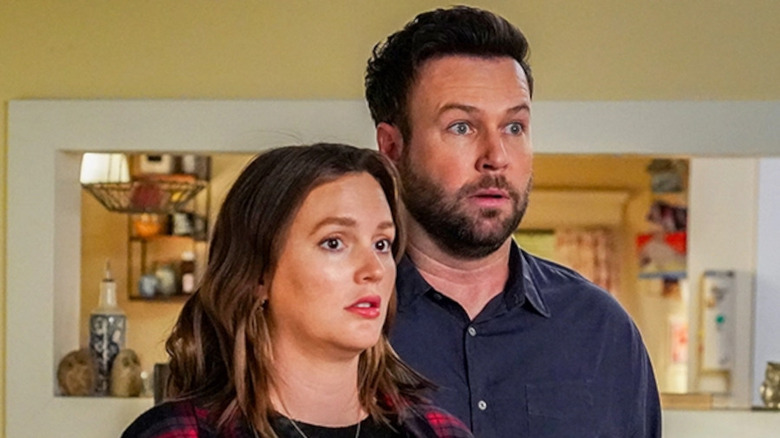 ABC
This follow-up to "New Girl" created by Liz Meriwether and J.J. Philbin shares with "Reboot" a certain adult wisdom that underlies its one-liners and kid jokes. Children are strange and random creatures, and "Single Parents" revels in this — even if it's guilty at times of dwelling too much on their adorable yet off-putting precocity. The show is best when it explores the complicated lives of its adults, but as far as shows with kids go, this is one of the best.
Taran Killam of "Saturday Night Live" plays Will Cooper, whose daughter Sophie is perhaps the most precocious of the children. His foil and co-lead is Leighton Meester's outstanding Angie D'Amato, a former wild-child whose deadbeat co-parent is played by Meester's real-life husband, Adam Brody. 
Also notable are Kimrie Lewis as Poppy, and her ever-changing relationship with Brad Garrett's Douglas, a wealthy white conservative who skims the surface of cliche but always comes through in the end. Jake Choi rounds out the adult cast as Miggy Park, a young father. If you like the timely and surprising comedy of "Reboot," it's worth trying out "Single Parents" — only two seasons were produced, so it's a quick and highly enjoyable binge!
30 Rock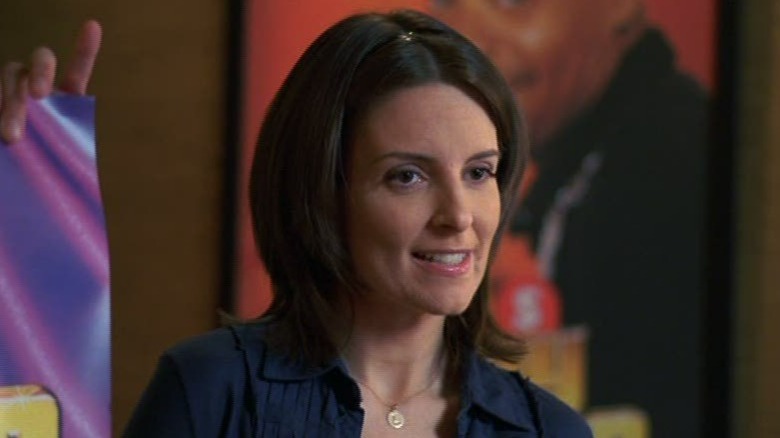 NBC
A sincere but awkward head writer comes up against network interference as she tries to keep what makes her "Saturday Night Live"-style "The Girlie Show" variety hour both special and good. 
Sound familiar? It's not surprising that TV writers are interested in writing about the business of TV writing, but what's surprising is how often they succeed with flying colors. "30 Rock," named for the location of the NBC headquarters where it all goes down, is an all-time classic whose influence reaches across the sitcom landscape. 
If you'd never seen an episode you'd still be familiar with a lot of its joke formats and setups, tropes, and stylistic choices — "30 Rock" has done as much as "Modern Family" (or even "The Office") to inform the way sitcoms are made today. You may come for Liz Lemon's (Tina Fey) friendships with Jack Donaghy (Alec Baldwin), Tracy Jordan (Tracy Morgan), or with the unpredictable Jenna Maroney (Jane Krakowski) — but you'll stay for the depth of character and well-built world that made the show such a success.
BoJack Horseman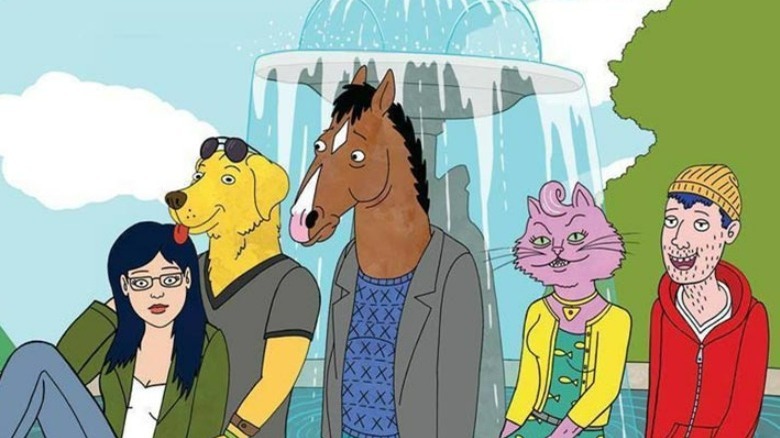 Netflix
In this adult animation, BoJack's entire lifestyle and a lot of his baggage come from his time on a '90s sitcom not unlike "Step Right Up," called "Horsin' Around." Like "Reboot," the series takes place in a Los Angeles that remains recognizable — although the Los Angeles of "BoJack Horseman" is filled with the anthropomorphic animals.
Will Arnett voices the sarcastic and self-destructive BoJack Horseman, who has grown bitter and depressed in the decades since his heyday. We follow his journey of self-discovery and possible redemption for six seasons of comedy, heartache, and genre-bending fun. He tends to destroy everything around him, which makes for a few legitimately harrowing scenes and situations — especiallly like the slow-motion downfall of child actor Sarah Lynn (Kristen Schaal), who played the youngest daughter on BoJack's show and idolized him growing up.
Other standouts are Alison Brie as Diane Nguyen, BoJack's memoirist, and her boyfriend Mr. Peanutbutter, a charmingly oblivious yellow labrador retriever played by Paul F. Tompkins. Aaron Paul plays Todd Chavez, an asexual unemployed slacker who lives at BoJack's house. Finally, Amy Sedaris is Princess Carolyn, a pink Persian cat who plays BoJack's agent and former girlfriend. Tireless and driven, she is a portrait of LA go-go-go culture that wouldn't really be out of place on "Reboot" — except for the fact that she's a talking cat.
Hacks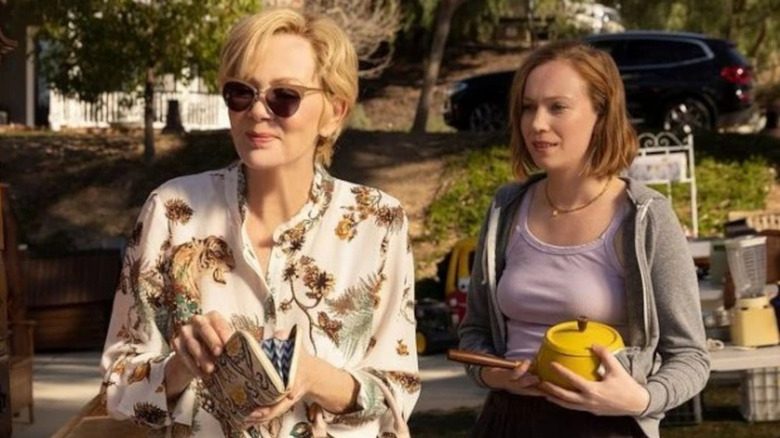 HBO
"Hacks" is a comedy-drama that stars Jean Smart as wildly successful career standup comedienne Deborah Vance, Hannah Einbinder as her younger co-writer Ava, and Carl Clemons-Hopkins as her closest advisor. The show follows all three characters, as well as the office and career life of Downs' talent agent, Jimmy, excellently portrayed by series co-creator Paul Downs.
The show has won Emmys for writing, directing, and outstanding lead actress for Jean Smart, as well as the Golden Globe Award for best television Series. A lot of that acclaim goes to the writing, which is sensitive, brash, and never mawkish — even when dealing with life's harshest twists.
While the celebration of Jean Smart — who jumped back into the spotlight with turns in "Fargo," "Legion," and "Watchmen" — is well-earned, a place must be reserved for Clemons-Hopkins navigating life as a Black, gay businessman. Audiences will also admire Einbinder's performance, as her complex Ava Daniels is the true lynchpin of the piece. Ava is unlike any character you've ever seen, and she'll stay with you long after the applause has faded.
It's Always Sunny in Philadelphia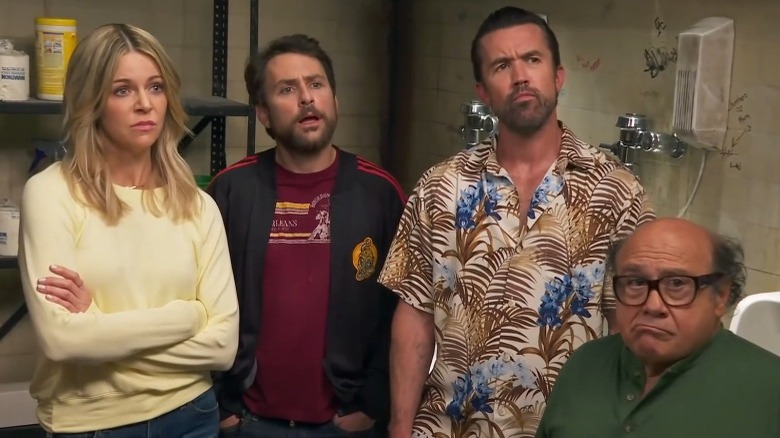 FX
Like "Reboot," "It's Always Sunny in Philadelphia" is a show that is — at its heart — about dirtbags. They're trying to run a successful bar in Philadelphia, of course, but the longest-running sitcom of all time is about a lot more than that. Fans who have stuck around for nearly two decades of television have gotten to see real growth, even if it happens by inches, and the characters' developing stories reflect that. It's still a show about dirtbags doing dirtbag things — but the bonds between this family are real and solid, making them a joy to watch.
The Gang at the center of the show comprises janitor Charlie Kelly (Charlie Day), sometimes bouncer Mac (Rob McElhenney), bartender Dennis Reynolds (Glenn Howerton), and his twin sister Dee Reynolds (Kaitlin Olson), a failed actress who waits tables at the bar. After the first season, they are joined by Dennis and Dee's dirtbag father, Frank Reynolds (Danny DeVito), and the show soon moves away from any responsibilities the characters might have at the bar. 
DeVito is, of course, a legend — but the rest of the Gang has made names for themselves as well. McElhenney and Olson, a real-life couple, have both anchored their own comedies in the decades since "Its Always Sunny in Philedelphia" began. Howerton makes a meal of his every guest-starring role across the sitcom stratosphere, and Charlie Day may well be the first to make a full transition to film once all is said and done.
Happy Endings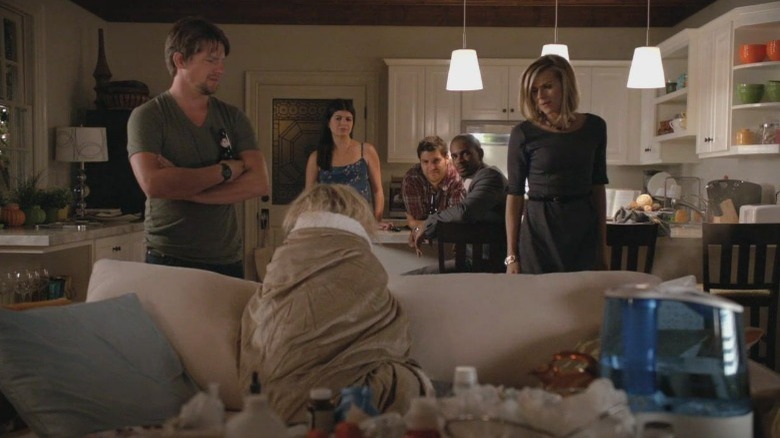 ABC
Rather than dirtbags, this next group is more likely defined as hot messes. There's ditzy boutique-owning Alex (Elisha Cuthbert), who leaves sweet restaurateur Dave (Zachary Knighton) at the altar, her hardcore older sister Jane (Eliza Coupe), and Jane's loving husband Brad (Damon Wayans, Jr.). Rounding out the Chicago sextet are Max (Adam Pally), the grody slacker, and man-hungry Penny (Casey Wilson). 
While Dave and the gang get over his broken engagement pretty quickly, it's all just a way to get these six goofs on an equal footing so they can have themselves a proper situation comedy. Penny and Max are the hottest of the messes, but really all six characters have a lot of growing to do. It's fun to watch them explore and change — almost as fun as seeing the awkward messes they create and the sometimes surprising scrapes they get into. 
A classic ensemble piece in the vein of "Friends" or "How I Met Your Mother," what sets "Happy Endings" apart is its quirky (but rarely annoying) humor. The show knows its bread is buttered on the charms of its likable cast and sometimes relies entirely upon their tics and foibles.
I'm Sorry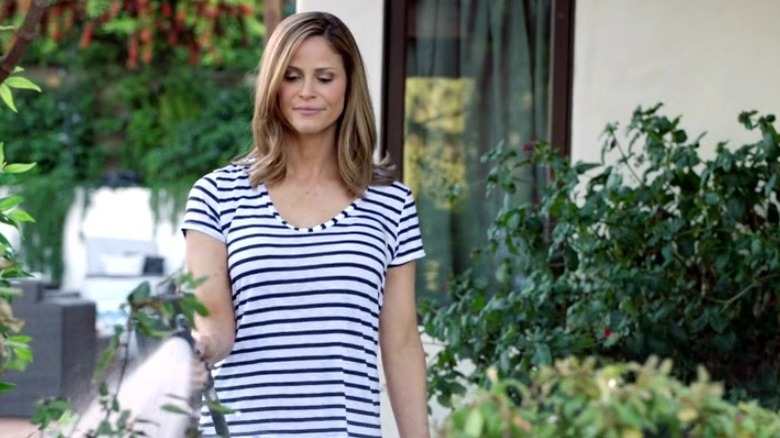 TruTV
This little-known gem from the TruTV network was a casualty of the pandemic, which is too bad. Not only is "I'm Sorry" a line-by-line exquisite work of comedy, but it also features one of the best television marriages in creator Andrea Savage's relationship with Tom Everett Scott as her on-screen husband, Mike. Sharply funny, romantic, and brilliantly pointed, their scenes, in particular, are gold.
In the show, comedy writer and clear stand-in Andrea Warren deals with marriage, kids, career, and social life in LA, which brings up an important point — it's not that all TV shows are set in LA, it's that all TV shows about TV shows are set in LA. One single weird interaction with a neighbor or fellow parent can keep Andrea going for days afterward, putting a sweeter spin on the society-violating setups we recognize from "Seinfeld" and "Curb Your Enthusiasm."
Almost as exciting as the crisp and crackling writing, not to mention Andrea Savage's can't-miss delivery, we also get recurring and guest stars galore. Kathy Baker, Nelson Franklin, Judy Greer, Jason Mantzoukas, Martin Mull, and Scott Aukerman all have memorable turns as Andrea balances her successful writing career with all the business of life.