The Two Law & Order Characters You Likely Didn't Realize Anthony Anderson Played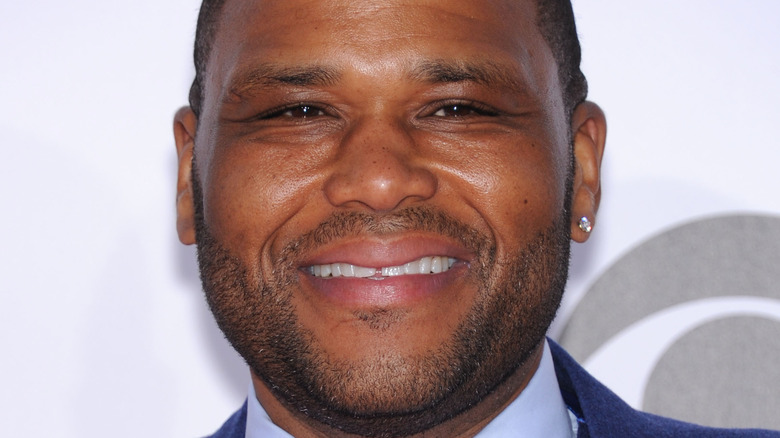 DFree/Shutterstock
Anthony Anderson is probably best known for his sillier, more over-the-top acting in material like "Black-ish" and "Kangaroo Jack," so it's easy to forget one important detail: the man can be amazing at dramatic work when he's given the right role. The actor exudes power and ruthlessness as dealer Antwon Mitchell on "The Shield," has a stand-off with Leonardo DiCaprio in "The Departed," and plays a shady but loving father on "Veronica Mars." Anderson might be funny, but he's also got real dramatic presence.
Anderson played Detective Kevin Barnard on "Law & Order," though he only appeared in the series' last few seasons before it ended in 2010. When the famed procedural got a revival in 2022, Anderson as Detective Barnard came back as well, though the character isn't returning for the series' upcoming new season (via The Wrap). The actor obviously left an impact on "Law & Order" with his conservative, world-weary senior detective, but fans might have missed that he's actually appeared elsewhere in the franchise before.
Anderson appeared on Law & Order: SVU in Season 7
Anthony Anderson appeared on the spin-off series "Law & Order: SVU" in 2006, a few years before Detective Barnard would debut on the original series. Often guest actors on the series get to strut their stuff playing bereaved parents or unlikely suspects. But instead, Anderson plays Detective Lucius Blaine, a cowboy cop who might be too much even for the headstrong Detective Elliot Stabler (Christopher Meloni).
After Detective Olivia Benson (Mariska Hargitay) requests a transfer, Stabler is partnered up with Blaine. The two detectives investigate a pair of teenage siblings, but Stabler objects to Blaine's methods, such as coercing a confession out of the very young Mia (Shahidah McIntosh). Stabler and Blaine get into a physical confrontation, and though they eventually solve the case, Blaine doesn't appear as Stabler's partner again after the episode.
While Detective Blaine is much more unorthodox than his later "Law & Order" character, it's fair to assume Anderson's casting as Barnard in 2008 had something to do with his performance in this episode of "SVU." Blaine wasn't meant to become an ongoing character on "SVU," so it's great that the appearance led to Anderson having a more permanent place in the "Law & Order" universe.