John Oliver Is Getting Censored After Queen Elizabeth II's Death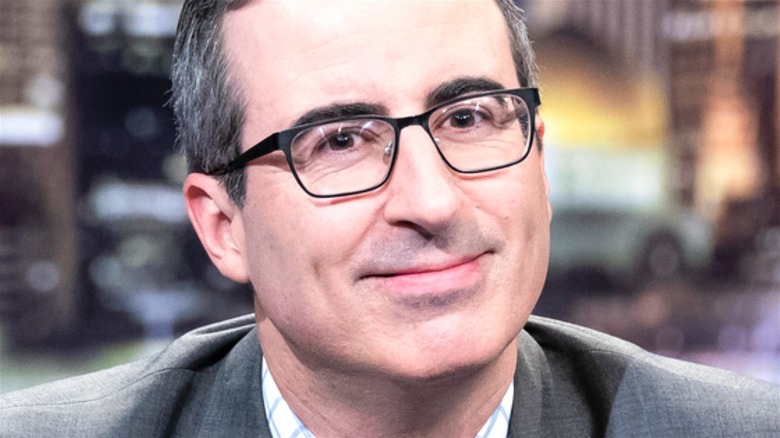 Lloyd Bishop/HBO
"Last Week Tonight" host John Oliver is never one to mince words when it comes to current events, powerful organizations, and public figures — with him even going so far as to lambast other TV shows and the popular networks that air them, like CBS and "Blue Bloods." But his most recent call-out seems to be hitting some people harder in the U.K. than most. 
On September 8, it was announced by Buckingham Palace that Queen Elizabeth II had died "peacefully" of natural causes after spending a whopping seven decades on the throne. Countless people across the globe mourned the loss of Her Majesty — and still are — across all different forms of entertainment. Sports figures, fictional characters, and celebrities have all offered condolences and heartfelt messages in honor of the Queen. But not Oliver.
You see, the British-born comedian and television host chose to take a completely different route with his mentioning of the Queen's death, instead opting to put her on blast during his most recent taping of "Last Week Tonight" for HBO. The September 11 episode features a litany of Queen Elizabeth jokes and verbal jabs, all of which were reportedly edited out by the U.K. TV network Sky (via Deadline). The comments came during Oliver's post-opening credits segment and also featured callouts of social media tributes to Her Royal Highness from cartoon characters like The Crazy Frog and Paddington Bear to Dominos Pizza.
John Oliver's jokes about the Queen were cut
It didn't take long for John Oliver to take aim at Queen Elizabeth II and her passing during his "Last Week Tonight" opening segment, with the host beginning his rant just one minute into the broadcast. Sky wound up editing this portion of the show entirely, according to Deadline and Rolling Stone.  
"Obviously, we have to start with the U.K., which is clearly still reeling from the shocking death of a 96-year-old woman from natural causes," Oliver joked. "It is a big moment this week and for some reason, absolutely everyone felt they had to wade in on [it] from Crazy Frog, which tweeted out 'RIP the Queen' [and a] candle emoji ... to Dominos U.K. which posted, 'Everyone at Domino's joins the nation and the world in mourning the death of Queen Elizabeth II. Our thoughts and condolences are with the Royal Family.'" While the late-night host didn't insult the Queen directly, he did offer up a few zingers about the politics and social decisions going down lately across the pond, while also mentioning Her Majesty.
"The Queen's death is sadly not the only traumatic event that Britain has had to deal with this week because on Tuesday, Liz Truss, basically Margaret Thatcher if she were high on glue, became its new Prime Minister," Oliver said. "The nicest thing the Queen of England ever did for anyone was die the week that woman became Prime Minister. Because for at least a week, she's not going to be getting justifiably destroyed for [her political comments]." 
Sky network declined to comment on the edits when asked by Deadline, which sparked outrage among some British viewers.
Not everyone agreed with the decision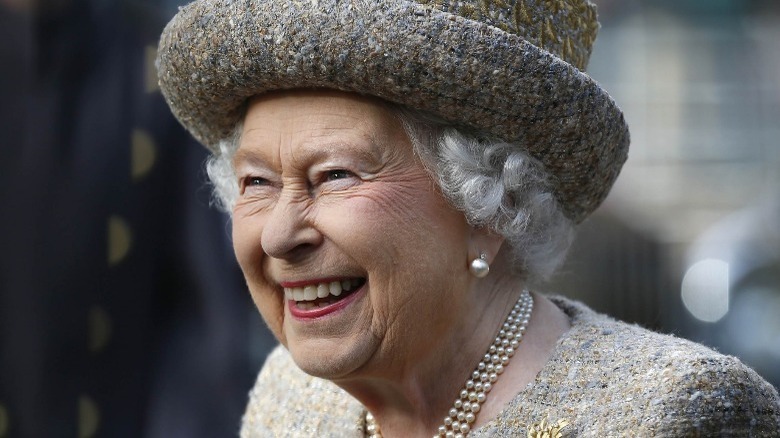 Wpa Pool/Getty Images
After the Sky edits aired during the September 11 "Last Week Tonight" broadcast, countless viewers across the U.K. took to social media to voice their disapproval of the network — with many claiming to be diehard supporters of the Queen. 
"Don't censor my @LastWeekTonight," wrote Twitter user @SargeantLc. "I am British, I am a monarchist and I CAN TAKE A JOKE!!! If @iamjohnoliver wants to have an intelligent, jovial, factual opinion about our queen I wanna hear it. FFS! The coverage and forced mourning here is getting real out of hand." 
Another user named @GrndhoppingGrl said: "It tickles me that the good people in John Oliver Towers thought that a British audience wouldn't be able to cope with a few jokes about the Queen." On a similar note, @Diabolicalldea wrote: "Last time I checked Britain was not an absolutist monarchy."
John Oliver has been very vocal about his feelings towards censorship and how it's been used to push agendas or hide things from the public, especially on "Last Week Tonight." In 2020, he called out Disney and its Indian subsidiary Star India for refusing to upload an episode onto its streaming platform Hotstar that took aim at India's prime minister Narendra Modi (via Vanity Fair). While there was no evidence that the Indian government had a hand in the censorship, Oliver did point the finger at Disney, Star India, and Hotstar. "As best we can tell, Hotstar just decided to self-censor," he said.