Paddington Bear's Heartfelt Tribute To Queen Elizabeth II Is Moving The Internet To Tears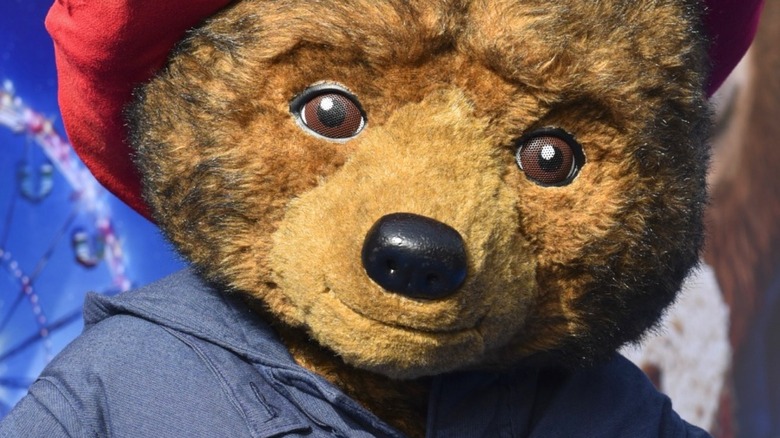 Rodin Eckenroth/Getty
The death of Queen Elizabeth II rocked social media on September 8, 2022 — with countless people offering condolences and kind words of remembrance. But amid all the emotions and shows of support, one message seems to stand tall above the rest as a perfect summary of what everyone is feeling. And it just so happened to come from Paddington Bear. 
For those who don't know, Paddington and the queen are two of the most famous figures in British culture, each coming to prominence in the 1950s. The two appeared in a Royal Family video in June 2022 to celebrate the Queen's Platinum Jubilee, marking 70 years of service. "Tea?" the queen asks as Paddington sits across from her in Buckingham Palace. After scarfing down all of the tea himself, Her Majesty politely tells him: "Nevermind!" Paddington later tells the queen: "Happy Jubilee, Ma'am. And thank you, for everything." 
Queen Elizabeth II's extraordinary 70-year reign made her Britain's longest-serving monarch and one of the country's most beloved figures. Paddington offered up one last hat-tip to her the only way he knew how.
'Thank you Ma'am, for everything'
Just five simple words from Paddington Bear on Twitter was all it took to bring social media to tears following the Queen's passing in Scotland. The legendary children's book character took to his Twitter page (because, of course) and offered his condolences to Her Majesty shortly after her death was announced. 
"Thank you Ma'am, for everything," Paddington tweeted, echoing what he told her in their Jubilee video and sparking countless replies. "Beautiful tweet Paddington," said Twitter user @kevwgs. "Thank you for playing your part in this gorgeous scene from the Platinum Jubilee." User @DaveOufc wrote: "Blimey ... that tweet just hit me harder than the news." Another person jokingly tweeted, "I want to give the bear a hug; he's been there almost as long as she has ruled; I can imagine they had discussions and met up plenty of times; he met Charles and William as babes ... and now his friend is gone. I'm sorry dear bear."