Perry Mattfeld Isn't Ready To Say Goodbye To The Pup Who Played Pretzel On In The Dark - Exclusive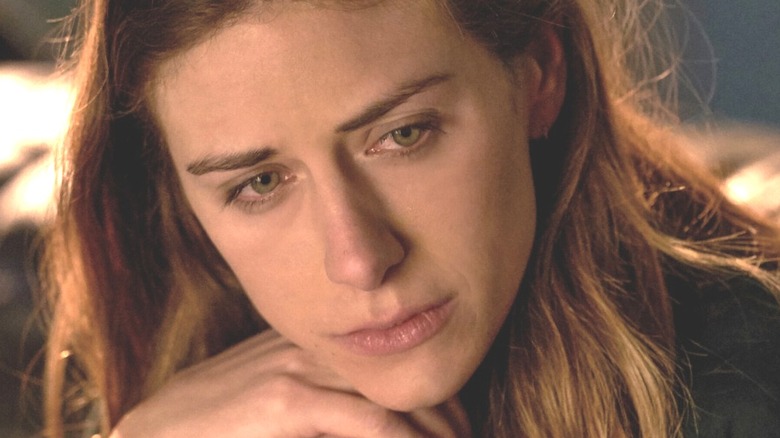 The CW
If you think leaving a pup you met on the sidewalk is difficult, imagine saying goodbye to the canine costar who exclusively played your on-screen dog for three years. "In the Dark" actor Perry Mattfeld (who plays Murphy Mason) has just as close of a bond to Trip as Murphy has with Pretzel. Sadly, with the show's post-wrap cancellation, the duo didn't get a real goodbye at the end of Season 4. 
The worst part of saying goodbye to a dog is that we can't assure them that we'll be back in a way they can understand — but that didn't stop Mattfeld from trying. In fact, she went as far as shooting her shot to Trip's owner to ask if she could keep him. Who can blame her? Though the show may be over, Mattfeld isn't ready to say goodbye to Trip, and she discussed coming to terms with their cross-country distance during an exclusive interview with Looper.
Pretzel love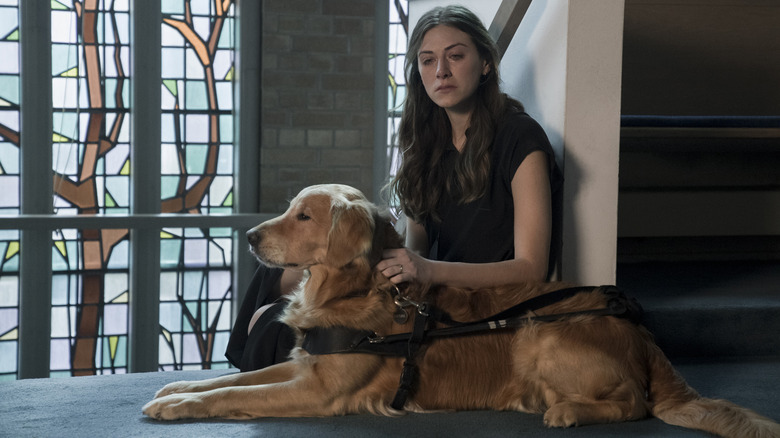 The CW
While reflecting on her goodbyes to the cast and crew, Perry Mattfeld couldn't leave out one of her closest co-stars. "Trip [played] Pretzel for the last three seasons, just him, and that meant I got to build an even closer relationship with him because it was just us." 
The actor even inquired about keeping Trip, but no dice. Who could possibly leave that face behind? She recalled the uncomfortable moment, saying, "I've politely asked his owners many times if they'd be open to letting me keep him. They did a good job of not taking offense to that and saying politely, 'Absolutely not,' because they obviously love him to death, too."
Like some of his co-stars, Trip is getting a break from the cameras and living his best dog life. "He's in Toronto, and I got to see him every day. I'm really going to miss him," Mattfeld added. "I've promised myself and him that I will maintain that relationship if that means I have to fly across the country and go spend a weekend with him, but he's being a dog right now. He's taking a little break and running around in Northern Ontario and chasing birds and rolling in the grass. He deserves that, too." He certainly deserves it, and he'll no doubt be thrilled when Mattfeld visits.
A trip to say goodbye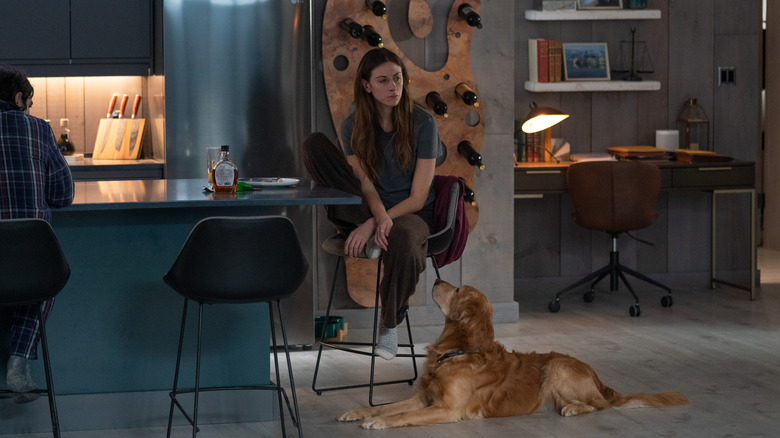 The CW
Trip isn't the only coworker Perry Mattfeld didn't get a proper goodbye with. The cast and crew were thinking positively about a possible renewal when the fourth season wrapped, so they didn't get the closure that often comes from wrap parties and the certainty of a cancellation. Mattfeld explained what the last day on set was like: "We didn't know that it was going to be the end necessarily. We knew it could go both ways, but a lot of us, especially me, [were] manifesting that we would see each other again. There was a lot of 'See you soon.' But also, because of COVID, we didn't get to have a wrap party or anything like that." 
However, Mattfeld was determined to get some real goodbyes. "I recently went back to Toronto by myself and met up with my stand-in of four years, got to see my makeup artist, went to all my favorite little restaurants — a little bit of closure that I didn't get while I was there in Toronto saying goodbye," she said. "I got to see some of the crew and give hugs and say, 'Thank you.' But it happened fast. Everybody cried pretty hard on the last day. The not knowing felt worse. 'I'll see you soon, I think, I hope.' These are people that I've worked [with] for four years, so I have a relationship with all of them that goes beyond whether or not we're on set."
The series finale of "In the Dark" is streaming on The CW website.