In The Dark's Perry Mattfeld Dishes On Her K-9 Costar - Exclusive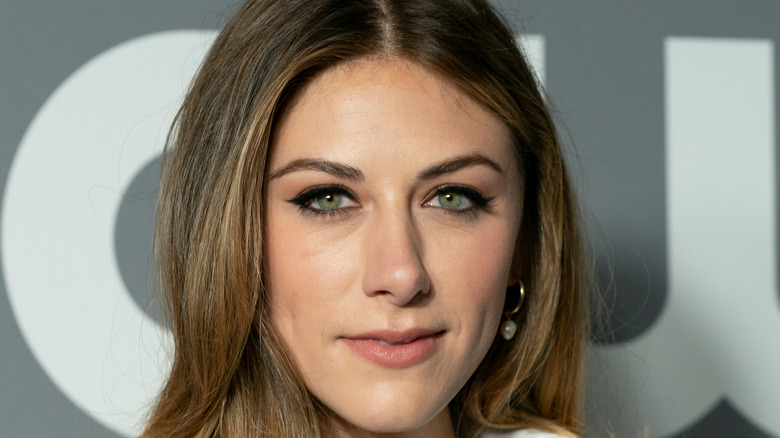 Shutterstock
Few TV shows shine the light on K-9 characters as significantly as Perry Mattfeld's The CW series "In the Dark." Mattfeld plays Murphy Mason, a blind woman who goes from slacker to pseudo detective to fleeing the country all in the span of three seasons. 
But of course, she's never without her seeing eye dog, Pretzel, played by dog actor Tripp. The charming pup often steals the show on-screen with his intelligent and adorable nature — and off-screen with his burps. During an exclusive interview, Looper spoke to Perry Mattfeld, where she walked us through what a day of filming with Tripp looks like and explains why he's not an actual seeing eye dog. 
"His name is Tripp, and this was his first big job, and he's been so great. He's not an actual guide dog, which I always think is important to explain. So we always explain that the reason we don't use an actual seeing eye dog is because one, we wouldn't want to take a guide dog away from someone who needs one," she explained. 
"And two, because when you repeat an action with a guide dog, that is a cue to them that they need to correct something, that they've made a mistake. So for a guide dog to do take after take, after take after take, they become very anxious and frustrated that they're not able to do things right or correctly, or please their owner." No one wants to stress out a pup, and it's unquestionably essential to leave the trained seeing eye dogs helping out the people who need them.
Treats for Tripp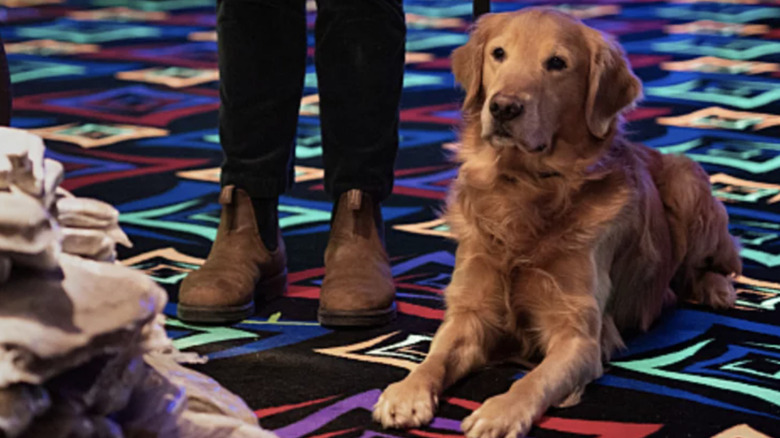 The CW
Of course, Tripp is more than happy to step up to the task. Mattfeld noted, "Whereas someone like Tripp — someone because he's a person [laughs] — whereas an animal like Tripp, he knows that the more takes we do, the more treats he gets. So he'll do it all day. He'll do it over and over, and over and over again."
While Tripp may be a consummate professional, a dog's gotta do what a dog's gotta do. Mattfeld has more than a few stories of her K-9 co-star interrupting takes. "He burps a lot in the middle of our scenes. Oftentimes very dramatic scenes, which sometimes we can get through it, but most of the time, the whole set breaks out in laughter because I'll have tears running down my face," she revealed. "And he's just like ... He's the cutest, sweetest, most playful boy. And it's so funny how he maintains his focus so well, but then the minute you allow him to just be a dog, he's totally a crazy, wild, goofy dog." You can't exactly blame Tripp for letting his digestive system get the better of him. After all, who could ever get mad at that face?
O Captain! My Captain!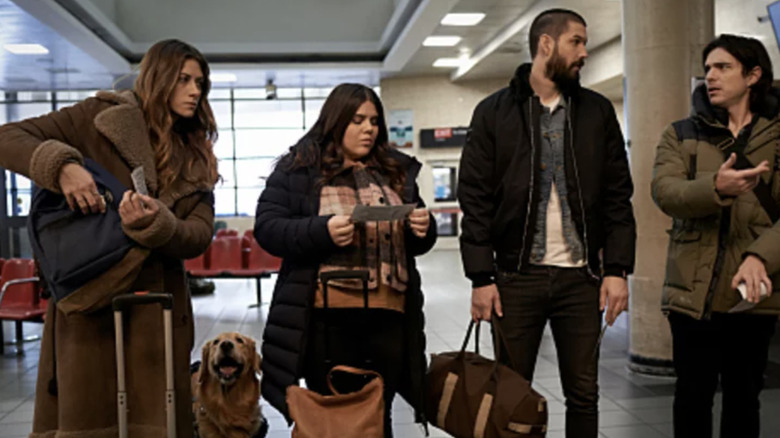 The CW
On whether or not she's seen a real seeing eye dog in action, Mattfeld noted, "Yeah. So our show is actually inspired by a real person named Lorri Bernson, who is not only involved in the story, but I'm super close to, and so she's like my second mom. I think since I've known her, this is the third guide dog that she's had, and this one's name is Captain." What better name could there be for a pup who helped guide the ship (or show)?
"Kind of getting ready to do the show, I spent a lot of time with her, obsessing over her physicality and watching her move around her space, watching her get ready for bed, make her bed, watch TV, send emails, do her makeup, and organize her clothes," Mattfeld continued. "I spend a lot of time watching her work with her guide dog and kind of tried to learn about their relationship — what his relationship is like with other dogs. Anyway, but I have her as a resource in the flesh as a real person to just mirror and mimic and base this character off of."
Fans can catch "In the Dark" season 3 airing on the CW on Wednesday nights and streaming on The CW website the following day. Luckily, The CW treated fans to an early renewal, so we'll be getting much more Pretzel action in the upcoming season.