Whatever Happened To Sneakerasers After Shark Tank?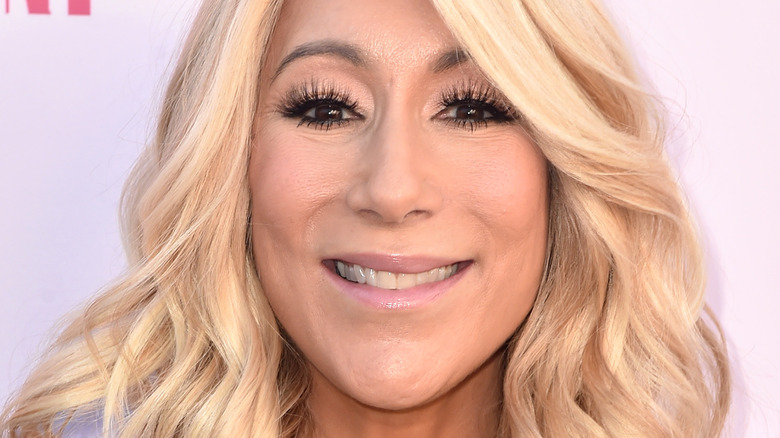 Alberto E. Rodriguez/Getty Images
Don't you hate it when the whitewalls of your shoes get dirty on your way to that hot date? Or isn't it such a pain when you get your shoes scuffed up on your way to that big job interview? The two friends, Chris Pavlica and Kevin Consolo, were banking on those questions winning over the judges on an episode of "Shark Tank." In 2021, the two made an appearance on the show to pitch their idea for a product they had already brought to market designed to clean dirty shoes on the go.
The revolutionary idea they had was to make their product work on the go, so you could just pull out one of their SneakERASERS and clean your shoes on the spot. The two had already developed their product and had some deals with major retailers, boosting their sales and brand awareness. But, what they really needed was one of the sharks to hop on board and hook them up with a big investment. The two guys went into the show hoping they could get $200,000 for 8% equity in the company.
Which shark's offer did the two end up taking?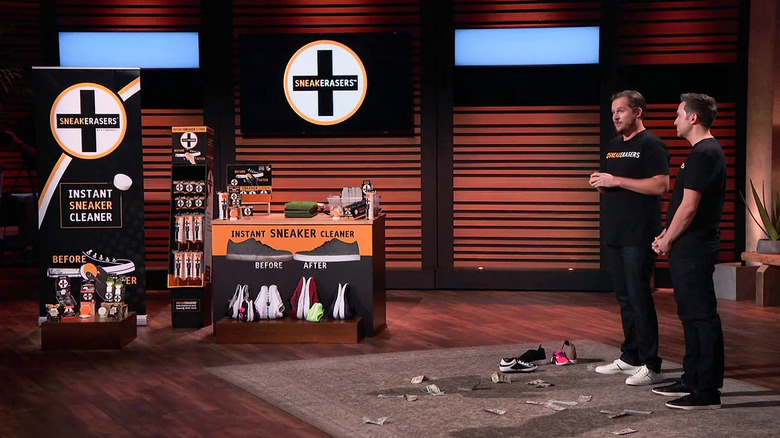 ABC
SneakERASERS were already on the way to earning the two entrepreneurs big bucks after announcing on the show that they had paid off all of their debt. And that was just the beginning; the two also shared that they had already made $1.1 million in sales year-to-date and had projected total earnings of $1.8 million by the end of the year. Chris Pavlica and Kevin Consolo talked about loads of secondary markets that they were exploring with new products as well, but that didn't sit well with shark Barbara Corcoran and she bowed out.
But Mark Cuban, Kevin O'Leary, Lori Greiner, and Alex Rodriguez still remained and shared bids for a stake in the company. The offers seemed to confuse Pavlica and Consolo because they passed on a couple, made an odd counteroffer, and even forgot one offer shortly after it was made. They ended up taking a combined bid from Greiner and Rodriguez of $200,000 for a 20% stake in the company. This was only after passing on $200,000 for 15% from Kevin O'Leary and counteroffering Mark Cuban's $200,000 for 12.5% with $300,000 for 10%.
But after everything was said and done, they took the $200,000 for a fifth of the company. They fared better than other shoe-based companies that have appeared on the show. But what happened to them after their appearance on "Shark Tank?"
SneakERASERS is a growing company with a new product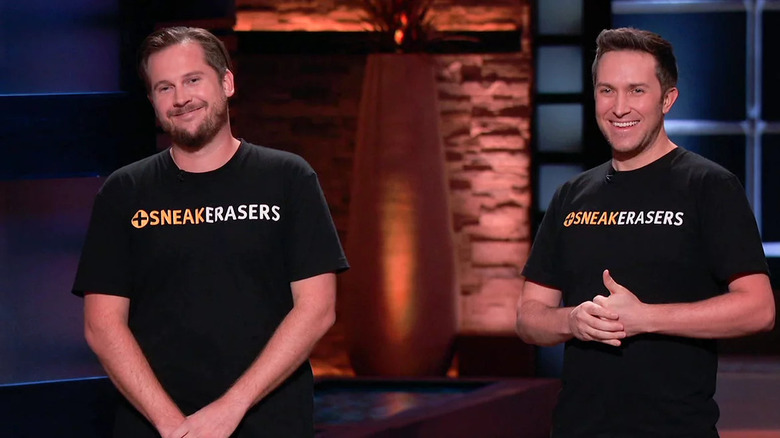 ABC
SneakERASERS are still being sold on Amazon and other online retailers as well as in Walmart, Kroger, CVS, Giant Eagle, Albertsons, Fred Meyer, Harps Hometown Fresh, and Meijer, and they are still accompanied by sister brands GolfERASERS and AutoERASERS sold at various locations. The company has also expanded into a new product for cleaning purses called PurseWIPES+, which it sells on its website for $12 a bundle.
Chris Pavlica and Kevin Consolo's different brands fall under the umbrella of their company, FTI Brands LLC. They say "FTI" stands for "Free To Innovate" on their company's website. It's unclear if the two ever finalized any deal with Alex Rodriguez and Lori Greiner after they accepted their offer, but that are unverified reports that they ended up passing on the $200,000 offer. There is no mention of either of the investors on the company's website.
As for how the company is doing now — according to Zoominfo, FTI Brands LLC is worth less than $5 million — which is plausible due to their projected sales numbers for 2021 only being $1.8 million. Pavlica and Consolo still definitely had a winner of an idea with SneakERASERS that has earned them a nice payday so far.