House Of The Dragon Episode 3 Maintains An Ignominious Game Of Thrones Tradition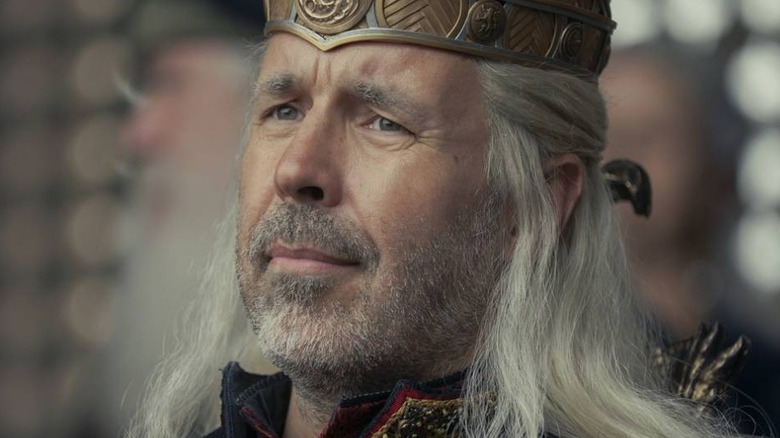 Ollie Upton/HBO
Though the series is still warming up its dragon fire, HBO's "Game of Thrones" prequel, "House of the Dragon," is already pulling in some very impressive viewership numbers. While many fans had something of a tepid response to the final two seasons of HBO's medieval dark-fantasy series, that poor reception doesn't seem to have stopped them from returning to the world of Westeros for more.
Based on George R.R. Martin's novel "Fire and Blood," "House of the Dragon" charts the reign of the Targaryen family on the Iron Throne prior to the events of "Game of Thrones." With notable time jumps and actors cast to play its characters across multiple eras, the new series definitely brings something new to the table for viewers as well.
However, when it comes to a production this big, it's only natural that the cast and crew will make the occasional mistake. Unfortunately for "House of the Dragon," though, the series' eagle-eyed fans are more than capable of catching these snafus when they do tend to occur.
A green screen glove is visible in Season 1, Episode 3
Long-time fans of "Game of Thrones" will recall that in Season 8, Episode 4 ("The Last of the Starks"), a modern coffee cup was accidentally left in for a scene that takes place at the Stark home of Winterfell (via The Verge). Though this is far from the only mistake that fans have noticed in the series, it looks like "House of the Dragon" is already adding to the list.
In Season 1, Episode 3: ("Second of His Name"), several fans caught a gaffe that saw a green screen glove visible on Viserys' (Paddy Considine) hand (via Twitter). King Viserys seems to have been carrying a hidden affliction for the entirety of "House of the Dragon" thus far, and while it's still not entirely clear what is making him ill, the glove was obviously meant to use CG to show that the ruler is missing two fingers.
Alas, though, someone (or several someones) apparently missed the memo on that, and, as such, the green screen glove is clearly visible in the scene from "House of the Dragon." On the plus side, we live in a time where this mistake doesn't need to be permanent, as streaming services have been known to go back and correct errors in previous episodes for precisely this kind of issue (via CNET). Still, hopefully, we'll be seeing less of this ignoble tradition as the series goes on from this point.