Olivia Wilde Has One Major Complaint About The Don't Worry Darling Trailer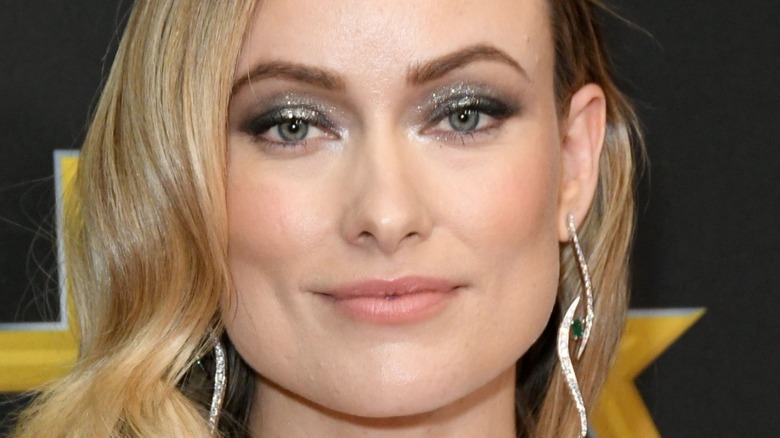 Quinn Jeffrey/Shutterstock
After years of working as an actress in front of the camera, Olivia Wilde turned her attention to directing in 2011 with the short film "Free Hugs." Despite gaining success and stardom as a performer, her trajectory in filmmaking matches that of any aspiring director who starts off with shorts to test their mastery of the craft. The 2019 coming-of-age film "Booksmart" catapulted her into a field in which for the longest time, there wasn't that much female representation. With the success of her first feature, she returned to the director's chair again for the upcoming "Don't Worry Darling."
The movie is set in the 1950s and stars Florence Pugh and Harry Styles as Alice and Jack Chambers, a happy couple that starts to lose their grip on normalcy once strange occurrences within Jack's company start to surface in their small-town California community. Since its announcement, "Don't Worry Darling" has also become known just as much for its various controversies as it has for its mysterious plot (via Time). One such controversy can be seen in the film's first trailer, which has led Wilde to raise a major complaint.
The MPAA demanded cuts for the official trailer of Don't Worry Darling
The first official trailer for "Don't Worry Darling" was released by Warner Bros. on July 21, 2022, and it contains some tense scenes. But as Olivia Wilde revealed to The Associated Press, it was the steamy scenes that prompted the Motion Picture Association (MPA) to demand cuts. "Oh, yeah. There's a lot that had to be taken out of the trailer," she said. "The MPA came down hard on me and the trailer at the last second and I had to cut some shots, which I was upset about because I thought they it took it up another notch. But of course we still live in a really puritanical society. I do think the lack of eroticism in American film is kind of new."
But it wasn't just the inclusion of the erotic scenes for the sake of eroticism that motivated Wilde to place the scenes in the trailer. "Then when it comes to female pleasure, it's something that we just don't see very often unless you're talking about queer cinema," she said. "You know, it's interesting because in a lot of queer films, the female characters are allowed to have more pleasure." She added that corporations tend to assume that audiences are more prudish than they really are. 
Wilde's insights speak about the context of what is and is not acceptable to the ratings classification division of the MPA, an association that can get it totally wrong about films all too often.