Samaritan's Pilou Asbæk Confirms That Facing Off Against Sylvester Stallone Is Exactly How We Think - Exclusive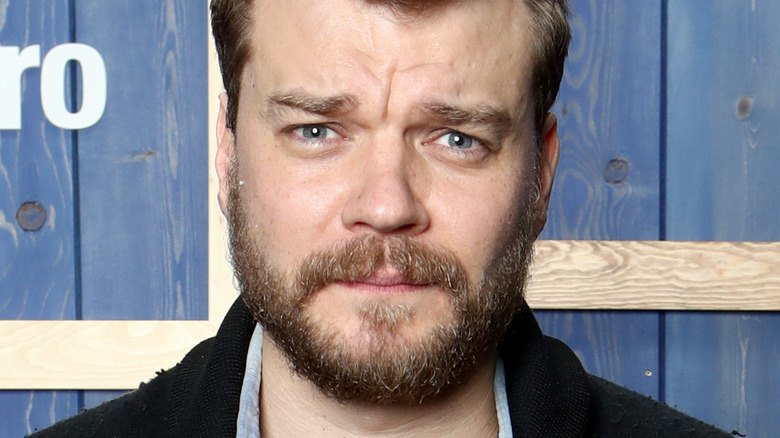 Rich Polk/Getty Images
Pilou Asbæk has plenty of reasons to be excited about his career at the moment. Earlier in 2022, the Danish actor had a small but pivotal turn in the after-credits scene opposite Tom Holland in "Uncharted," and he's set for an unspecified role in the upcoming DC superhero adventure "Aquaman and the Lost Kingdom," starring Jason Momoa.
Right now, however, Asbæk is celebrating his latest role as Cyrus, a fearsome street gang leader opposite Sylvester Stallone in the new, gritty superhero film "Samaritan." Streaming exclusively on Prime Video, "Samaritan" stars Stallone as Joe Smith, a reclusive garbage man in Granite City — a metropolis that has devolved into complete chaos after the superhero Samaritan died in a massive fire along with his brother-turned-enemy Nemesis over two decades ago. A few people are certain that Samaritan made it out of the inferno alive, though, including Sam (Javon "Wanna" Walton), a 13-year-old neighbor boy who has been piecing together information to prove that Samaritan survived.
Scoping Joe's actions, Sam eventually finds out that the sanitation worker does have superpowers, but he sparingly uses them even though Granite City is infested with crime and getting worse by the day. Taking a liking to Sam because of his spunk and scrappy demeanor, Joe mentors the young teen, but not before he gets mixed up in a street gang led by Cyrus. Worse yet, Cyrus has finally unearthed the deadly weapons that once belonged to Nemesis, leading to a life-or-death showdown with Joe.
Naturally, Asbæk and Stallone share some intense scenes in "Samaritan," which gave the actor his first opportunity to act opposite the film icon.
Asbæk says his work with Stallone made for a 'big chapter' in his career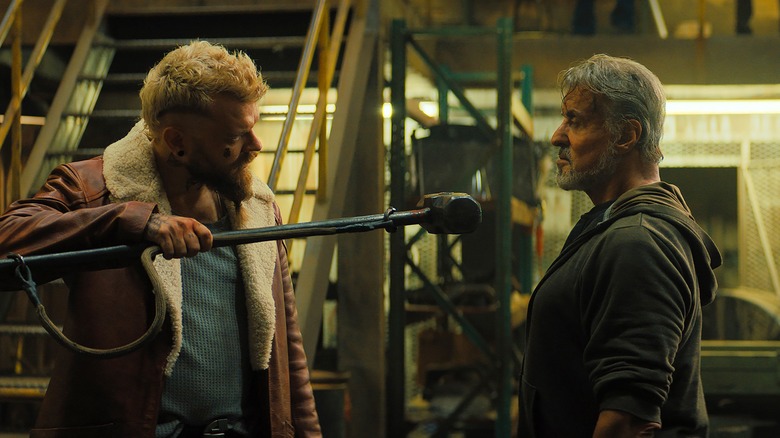 © 2022 Metro-Goldwyn-Mayer Pictures Inc./Prime Video
In an exclusive interview with Looper, Pilou Asbæk, whose other roles include his frightening turn as Euron Greyjoy in "Game of Thrones," described his work with Sylvester Stallone in "Samaritan." Even though he's a veteran actor who has been appeared in nearly 50 Danish and Hollywood productions since his career kicked off in 2008, Asbæk noted just how special it was to share the set with Stallone.
"It was amazing. I've worked with a lot of A-list stars now, the very top, and I always ... I'm very focused on being professional," Asbæk explained. "I'm very focused on being hardworking. I'm very focused on giving everything to them because I'm here to support the story and their character. I come from the theater. But facing off against Sylvester Stallone a couple of times in this film — I'm not going to lie. That's going to be a big chapter in my book when I get old."
Adding to his already busy schedule, Asbæk will also star in the big-screen version of Stephen King's "Salem's Lot" in 2023. On top of that, he's voicing Thor in the upcoming animated series "Twilight of the Gods" for filmmaker Zack Snyder.
Also starring Dascha Polanco and directed by Julius Avery, "Samaritan" — based on the Mythos Comic graphic novel of the same name — is streaming exclusively on Prime Video.