Twitter Is Tearing Apart Gina Carano's Latest Project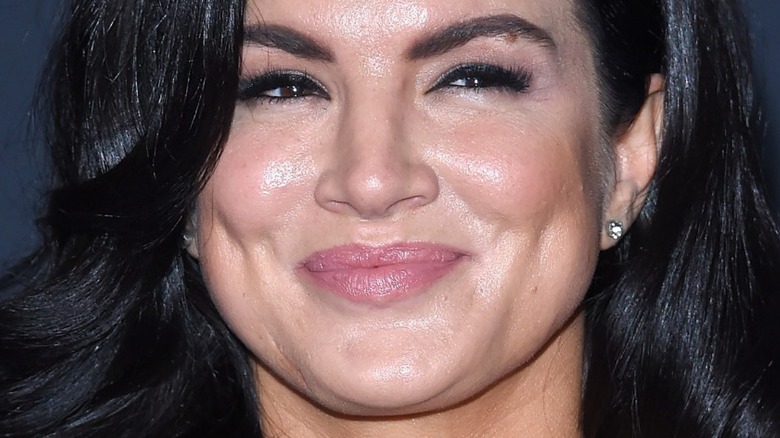 DFree/Shutterstock
The rise and fall of Gina Carano's career is like driving by a car accident: it's unpleasant to witness but impossible to look away from. Although she first entered the spotlight as a mixed martial artist, Carano's career skyrocketed to new levels of fame when she appeared as the tough-as-nails Rebel shock trooper turned mercenary Cara Dune in "The Mandalorian." The character was so popular that there was even talk of a Cara Dune spin-off series (via Collider).
However, Carano's involvement in any future "Star Wars" projects came to a screeching halt after the actress posted a series of controversial comments on social media, including transphobic ideology, false claims of voter fraud during the 2020 election, misinformation about the coronavirus pandemic, and deeply troubling remarks equating holding conservative values to the hardships faced by Jewish people in Nazi Germany (via The Washington Post). According to The Hollywood Reporter, Carano was quickly dropped as a client from her talent agency, and Lucasfilm similarly severed ties with the actress, calling her social media posts "abhorrent and unacceptable." Carano has certainly made a name for herself as a persona non grata. Despite her despicable behavior, it looks like Carano's found herself a new niche, although the politically-charged nature of her career path has inspired a wave of criticism from the internet.
Gina Carano is starring in a defamatory film about the Biden family
It appears that what's left of Gina Carano's career is in the hands of the one group of people she hasn't upset. Carano is set to appear in a forthcoming film titled "My Son Hunter," a flick produced by Breitbart, a conservative news outlet (via The Los Angeles Times). The film's plot stems from former President Donald Trump's unfounded claim that President Joe Biden and his son, Hunter, had been unlawfully conspiring with the Ukrainian gas company Burisma (via The Washington Post). According to the same outlet, Trump's claims were proven false, although the minds behind the film seem to have ignored that detail. The trailer shows that "My Son Hunter" is being billed as a "true story."
Ahead of the movie's September 7 release date, the internet can't help but marvel at Carano's fall from grace. "Gina Carano had the best role someone with her very limited acting ability has ever landed and she ruined it for herself by being a stupid a-hole. Now she's downgraded to a C-role in right-wing hate-fiction, which honestly fits better with her talent," wrote Twitter user @GermanNerd1990. Others couldn't help but point out the expedited nature of Carano's downfall. Twitter user @PaulTassi commented, "In 1.5 years Gina Carano has gone from being on the verge of getting her own Mandalorian spin-off to starring in a Breitbart-made Hunter Biden movie." It's certainly a downgrade from that Galaxy far, far away.
Former fans are critical of Carano's new path
Gina Carano will appear in the film as a secret service agent who gets a front-row seat to the fictional versions of Joe (John James) and Hunter Biden's (Lawrence Fox) debauchery (via IMDb). The trailer for "My Son Hunter" shows that the movie will also allude to the Hunter Biden laptop controversy, which involved claims by Trump that the contents of a laptop owned by the younger Biden proved that President Biden acted unethically during his tenure as vice president, though this later proved to be another baseless conspiracy theory (via PolitiFact). Politics aside, clips showing Carano's character addressing viewers directly make the film seem like a parody, undermining any scathing commentary the narrative has to offer.
"Congrats to Gina Carano for becoming the first Star Wars cast member to appear in something more embarrassing than the Holiday Special," penned Twitter user @ForceMaterial. A glimpse at one scene shows faux-Biden acting inappropriately towards Carano's character, referencing allegations that the real Biden has been improperly affectionate with women in the past (via Vanity Fair). Reacting to the clip, Twitter user @cyclopsiryn wrote, "gina carano's career being so dead she has to star in breitbart propaganda films where 'joe biden' tries to hook up with her is so 😭 its been killing me for hours her career is DEAD dead."
Carano's involvement in the film doesn't exactly boast a promising future in Hollywood. Well, you know what they say: You reap what you sow.