Daniel Craig Credits James Bond For His Knives Out 2 Return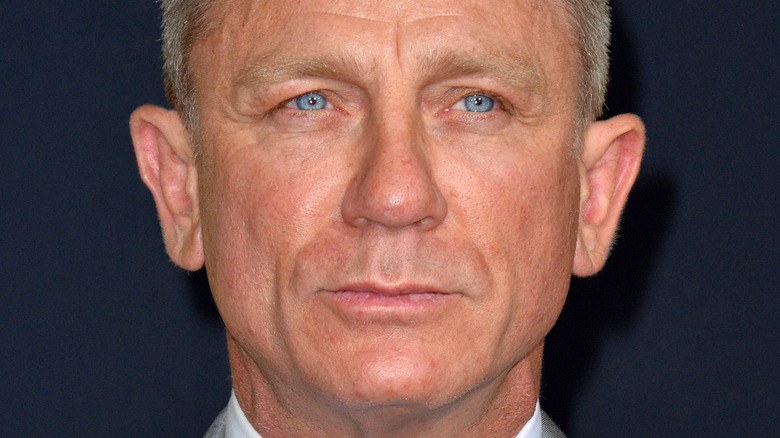 Featureflash Photo Agency/Shutterstock
During the initial press run for 2019's "Knives Out," director Rian Johnson was very candid about his desire to create more movies within this universe — following the eccentric detective Benoit Blanc (Daniel Craig) as he solved mysteries around the globe. "If this movie does even okay, I will, in a heartbeat, make more of these with Daniel," Johnson said during a 2019 interview with Collider. "We had so much fun making this. The idea of getting together every few years and making a new Benoit Blanc mystery, that seems like heaven to me."
Fortunately, "Knives Out" became the surprise hit of 2019: receiving critical acclaim upon its release and raking in an impressive box office haul to boot. The film's immense success led streaming giant Netflix to secure the rights to two new "Knives Out" sequels for $469M, making Johnson's dream of returning to this world a reality (via The Hollywood Reporter). The first of these upcoming sequels is titled "Glass Onion: A Knives Out Mystery," which introduces a new and intriguing cast of potential killers in much the same way that its predecessor did.
Connecting this film to its predecessor is the return of Daniel Craig, who is reprising his role once more as the mysterious and charismatic Benoit Blanc. As it happens, Craig himself seems to think he has been uniquely prepared for this latest collaboration with Rian Johnson simply due to his previous work in the "James Bond" franchise.
Daniel Craig says his experience as Bond will help keep Benoit Blanc interesting across multiple films
During an interview with Empire, Daniel Craig described how his experience as James Bond (a character he portrayed across five different films) helped to prepare him for the challenge of reprising the character of Benoit Blanc — and doing so in a way that did not diminish the charisma that character had in the first film. "How the **** do we take something that caught people's imagination and made them talk about murder mysteries and do it again without it becoming a pastiche of itself?" Craig asked. "I've spent the past 15 years of my life trying to do that in a franchise, so I'm not afraid of it."
Indeed, part of the challenge Craig faced during his tenure as James Bond was trying to pull audiences back in to see a character they already knew quite well, and it's clear that this experience has helped him breathe life back into Benoit Blanc for the sequel. Furthermore, Craig went on to praise the writing and direction of Rian Johnson himself, claiming that it's impossible for the character to seem repetitive when working with a director who is so talented.
In any case, it's clear that Daniel Craig's history as James Bond has given him a unique perspective on playing the same character across multiple films, and one has to hope that this experience will pay off throughout the "Knives Out" sequels.