What Happens When You Scan The QR Code In She-Hulk Episode 3?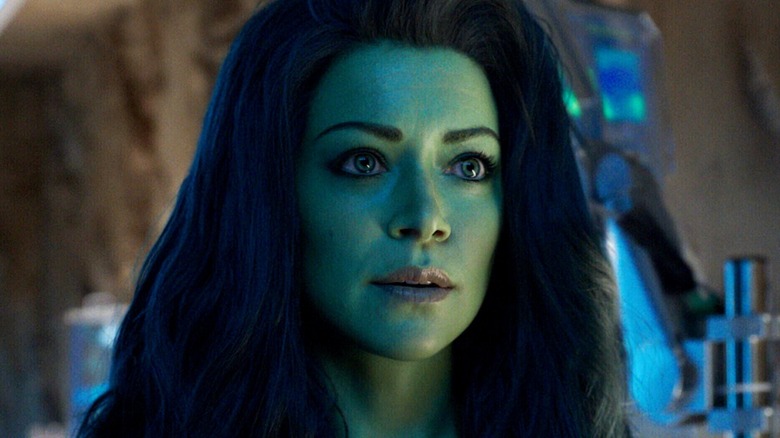 Marvel Studios/Disney+
Contains spoilers for "She-Hulk: Attorney at Law" Episode 3
Jennifer Walters (Tatiana Maslany) has been making waves in the Marvel Cinematic Universe in "She-Hulk," as in the first two episodes alone, she's met up with her cousin Bruce Banner (Mark Ruffalo), Titania (Jameela Jamil), Wong (Benedict Wong), and Abomination (Tim Roth). It's clear that Marvel Studios is aiming to make her a key player moving forward alongside the likes of Kate Bishop (Hailee Steinfeld) and Kamala Khan (Iman Vellani) — and the series has quickly impressed audiences, earning itself an 88% critic rating on Rotten Tomatoes.
But the show really leans into the legal-comedy genre in Episode 3, which sees Augustus "Pug" Pugliese (Josh Segarra) take on a fraud case involving a shapeshifting elf. That sounds like just another day in the MCU. Segarra recently told ComicBook.com that he'd love to see more of Pug's comic book origin, saying, "I love that you said that because Pug is paying his way through law school as a bouncer and he gets jumped one night. Spider-Man jumps in and saves him and he [Pug] decides to dedicate his life to protecting superheroes. I love that. I would love to play that out one day."
Seeing Segarra share the screen with Tom Holland's Wall-Crawler would be pretty fun, although the show wasn't allowed to use the hero due to a legal issue with the rights, which is a shame. But it's still great to see Pug get the spotlight in the episode, and one of his scenes features a QR code that gives fans a surprising free treat.
The QR code gives fans a free She-Hulk comic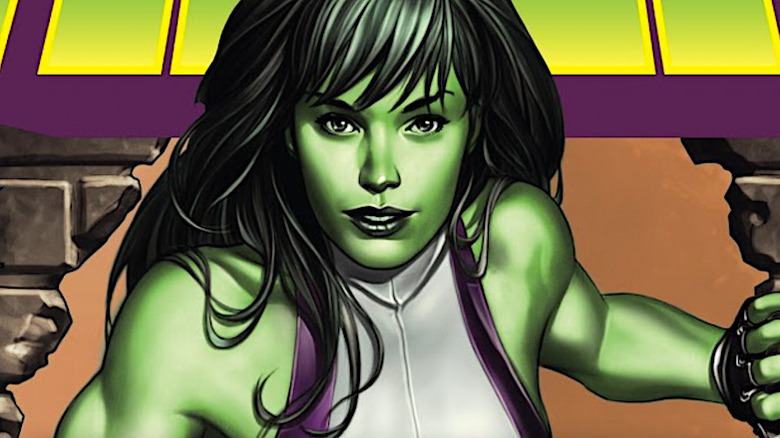 Adi Granov/Marvel Comics
Pug's secondary story in "She-Hulk" Episode 3 sees him help Los Angeles District Attorney lawyer, Dennis Bukowski (Drew Matthews), as he's been defrauded by a shapeshifting elf into thinking he was in a relationship with rapper Megan Thee Stallion. No, really. What's funnier is that the elf scams Dennis out of thousands of dollars in the process of pretending to be the world famous hip-hop artist. But when Pug is investigating some of the evidence online about the elf, fans can spot a QR code on his computer screen.
The QR code leads to Marvel's website, where fans can read the first issue of 2004's "She-Hulk" #1 by Dan Slott and Juan Bobillo, which the Disney+ series is heavily inspired by. The first issue shows Jennifer trying to balance her legal career with her responsibilities as an Avenger — while also trying to live her single-life to the fullest. The issue ends with her taking a job with Goodman, Lieber, Kurtzberg & Holliway in a scene that was perfectly translated into the end of Episode 2 in the bar.
Dan Slott's She-Hulk is worth a read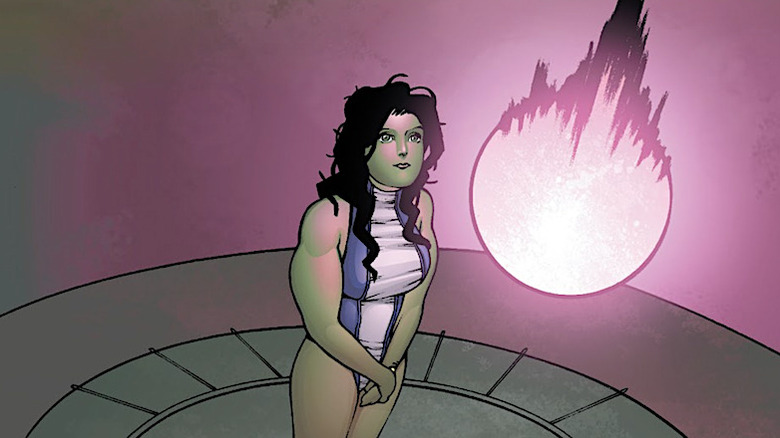 Juan Bobillo/Marvel Comics
Overall, it's great to see that Marvel Studios is trying to point new fans to the source material of these latest MCU projects; after all, they wouldn't exist without the comics — and tactics like free comics via a QR code is a great way to get a new generation of readers interested in them. And Dan Slott's "She-Hulk" series is an excellent jumping-off point into the world of comics because it revels in applying a legal lens to the wildest elements of the Marvel Universe. It wastes no time in establishing who Jennifer is, what she can do, and why she struggles with her dual roles as an attorney and an Avenger.
From there, it takes readers on an incredibly fun journey as Walters deals with many of the Hulk's enemies like the Leader and Abomination, as well as cases that could have a drastic change on the universe. She even gets pulled out of the time-stream by the Time Variance Authority in "She-Hulk" Volume 2 #3. We're not suggesting that the Disney+ series will crossover with "Loki," but it's definitely interesting that there's a connection there.
This isn't the first time Marvel has done this, as both "Moon Knight" and "Ms. Marvel" feature hidden codes for free digital comics. So get reading!