Coco Tops Weekend Box Office Again With $26.1 Million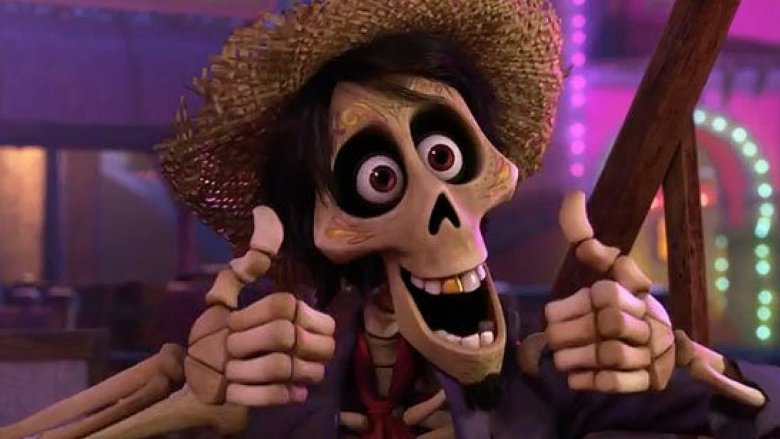 Coco is officially a hit. The Pixar movie held on to 48.6 percent of its massive Thanksgiving weekend crowd in its second week at the box office for an additional $26.1 million, putting it at an impressive $108.7 million domestic.
Coco follows 12-year-old Miguel (newcomer Anthony Gonzalez), a young boy from a shoemaker's family who dreams of becoming a musician like his idol, the late Ernesto de la Cruz (Benjamin Bratt), despite his family having banned music for generations. When Miguel tries to follow in his idol's footsteps, he ends up transporting himself to the Land of the Dead, where he goes on an adventure to find out his real family history.
The movie has been beloved by critics and fans, sitting at a 97 percent critics rating and a 96 percent audience score on Rotten Tomatoes. Its opening weekend was good for the fourth-highest Thanksgiving weekend gross of all time, following Frozen with $93.6 million, Moana with $82.1 million, and Toy Story 2 with $80.1 million. Coco is also doing well overseas– the movie is the highest-grossing film ever released in Mexico, and has already brought in $171.3 million internationally. (via Box Office Mojo)
Coco's first place finish tops the still-struggling Justice League, which brought in an additional $16.5 million for a $197.3 million total domestic gross. While this sounds like an impressive figure, it doesn't hold up against the pantheon of past DCEU movies– at this point in their run, Man of Steel sat at $248.5 million, Batman v. Superman: Dawn of Justice sat at $296.6 million, Suicide Squad sat at $262.4 million, and Wonder Woman sat at $275 million. (via Box Office Mojo) In third place behind Justice League was Julia Roberts' Wonder, which continued to impress with an additional $12.5 million.
It was also very good weekend for the specialty box office. Greta Gerwig's Lady Bird continued to impress, expanding to a total of 1,194 theaters and earned $4.5 million, good for seventh place. The movie, which currently holds the title for the best reviewed film on Rotten Tomatoes of all time, sits at an impressive $17 million total. Right below Lady Birdalso with $4.5 million was Martin McDonagh's Three Billboards Outside Ebbing, Missouri, which played in 1,430 theaters.
This weekend also saw the limited release openings of James Franco's The Disaster Artist and Guillermo del Toro's The Shape of Water, both of which were highly acclaimed by critics. The Disaster Artist, which stars Franco as the controversial The Room director Tommy Wiseau, opened in 19 theaters and brought in $1.2 million, good for twelfth place and a $64,254 per-theater average. The Shape of Water, which del Toro has described as an "otherworldly fairy tale," opened in two theaters and brought in $166,800 for an $83,400 per theater average.
The Shape of Water couldn't beat the rerelease of a classic– James Cameron's Titanic, which hit 87 theaters in celebration of its 20th anniversary. That movie held the 14th place just above Armie Hammer's Call Me By Your Name, which earned $281,280 from just four theaters for a $70,320 per theater average. This weekend also saw a five theater release for Woody Allen's Wonder Wheel, which earned $140,555 from five theaters. 
You can view this weekend's full box office results (via Box Office Mojo) below. 
Top 10 Weekend Box Office Gross
1. Coco: $26,114,000 (-48.6 percent), $108,689,404 Total Domestic Gross   
2. Justice League: $16,580,000 (-59.7 percent), $197,335,921 Total Domestic Gross  
3. Wonder: $12,500,000 (-44.9 percent), $88,023,623 Total Domestic Gross   
4. Thor: Ragnarok: $9,659,000 (-42.7 percent), $291,406,599 Total Domestic Gross 
5. Daddy's Home 2: $7,500,000 (-43.3 percent), $82,814,446 Total Domestic Gross
6. Murder on the Orient Express: $6,700,000 (-49.1 percent), $84,772,513 Total Domestic Gross   
7. Lady Bird: $4,543,990 (+12.0 percent), $17,089,441 Total Domestic Gross   
8. Three Billboards Outside Ebbing, Missouri: $4,530,000 (+2.9 percent), $13,670,520 Total Domestic Gross   
9. The Star: $4,000,000 (-42.3 percent), $27,279,653 Total Domestic Gross   
10. A Bad Moms Christmas: $3,480,000 (-28.9 percent), $64,831,823 Total Domestic Gross