There Is A New Highest Rated Movie Ever On Rotten Tomatoes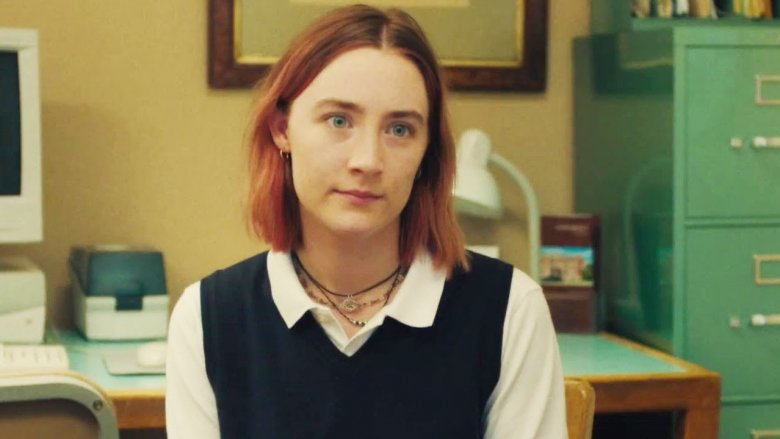 The critics have spoken, and it's officially undeniable—Lady Bird is pretty good. 
The movie is so good, in fact, that not a single writer out of 170 reviewers has had a negative judgment about the film. As a result, not only does the movie hold a 100% score on Rotten Tomatoes, the sheer volume of positive reviews has led the movie to become the highest-rated movie ever in the website's 19-year history.
The winsome story of a Catholic teen's coming-of-age in 2002, Lady Bird stars Saoirse Ronan as Christine "Lady Bird" McPherson, a 17-year-old girl in Sacramento who navigates life, love and family drama on her way out of high school and onward to New York. 
The movie's unprecedented success with reviewers since its premiere on September 1 has resulted in the dethroning of Rotten Tomatoes' previous highest-rated movie, Toy Story 2, which was released in 1999. That movie notched a 100% score as well, but only 163 reviews were recorded toward that rating. 
Additionally, averaged across all of the available reviews, Lady Bird's aggregate critical score on Rotten Tomatoes comes in at an 8.9 out of 10, compared to an 8.6 average for the Toy Story sequel.
It was a marvelous run for the charming Pixar animated classic, but the crowning of a new champion is an even more exciting triumph for filmmaker Greta Gerwig, a 34-year-old writer and actress who made Lady Bird as her directorial debut. It's hard to imagine how she could've made a better first impression.
Previously, Gerwig gained notice for co-writing and starring in the 2013 film Frances Ha and the 2015 release Mistress America, and she also recently made appearances in the movies 20th Century Women and Jackie as a performer. Ronan, around whose performance the film revolves, will be seen next year starring in the films On Chesil Beach, The Seagull, and Mary Queen of Scots.
"This is completely amazing and so incredibly appreciated by the entire team that made Lady Bird," said Gerwig, on being informed of her film's accomplishment.
"We put our heart and souls into this movie, and the last step of this deeply collaborative art form of filmmaking is giving the film to the audience and the film critics," she said. "That there has been such a warm reception is a dream come true. Thank you to everyone who has seen the film and has written about it so thoughtfully. We are all on cloud nine and using our tomato emoji more than we ever thought possible."
Lady Bird is out in wide release in US theaters now.