You Likely Missed Blue's Clues Legend Steve Burns In Young Sheldon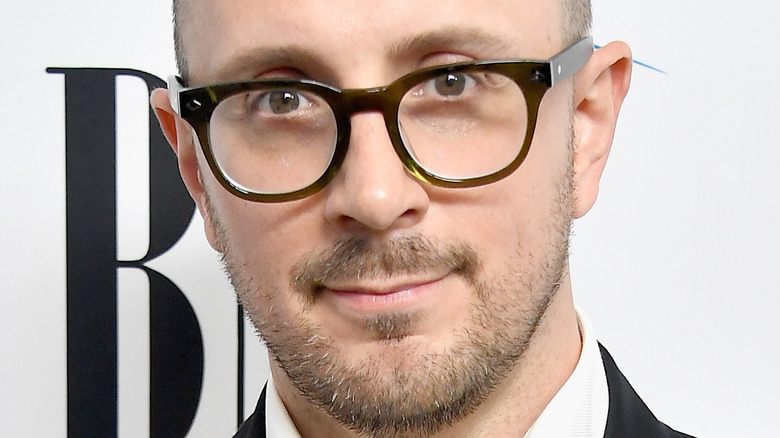 Frazer Harrison/Getty Images
"Young Sheldon" has been a very successful spin-off for CBS's "The Big Bang Theory" (via Rotten Tomatoes). As we know, the show follows Sheldon Cooper (Iain Armitage) as a 9-year-old boy with an incredibly high IQ as he tries to fit in during high school in Texas. 
One of the overarching themes of Season 5, especially the finale, is that Sheldon is beginning to go through puberty. For most of the final episode of the season, Sheldon struggles with worrying about a zit and even dreams about it, with the iconic duo of Penn and Teller narrating his pubescent journey.
Neither "The Big Bang Theory" nor "Young Sheldon" are short of famous guest stars like Penn and Teller. The CBS juggernaut featured several celebs across its seasons before "The Big Bang Theory" ended in 2019. James Earl Jones appeared along with Stan Lee, Regina King, Mark Hamill, and Billy Bob Thornton (via Collider). For "Young Sheldon," we've seen appearances from Elon Musk, Jason Alexander, Richard Kind, and Bob Newhart, who notably plays Professor Proton (via CBS).
However, there was another famous guest star in "Young Sheldon" that you likely missed.
Steve Burns plays Nathan during Young Sheldon
Steve Burns from "Blue's Clues" has been a staple since the show's first episode back in 1996 (via IMDb) and made an appearance in two episodes of "Young Sheldon" in 2020 and 2022. He first appears as the character of Nathan, a fellow "Star Trek" enthusiast that Sheldon befriends through an online connection, during the episode "A Live Chicken, a Fried Chicken, and a Holy Matrimony" (via TV Guide). He reappears as the character during Season 5's "A Pink Cadillac and a Glorious Tribal Dance," where Sheldon attends his first comic book convention. Although Burns's appearances are relatively short-lived, he has contributed to another essential part of "Young Sheldon."
Burns is the writer and singer for the show's main theme song, "Mighty Little Man." Also notably, just after the height of the COVID-19 pandemic in 2020, he released a heartfelt video in September of 2021 addressing his abrupt exit from "Blue's Clues" and the state of the world that went viral (via Twitter). He reappeared in 2019's "Blue's Clues & You" and just finished production on "Blue's Big City Adventure."