House Of The Dragon Episode 2 Recap: The Rules Of Engagement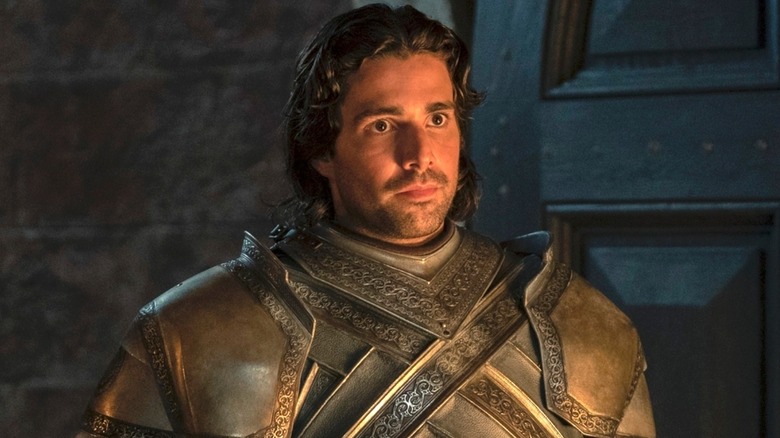 Ollie Upton/HBO
If the first episode of HBO's "Game of Thrones" spin-off "House of the Dragon" spent its hour-long run time putting chess pieces on the board, the second episode, entitled "The Rogue Prince," gets those pieces moving along nicely. Set half a year after the events of "The Heirs of the Dragon," this installment should make longtime "Thrones" fans both nostalgic and happy, showcasing classic Seven Kingdoms-style political intrigue alongside dragons, simmering familial tensions, and, of course, a budding battle for the Iron Throne.
With news that the series has already been renewed for a second season by the powers that be at HBO, it's clear that this story is just getting started. However, that doesn't mean there aren't plenty of questions raised by this second outing, which definitely introduced some pretty big conflicts that are sure to cast a shadow over the rest of the inaugural season. From dragon duels to unholy alliances to marriage plots, here's our deep dive into the second episode of "House of the Dragon."
Rhaenyra's claim to the throne could be uncertain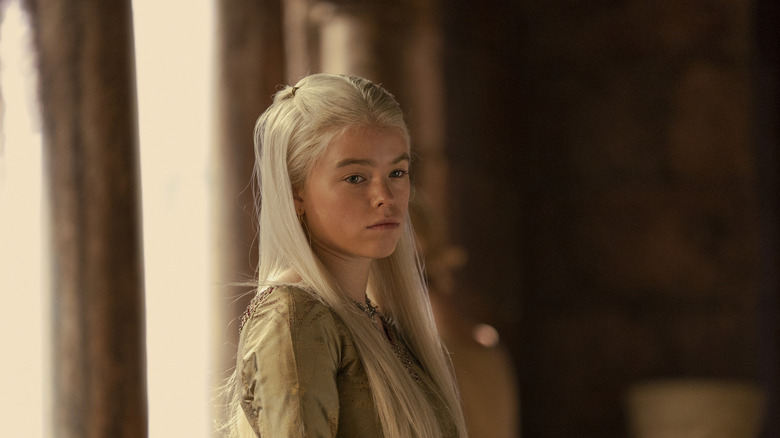 Ollie Upton/HBO
Though Rhaenyra (Milly Alcock) was named the official, recognized heir to the Iron Throne in the first episode by her father, King Viserys I (Paddy Considine), she clearly still feels like she has to prove herself as the future first queen of Westeros... and unfortunately for her, her old-fashioned father and his Small Council of dudes aren't taking that particularly well. After being kicked out of a Small Council meeting for suggesting that dragonriders might be of use against the growing threat of the Crabfeeder, a mysterious masked villain terrorizing sailors, Rhaenyra is tasked with choosing a new member of the Kingsguard, and wastes exactly zero time in choosing Ser Cristan Cole (Fabien Frankel) thanks to his history of strong combat.
However, after a conversation with Rhaenys (Eve Best) about how Viserys' inevitable second marriage could produce heirs to unseat Rhaenyra — as Rhaenys points out, the men of Westeros will do just about anything to prevent any little ladies from running the show — Rhaenyra decides to put her big girl pants on and take matters into her own hands. Without the permission of the crown, she intercepts her rogue cousin Daemon (Matt Smith) on dragonback after he steals a dragon egg meant for Viserys' lost son Baelon, stopping certain bloodshed between Daemon and Hand of the King Otto Hightower (Rhys Ifans), ultimately impressing her father.
That said, Rhaenyra's future is shaken up right at the end of the episode when her father announces his betrothal. Not only is Viserys' intended someone close to Rhaenyra, but any children that come from that union — especially sons — could certainly stop Rhaenyra from taking the throne.
How do you solve a problem like Daemon?
Ollie Upton/HBO
Meanwhile, over in exile, Daemon has been "squatting" at Dragonstone, pretending his companion Mysaria (Sonoya Mizuno) is pregnant — she isn't, and definitely doesn't have any interest in that happening — and that the two are to be legitimately married, despite the fact that Daemon already has a wife who's currently hidden away in the Vale. To add insult to injury, Daemon steals a dragon egg that was previously earmarked for Prince Baelon, the infant born to the late queen and Viserys who only lived for a few hours, as it's a Targaryen tradition for infants to sleep with dragon eggs in their cribs. (Incest is also a Targaryen tradition, but they bring that up slightly less.)
After Daemon's niece calls his bluff by confronting his dragon with one of her own and saying he could just kill her to regain his claim to the throne — after a weirdly sexually charged moment, he returns the egg and doesn't do a murder — he's left frustrated and powerless. However, before long, a truly unlikely alliance, spurred by Viserys' new engagement, arises, presenting Daemon with a new opportunity to come out on top.
Corlys and Rhaenys are making big moves
Ollie Upton/HBO
In this series' first episode, Corlys Velaryon (Steve Toussaint) and his would-be royal wife Rhaenys, known as "The Queen Who Never Was," spent most of their time lurking and staring in the shadows — and by the second episode, they're officially on the prowl with a plan at the ready. Viserys might still be mourning his wife, but it's a king's responsibility to marry and produce heirs, which inspires Corlys and Rhaenys to make their play.
Viserys is, understandably, pretty weirded out by the suggestion that he marry their daughter Lady Laena Velaryon, because she's... twelve. Though it does make sense to unite the houses of Targaryen and Velaryon — Velaryon, as Corlys points out about a hundred times, has strong ties to Valyria, which fell long before the events of this series — Viserys is reasonably unsettled by the prospect of marrying an actual kid, particularly after he spends time with her. After a chat with Laena, who's sent by her parents to say she'll happily bear him many strong sons, Viserys definitely doesn't seem excited about marrying a little girl, and without speaking to Corlys or Viserys, he chooses a different future queen entirely. We don't see how Rhaenys responds to this obvious slight, but here's what we do see: after Corlys storms out of a Small Council meeting following Viserys' announcement, he meets with Daemon, saying the two need to work together to make their mark upon Westeros. Clearly, this union will have some pretty big implications going forward, especially for Viserys.
Viserys is vulnerable, and everybody knows it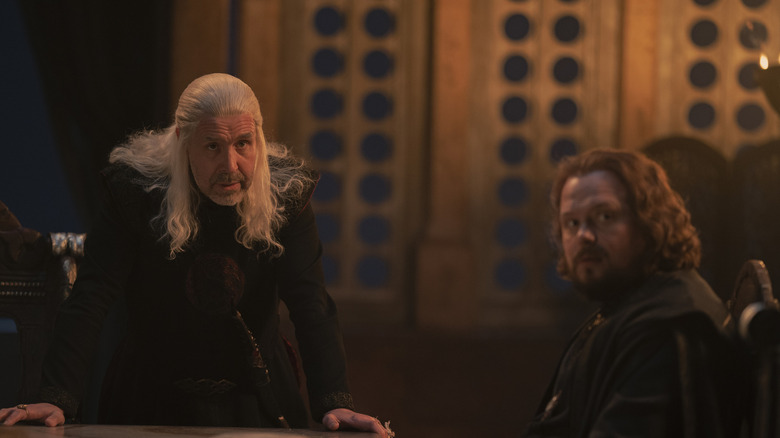 Ollie Upton/HBO
So what's going on with Viserys, and why does he have everybody's trousers in a twist? Well, after being presented with a smarter political match in Lady Leana Velaryon (despite the fact that, again, she is a literal child), Viserys shocks everyone, including his daughter and heir Rhaenyra, by announcing that he'll marry Alicent Hightower (Emily Carey). Alicent is both the daughter of Otto, the Hand of the King — perhaps the only person psyched about these upcoming nuptials — and best friend to Rhaenyra, who is now confronted with the possibility that her closest confidante could have a baby that would unseat her from the Iron Throne. Rhaenyra did tell her father she would be okay if he married again, but she definitely didn't give her blessing to Alicent specifically.
Viserys, however, has bigger fish to fry, and that's saying nothing of the Corlys and Daemon alliance brewing in the background. In addition to his mysterious back wound that needs regular leeching, he also has a wounded finger from the Iron Throne that needs attention from maggots, because he didn't have enough disgusting creatures attacking his body already. It's notable that, by the second ever episode of "House of the Dragon," Viserys is experiencing not one, but two apparently severe health scares, indicating that the issue of succession will be of the utmost importance as his physical well-being clearly declines.
When does House of the Dragon Season 1, Episode 3 air?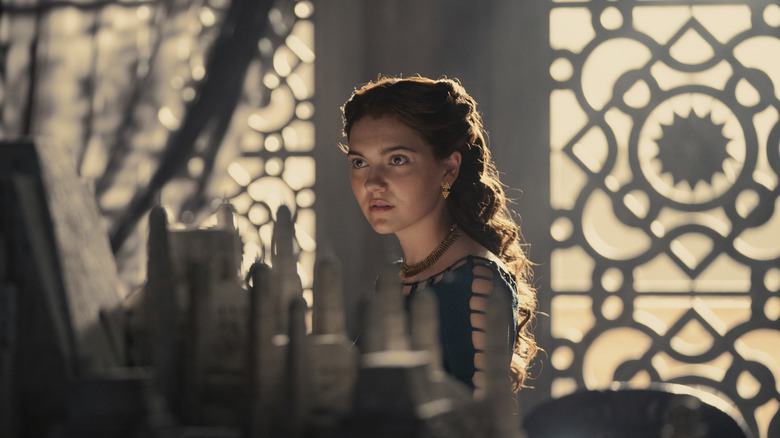 Ollie Upton/HBO
The third episode of "House of the Dragon" will air on Sunday, September 4, on both HBO and HBO Max — and if the second episode is any indication, this fledgling series is ready to hit the ground running and get this Targaryen infighting going.
As it stands at the end of Episode 2, Rhaenyra clearly feels betrayed by her father and, in a roundabout way, Alicent, as the latter never mentioned the fact that she was spending her evenings watching Viserys play with the Westeros version of model trains (specifically, a giant stone model of Old Valyria). Viserys, worried about his health and line of succession, has gone against the advice of his council to choose a bride that's old enough to bear children but will almost certainly cause controversy when those children try to take the throne. Daemon might have been bested by his niece Rhaenyra and is down a dragon egg, but with Corlys — and, by extension, Rhaenys — on his side, he'll likely be back in the battle before long. With eight episodes to go, "House of the Dragon" definitely has a lot more in store for the Targaryens and their court... and only time will tell where the crown will land.