Mark Ruffalo Says She-Hulk Is Different From His Other Marvel Projects In This One Big Way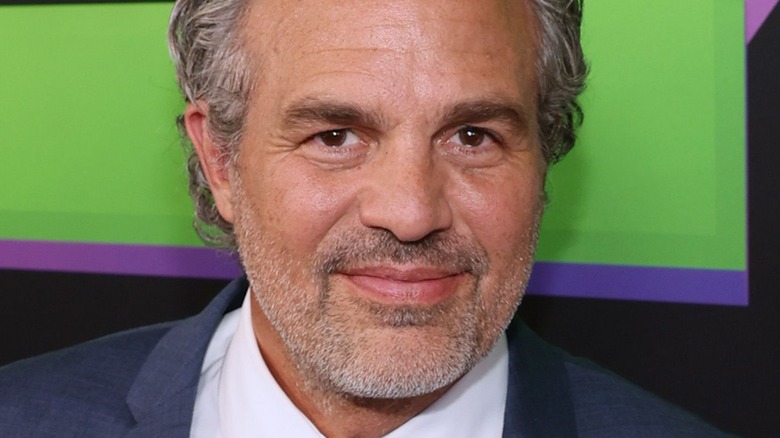 Jesse Grant/Getty Images
Launching in 2008 with director Jon Favreau's "Iron Man" and a career-transforming performance by Robert Downey Jr. as Tony Stark, aka the titular character, the Marvel Cinematic Universe redefined the way superhero movies are made. In the ensuing years, of course, the MCU grew rapidly with "The Incredible Hulk," "Iron Man 2," "Thor," "Captain America: The First Avenger," and finally, 2012's "The Avengers," assembling the principal characters to end Phase One.
Seven years and 16 movies later, the MCU neared the completion of Phase Three with "Avengers: Endgame," assembling Earth's Mightiest Heroes — along with some superpowered beings from other parts of the universe — one last time. And while the film runs an expansive 3 hours and 1 minute, directors Anthony and Joe Russo were tasked with creating a storyline that not only focuses on the core group of characters introduced in Phase One but also gives ample attention to characters from the saga's "Guardians of the Galaxy" films, "Ant-Man" films, "Doctor Strange," "Spider-Man: Homecoming," "Black Panther," and "Captain Marvel."
Despite the battle for screen time among all the characters in the MCU, the presence of Bruce Banner, aka the Hulk (Mark Ruffalo, taking over from Edward Norton), grew considerably, going from a primal mass of a man that mainly grunted, growled, and roared to communing in rudimentary speech to "Smart Hulk." However, between his scientific calculations and playful banter with his colleagues as Banner and his butt-kicking as the mean green, his appearances were still limited. With the new Disney+ series "She-Hulk: Attorney at Law," however, Ruffalo is being afforded the sort of freedom with his character that he's never experienced before.
Ruffalo says She-Hulk provides 'endless amount of space' to play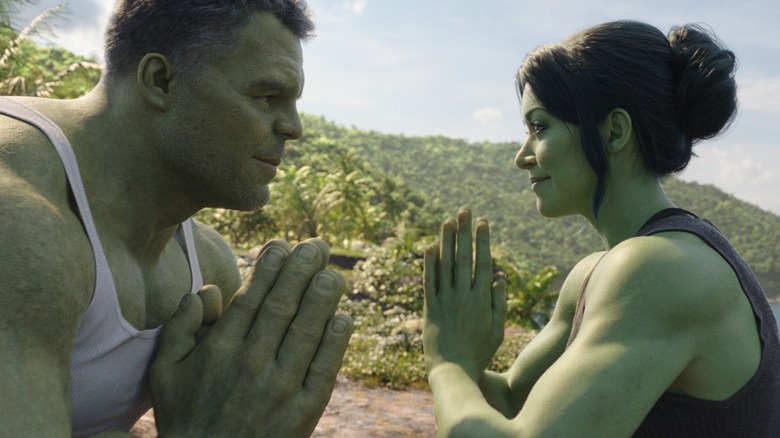 Marvel Studios/Disney+
Jennifer Walters (Tatiana Maslany), of course, is more than just a legal eagle in "She-Hulk: Attorney at Law." Following a car crash where Bruce's gamma radiation-contaminated blood drips into one of her open wounds, Jen, thanks to possessing DNA similar to her cousin, suddenly has the ability to instantly transform into a 6-foot-7-inch female version of the Hulk. Unlike Bruce's long road to becoming a fully articulate green being, Jen possesses the same fast-thinking intellect that she uses for her day job. As such, the dialogue between Bruce and Jen comes in a fast and furious manner as the characters forge a new relationship in — thanks to the series' lighter tone — a fun new way.
Mark Ruffalo told Variety he enjoyed the opportunity he and Maslany had to explore their characters in "She-Hulk," something he couldn't do as part of the much larger Avengers ensemble. "There's more focus on these characters. We got to just play more," he said. "There was just endless amount of space to [goof off], improvise and focus on the relationship with these characters and try to get the comedy right."
While "She-Hulk" is merely the beginning for Maslany's character, the series certainly opens the door for much more of Ruffalo's iteration of the Hulk. It's a future that Ruffalo welcomes — even if it involves stories about the Hulk's past. In an interview with Entertainment Weekly, Ruffalo asserted, "Five years from now, [the Hulk] could totally morph into anything," adding, "I almost see him going back to 'Berserker Hulk' or 'World War Hulk.'"
"She-Hulk: Attorney at Law" is streaming exclusively on Disney+, with new episodes premiering every Thursday through October 13.