Mark Ruffalo Confirms What We Suspected All Along About Hulk's Potential MCU Future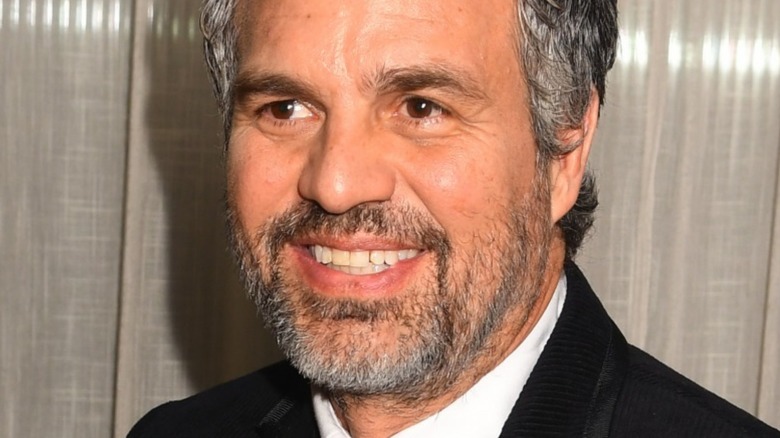 Dave J Hogan/Getty Images
The MCU's Bruce Banner, aka The Hulk (Mark Ruffalo), is fairly popular, despite his penchant for letting his emotions get the better of him (or perhaps that is what makes him a fan favorite in the first place). As an integral member of the Marvel Cinematic Universe, the Hulk has appeared in several "Avengers" movies, as well as popping up in other films like "Thor: Ragnarok." Unfortunately, there has yet to be a solo Hulk movie starring Mark Ruffalo, but that doesn't necessarily mean that his story is over, as highlighted by his recent appearance on Disney+'s "She-Hulk: Attorney at Law."
"She-Hulk" sees Bruce explain to his cousin, Jennifer Walters (Tatiana Maslany), how to use her newly acquired abilities as a gamma ray-fueled hero. Although she is reluctant at first to embrace this new identity and power, she eventually begins to heed the advice given to her by Bruce. Before "She-Hulk," fans have seen several different iterations and manifestations of the Hulk, including his original transformation, one that combines both Bruce's intelligence and the Hulk's strength, and one that is entirely at the whims of the Hulk personality. Luckily for fans of the Marvel hero, it seems as if Ruffalo still thinks there are plenty of stories left to be told.
Ruffalo can imagine a plethora of future Hulk storylines
During an interview with Entertainment Weekly, Mark Ruffalo explained that he likes seeing the Hulk continue to grow and evolve with the MCU, and said, "Five years from now it could totally morph into anything, whatever's pertinent at the time. I almost see him going back to 'Berserker Hulk' or 'World War Hulk.' It could go anywhere. That's the exciting part — I've played five different versions from beginning to now, and that's kept it interesting for me and I hope interesting for other people."
Ruffalo then elaborated and said that there are even gaps in the character's history since he started playing him that would make for a great story. In particular, there are the events between "Avengers: Infinity War" and "Avengers: Endgame," which saw Bruce Banner learn how to merge both of his personas into a coherent whole. Ruffalo added, "I love how we start to open up that world, but I think there's almost a standalone story to be told for just those two years. How did we go from a Banner who couldn't turn into the Hulk anymore to all of a sudden this fully integrated version?"
With these words in mind, it sounds like Ruffalo believes there to be a tremendous wellspring of untapped stories that run the gamut of Hulk iterations. This means that fans could potentially see a film or show that fills in the gaps of how Bruce was able to become Smart Hulk or perhaps we could see an even more savage version of the Hulk than the one we saw in "Thor: Ragnarok." Either way, this is great to hear for fans of the Hulk, and who knows what the future has in store for the strongest member of the Avengers.