Who Does Mike Tyson Play In The Indian MMA Movie Liger?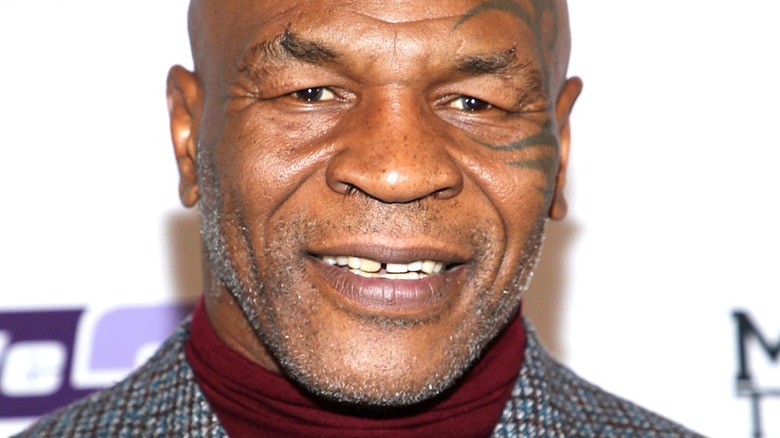 Phillip Faraone/Getty Images
It's been almost 20 years since Mike Tyson last stepped into the ring as a professional boxer. While the former heavyweight champion ended his boxing career with a shocking loss to Kevin McBride (per Bleacher Report), his legacy as one of the fiercest fighters to ever enter the ring stands very much intact, even if it also remains one of boxing's most complicated. Tyson's legacy outside of the ring is just as complicated, with troubling issues regularly dogging the prizefighter's personal life.
Much to Tyson's chagrin, many of those are currently being explored in Hulu's biographical series "Mike." Though the iconic pugilist clearly has issues with that series, he's actually become a bit of a player in the film and television realm himself. Over the years, the former champ has delivered memorable performances in the likes of "The Hangover," "Law & Order: Special Victims Unit," "Entourage," and "The Last O.G.," and even voiced himself the gonzo Adult Swim animated series "Mike Tyson Mysteries." Tyson's latest big screen role is taking him to bold new territory, however, as it comes in an action-packed Bollywood spectacular. The film is called "Liger," and here's who Mike Tyson plays in this project.
Not surprisingly, Tyson plays a legendary American fighter in the Bollywood actioner
If you've yet to hear anything about "Liger," the film is set largely in the world of India's mixed martial arts scene, and it follows the titular fighter's (Vijay Deverakonda) rise to the top. As one might expect from a Bollywood venture, that rise is spotted by the requisite spectacle, including loads of hyper-stylized action, and a swooning romantic subplot. And every step of the journey seems to be leading Liger to the U.S. for an encounter with his idol, aging MMA star Mark Henderson.
According to India Today's less-than-flattering review of the film, that pivotal role is indeed played by Mike Tyson. The boxing legend's role in "Liger" is apparently little more than an extended cameo, but according to the review, his presence breathes a bit of life into the otherwise underwhelming proceedings. While it's unclear exactly what part Tyson's character has to play in the overarching narrative, his brief appearance in the trailer for "Liger" seems to pit Henderson as some sort of antagonist to the central players. It also finds Tyson decked out in Western wear, and surrounded by gun-wielding cowboys on horseback, so that should be something to see indeed.
"Liger" has just begun its theatrical run in India. As of this writing, no U.S. release date for the film has been announced, but given Mike Tyson's presence alone, some sort of Stateside run seems more a matter of "when," instead of "if." So keep your eyes peeled.