The Surprising Lesson Mike Tyson Had To Learn For The Hangover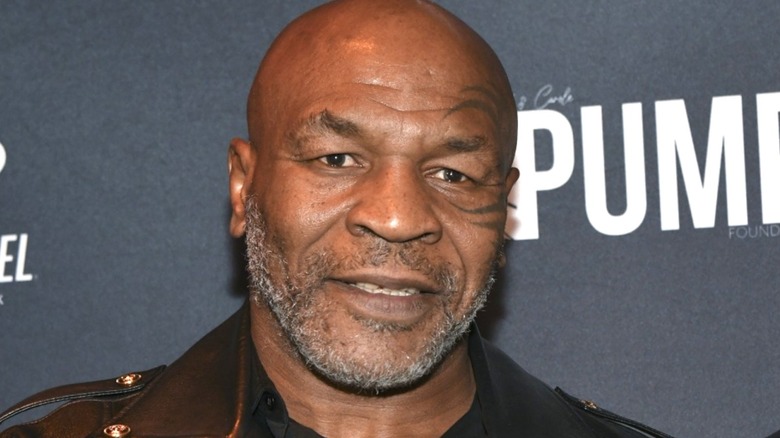 Rodin Eckenroth/Getty
Mike Tyson may be one of the top names in boxing — and remembered for infamously biting opponent Evander Holyfield's ear during a 1997 fight — but this heavyweight champion isn't a one-trick pony. Through the years, "Iron Mike" earned a name in Hollywood by landing a slew of cameos as himself in "How I Met Your Mother," "Scary Movie V," "Entourage" (via IMDb) and many others. One of his most comedic appearances is in the 2009 comedy "The Hangover," which chronicles Phil (Bradley Cooper), Stu (Ed Helms) and Alan (Zach Galifianakis) as they search for their friend Doug (Justin Bartha) across Las Vegas following a bachelor party gone awry.
Over the course of the group's blacked-out evening, they break into the lavish home of Tyson, steal his beloved tiger, and bring it back to their suite. The next morning, they wake up to the sound of the boxer singing along offkey to Phil Collins' "In the Air Tonight." When Phil, Stu and Alan inquire about their surprise guest, Tyson punches Alan in the face and demands to know why they took his tiger. It's a hilarious moment and a highlight of "The Hangover," yet filming the scene required Tyson to learn something that he never thought he'd have to.
Mike Tyson had to learn how to punch for the camera
When Mike Tyson joined the cast of "The Hangover," director Todd Philips didn't have to provide pointers about acting or singing. Surprisingly, Phillips had to help the acclaimed fighter with his punch. According to Phillips, there's a major difference between throwing a real punch in the ring and doing so on a movie set. In an interview with James Cordon on "The Late Late Show," (posted on YouTube), Phillips said, "He kept doing it wrong for camera. In fact, he was sort of pulling it back too far." Phillips demonstrated for Tyson how to properly execute the move in order for it to look good on-screen. 
Tyson's response to this, reflected Phillips, was priceless. "Without missing a beat, he goes, 'Oh, this is great. I'm getting boxing lessons from the captain of the Jewish debating team,'" said Phillips. Ed Helms described this as "one of the funniest insults of the entire production." He said, "It was amazing. It was the best insult I had ever heard."
Overall, Phillips described Tyson as a "really funny guy" who is "really down for anything." It was Tyson's knack for comedy that landed him a return in 2011's "The Hangover Part II," in which he sings "One Night in Bangkok" at the wedding of Stu and Lauren (Jamie Chung).