How Queen Latifah Really Felt About Working With Adam Sandler On Hustle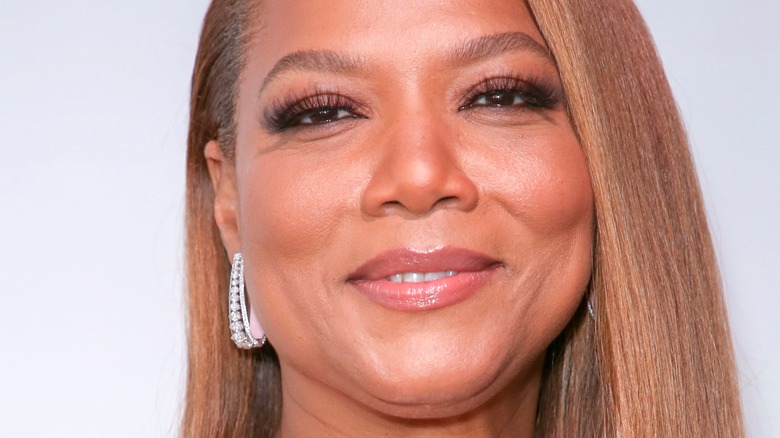 Ron Adar/Shutterstock
Netflix's "Hustle" has been another big win for Adam Sandler lately (via Rotten Tomatoes) in his basketball-related dramedies like 2019's "Uncut Gems." The movie follows Howard Ratner, a jeweler in New York City with ties to the NBA. With "Hustle," the focus is centered around the pursuit of Stanely Sugarman returning to the NBA as a coach. He then discovers a great player (Juancho Hernangomez) on the streets of Spain, using him as a hopeful shot to change his and his family's life.
Sandler surrounds himself with well-known actors in key roles, including "Hell or High Water" actor Ben Foster and even the legendary Robert Duvall. Sandler's wife in "Hustle" is even played by Queen Latifah. Although she's most known for "The Queen Latifah Show" and roles in movies during the early 2000s like "Chicago," "Taxi," and "Bringing Down the House," Queen Latifah has over 100 acting credits to her name (via IMDb).
She's been in the industry for about as long as Sandler has, and she explained how she felt about acting alongside him in "Hustle."
Queen Latifah said she and Sandler already had chemistry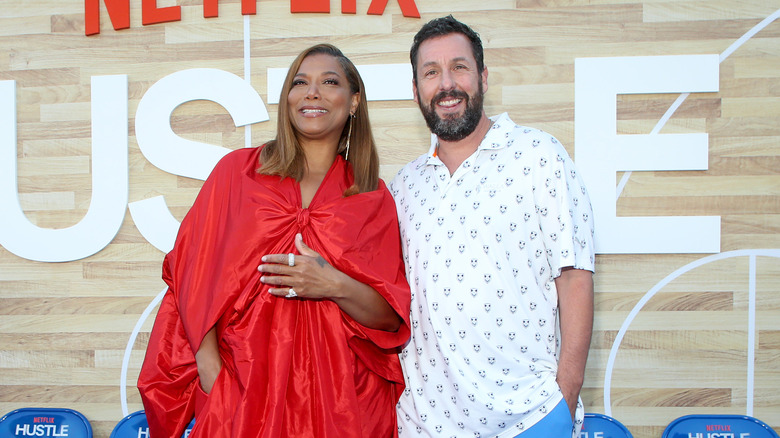 Phillip Faraone/Getty Images
According to a conversation Queen Latifah had at the red carpet premiere of "Hustle" with E! News, she felt that co-star Adam Sandler and she already had chemistry before shooting the movie. The two have been friends for years. "The chemistry was already there to make this happen 'cause I love him, he loves me, we're crazy about each other," she explained, even referring to Sandler as her man. "That's my man, and I fight for my man." While speaking with Jimmy Kimmel, she said it's hard not to love Sandler for who he is. She explained that while admiring a pair of Sandler's shoes, he immediately had someone run out and buy her a couple of pairs and sent them to her room.
This isn't the first time other actors and actresses have noted Sandler's generosity. Co-stars like Chris Rock have previously revealed that Sandler sent a luxurious gift to his "Grown Ups" co-stars when the movie performed well at the box office (via Box Office Mojo).
Both Queen Latifah and Sandler are still busy aside from "Hustle," with Sandler finishing up production of "Murder Mystery 2" and Queen Latifah continuing her role as Robin McCall on "The Equalizer."