Adam Sandler's Luxurious $200,000 Gift To His Grown Ups Co-Stars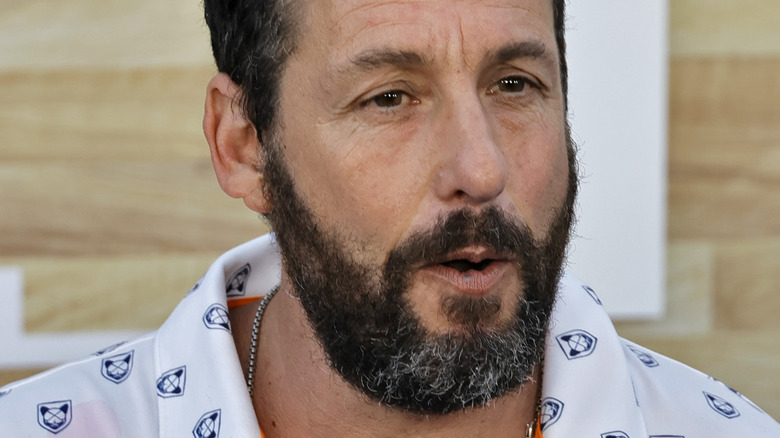 Kevin Winter/Getty Images
It's no secret that Adam Sandler has earned a lot of money over the years due to the success he has had in the entertainment industry. In fact, his net worth is currently around $420 million (via Celebrity Net Worth). Sandler got his start making guest appearances as Smitty on "The Cosby Show" back in the late 1980s, although his time as a cast member on "Saturday Night Live" would truly kickstart a successful career (via IMDb). Now, Sandler has written, produced, and acted in comedy classics. During the 1990s, it was "Billy Madison," "Happy Gilmore," and "The Waterboy." In the early 2000s, "Punch-Drunk Love" gained positive reviews from critics and fans (via Rotten Tomatoes) along with "Anger Management," where Sandler starred opposite Jack Nicholson himself.
A few years later, in 2010, Sandler would write and star in another big comedy hit that even prompted a sequel with "Grown Ups," alongside Chris Rock, David Spade, Kevin James, and Rob Schneider. The film follows a group of friends who reunite after the death of their old basketball coach, rediscovering what it means to live a good life and getting into hilarious situations along the way. Critics weren't too fond of the script, but audiences responded extremely well as "Grown Ups" earned over $270 million at the box office on an $80 million budget (via Box Office Mojo).
Sandler likely ended up making a good amount off of "Grown Ups" with his acting fee and other royalties, which may have prompted him to give his co-stars a $200,000 gift each.
Adam Sandler gave each of his Grown Ups co-stars a Maserati
According to a report from The Hollywood Reporter around the time of the release of "Grown Ups" in 2010, Adam Sandler awarded each of his co-stars (Chris Rock, David Spade, Rob Schneider, and Kevin James) a Maserati worth about $200,000 as a thank-you for the work they did together. Rock appeared on The Howard Stern Show during that time to confirm that Sandler did do that. Spade was apparently embarrassed by the gift and had yet to drive it (via Daily Mail), and Schneider desired an eco-friendly electric vehicle, so Sandler gave him a Tesla Roadster instead (via CleanTechnica). Either way, a car worth that much is a very generous gift from Sandler. He has continued to use his platform to give back, as Sandler partnered with the likes of fellow comedian Howie Mandel amongst others, to raise over $300K for unemployed comics during the height of COVID-19 in 2020 (via THR).
 "Grown Ups" also came out through Sandler's production company Happy Madison Productions, which means it's possible Sandler earned quite a few extra bucks on "Grown Ups." He has since taken a turn to more serious dramatic roles recently, being nominated for multiple awards in his role in "Uncut Gems," although he was ultimately snubbed for an Oscar (via Entertainment Weekly). He also currently stars in "Hustle" on Netflix, another basketball-related drama.