The Untold Truth Of Click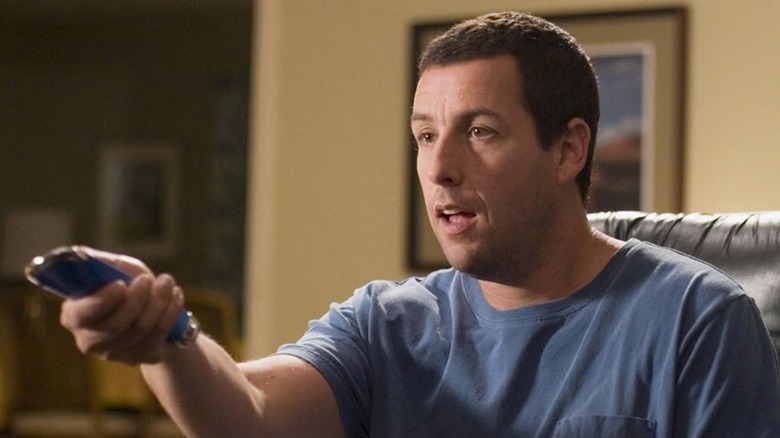 Sony Pictures Releasing
In recent years, thanks to stints on Netflix and Hulu, "Click" has been given a second life and a new reputation as one of Adam Sandler's more underrated comedies. It doesn't reinvent the wheel, but there's a certain appeal to this "It's a Wonderful Life" premise, even if it's already been tackled about a dozen different ways. Michael Newman (Sandler), a workaholic architect vying for a partnership at his company, is given a magical remote control that lets him fast-forward or rewind through different parts of his life. When the remote gets set to auto-pilot and goes out of control, his marriage to his wife Donna (Kate Beckinsale) and his relationship with his children start to unravel.
The movie could have flopped and faded into obscurity in Sandler's filmography — nestled somewhere in-between "Bedtime Stories" and "Sandy Wexler" — but by pairing a charming ensemble cast with one of Sandler's better emotional payoffs, "Click" holds its own as a memorable chapter in the actor's career. There are plenty of cameos and in-jokes you might have missed, and some amusing anecdotes from behind the scenes. From a head-scratching award nomination to the resurrection of a beloved vocalist's career, here are some surprising facts about "Click."
The premise of Click wasn't totally original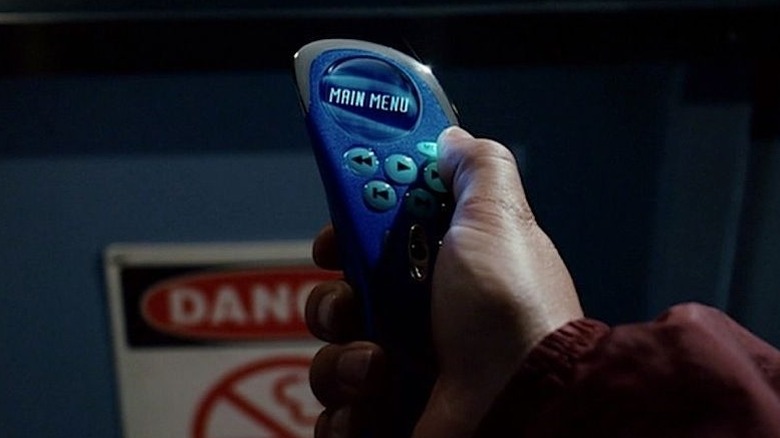 Sony Pictures Releasing
Michael Newman's ability to fast-forward through the parts of his life he doesn't feel like participating in, upon first watch, seems like a fresh and unique million-dollar idea. That is, until you learn that it was already done nine years prior on the Fox Kids network, on the "Goosebumps" television series. That version even has the same title.
Based on the eighth story in R.L. Stine's short story collection "Tales to Give You Goosebumps," the episode "Click" centers around teenager Seth Gold and his brand new universal remote. The remote controls not only all of his electrical appliances, but everyone around him. And just like Michael in the film, Seth abuses the power he holds in the palm of his hand and faces drastic consequences.
According to Vulture, Scholastic, Inc. reportedly considered suing Sandler and his production team on the grounds of plagiarism, but if such talks did indeed occur, it seems the two parties agreed that the overlapping plots were coincidental. Both Stine's short story and Sandler's movie can even be traced back to "The Magic Thread," a story in William Bennett's "The Book of Virtues: A Treasury of Great Moral Stories," where a boy named Peter can make years pass by tugging on a thread (via KidsStory.org).
You might not remember Jonah Hill's brief Click role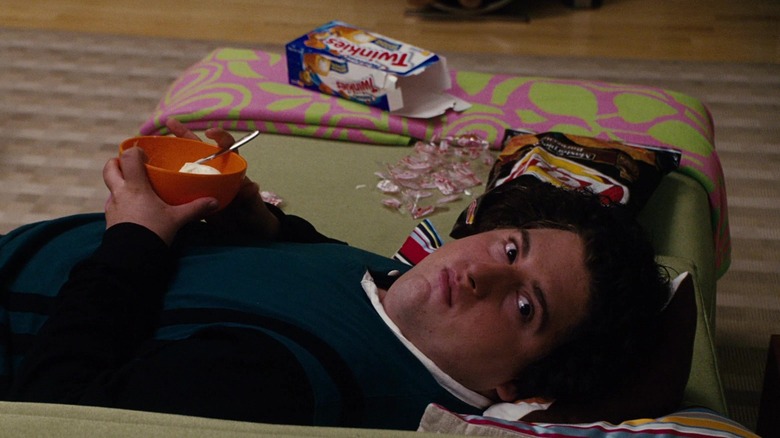 Sony Pictures Releasing
In only his third ever credited role, after "I Heart Huckabees," "The 40-Year-Old Virgin," and "Grandma's Boy," a 23-year-old Jonah Hill appears in one scene, as a teen version of Michael's son Ben. When Michael fast-forward's to Ben's high school years, he ends up mocking his own son about his weight. It's a scene that serves mostly as an illustration of how Michael's actions have poorly influenced his children, but it also sets up what comes next: Michael learns that Donna left him for Bill (Sean Astin), Ben's former swimming coach.
Hill's performance was his first on-screen collaboration with Sandler, and the two actors would again work together in 2009, on Judd Apatow's "Funny People." A few short years after "Click," Sandler and Hill would find themselves in very different places in their careers. In 2011, Sandler turned in two of his most dire critical flops ("Just Go With It" and "Jack and Jill"), while Hill garnered a Best Supporting Actor Oscar nomination for his portrayal of Peter Brand in "Moneyball."
Morty's real identity is foreshadowed earlier than you might think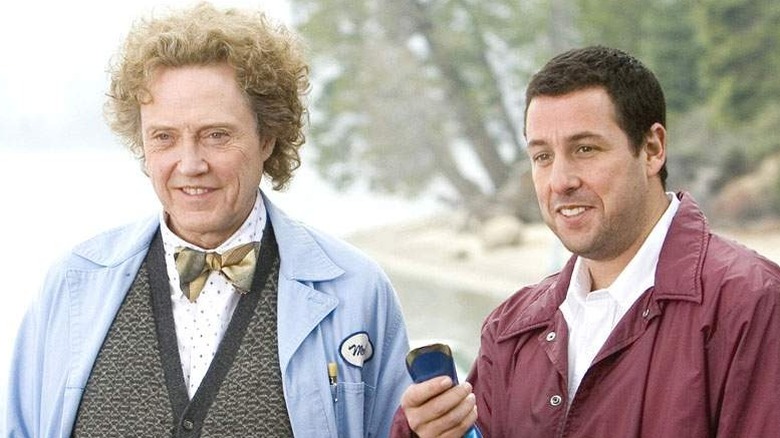 Sony Pictures Releasing
The film's non-O'Doyle antagonist, Morty (Christopher Walken), works in the "Beyond" section of a Bed, Bath & Beyond. He's a kooky, wild-haired tinkerer with access to a stadium-sized back-stock of items, including the futuristic blue remote control that "remote controls your universe." The set-up of Morty's proposition being a trap that Michael can't avoid because of his own greed is, ultimately, undone when the audience learns that the entire movie was all a dream. Still, throughout "Click," Walken delivers a charismatic — and sometimes eerie — performance as an immortal puppet master.
In the film, when Michael's father dies, Morty reveals that he "took him," because he is, in fact, the Angel of Death. The reveal is supposed to be a surprise, but the clues were right in front of us all along — "mortis" is the Latin word for death and is the basis for the word "mortality," the central theme of the movie.
Eric Lamonsoff strikes again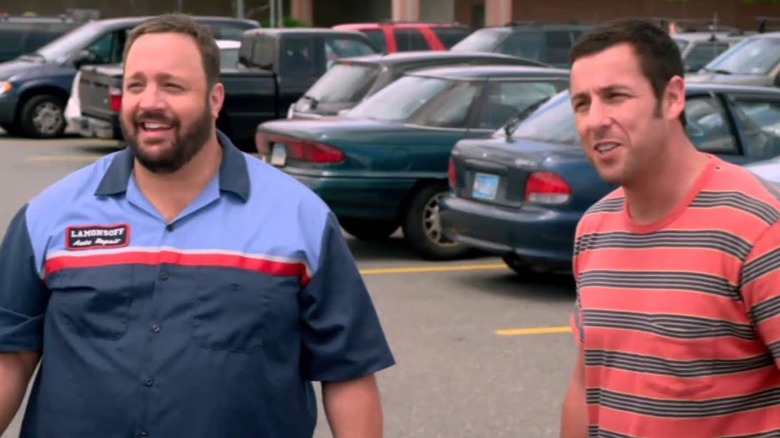 Sony Pictures Releasing
Sandler has always made it a habit of casting his best friends — namely David Spade, Kevin James, Chris Rock, and Rob Schneider — in his movies. This ensemble takes the spotlight in "Grown Ups" and "Grown Ups 2," but said co-stars frequently pop up in small roles throughout most of Sandler's vehicles. While you may remember James playing Eric Lamonsoff in "Grown Ups," you may not know that the character is named after a real person. 
Before his identity was given to James' character, Lamonsoff and Sandler were childhood friends and college roommates. Not only does the real Eric Lamonsoff have bit roles in "The Week Of," "Jack and Jill," and "You Don't Mess with the Zohan," his name is also mentioned in "The Wedding Singer," "Pixels," "Sandy Wexler," "Murder Mystery," and "Click." In "Click," Lamonsoff is referred to by Ammer (David Hasselhoff) as a former CEO of the architecture company where Michael and Ammer work. 
The "Sandlerverse" is expansive, as the comedian loves having minor characters do recurring cameos in his movies. Lamonsoff joins 10-Second Tom ("50 First Dates" and "Blended"), Otto the Caddy ("Happy Gilmore" and "Jack and Jill"), Nazo the Delivery Guy ("Big Daddy" and "Mr. Deeds"), and the O'Doyle family ("Billy Madison," "Click," and "Hubie Halloween").
A familiar family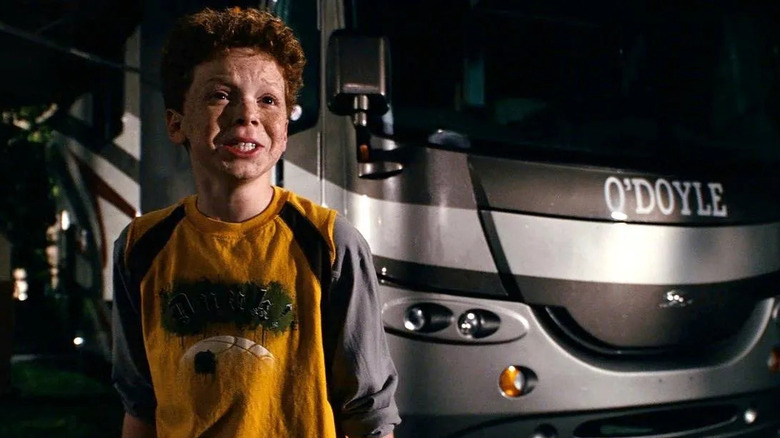 Sony Pictures Releasing
Making their screen debut in "Billy Madison" 12 years prior, the O'Doyles are an antagonistic clan of four red-headed boys who terrorize Sandler's titular adult student. In "Click," the O'Doyles are back as the Newman family's neighbors, and eldest son Kevin (Cameron Monaghan) is a suburban bully. He particularly likes picking on Ben and getting under Michael's skin.
There are many memorable comedic moments in "Click," like when Michael discovers the power of his remote by way of expediting his dog Sundance's bathroom break, or when he pauses his life so he can fart in Ammer's face at work. But some of the best scenes in the movie come courtesy of Kevin O'Doyle. When he and Ben are playing with a remote control Robo-Dog, Michael runs it over with his car. Similarly, when the two boys are playing catch outside, Michael pauses their game with his remote and moves Kevin's hand just enough so Ben can clock him with a ball toss. 
The "O'Doyle Rules!" catchphrase made famous in "Billy Madison" doesn't return in "Click," but Monaghan's performance is a stroke of majorly annoying genius, a great shout out to Sandler's past work, and a bit of nostalgia for the movie that turned him into a box-office kingpin.
Michael's futuristic car almost hit the market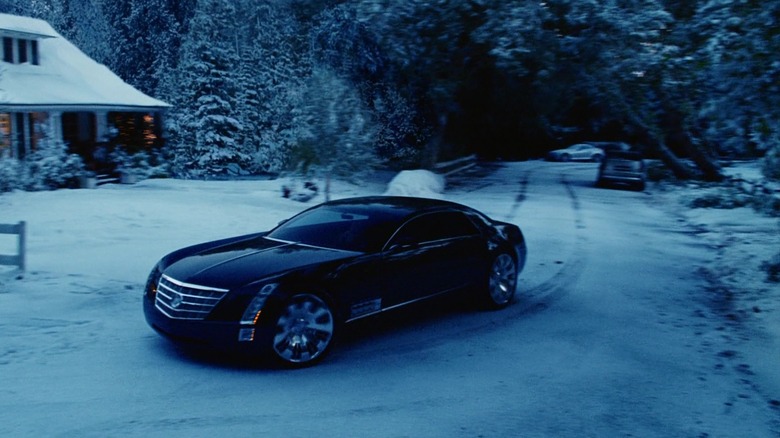 Sony Pictures Releasing
As the plot of "Click" finds Michael fast-forwarding his life a decade into the future, after he's taken over as CEO of his architecture firm and is living in a lavish mansion, we see him driving a sleek, all-black luxury sedan. The actual car used in shooting these scenes, known as a Cadillac Sixteen, was a real-life concept model introduced by General Motors in 2003, as reported by Auto Evolution.
With its distinctly forward-thinking aesthetic, the Cadillac Sixteen proved to be a remarkably cinematic vehicle. In addition to "Click," it's made a number of screen appearances, showing up in the Hugh Jackman-led robot boxing movoie "Real Steel" in 2011, as well as video games like "Midnight Club 3: Dub Edition" and "Asphalt 8: Airborne." And though the Sixteen never saw an official release to the wider market, some of its design wound up incorporated into later Cadillac models, primarily the 2008 CTS.
Children of famous actors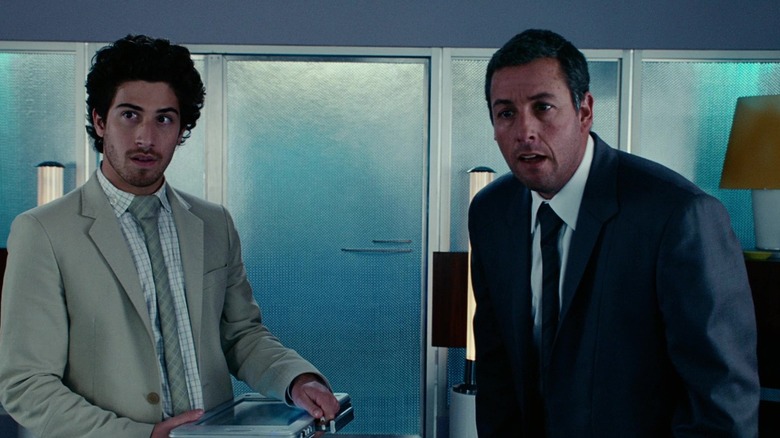 Sony Pictures Releasing
The "Sandlerverse" extends beyond the actor always casting his friends in his movies. In the case of "Click," he hands the baton off to the children of famous actors, some of whom were his past and future co-stars.
Michael's kids each appear at three different ages over the course of the film, tracking the siblings from early childhood through their teen years and into adulthood. While teenage Ben is played by Jonah Hill, whose parents are not celebrities (unless you count Hill's father, Richard, who was Guns N' Roses' tour accountant), but adult Ben is played by Jake Hoffman, the son of Dustin Hoffman. Sandler and the elder Hoffman would go on to star together in Noah Baumbach's "The Meyerowitz Stories (New and Selected)" more than a decade later.
Teenage Samantha, meanwhile, is played by Lorraine Nicholson, the daughter of Jack Nicholson. Nicholson and Sandler had already co-starred in the box-office smash "Anger Management" in 2003. Adult Samantha is played by David Cassidy's daughter Katie. After Nicholson's performance in "Click," she'd find her niche in the horror genre, taking roles in "Black Christmas," "When a Stranger Calls," "Harper's Island," and Samuel Bauer's "A Nightmare on Elm Street" remake.
An Oscar winner's signature moves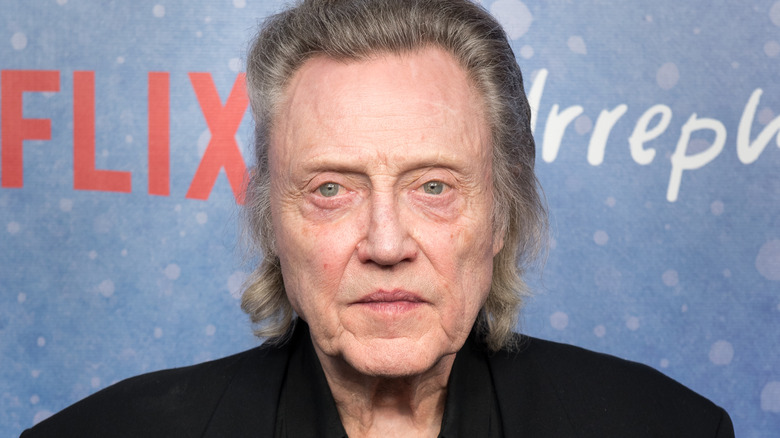 Mike Pont/Getty Images
Christopher Walken loves to dance. In fact, his performing arts career began when he was three years old and started taking dance lessons, as he told Interview Magazine (via Biography). After taking turns in various theater productions, like "West Side Story" and "Baker Street," Walken employed his impressive moves in many of his movies — over 50, to be exact, as compiled by GOOD.
Dancing — along with his charismatic New Yorker shtick and unmistakable speech pattern — has become one of Walken's trademarks, as he memorably put on the moves in "Joe Dirt," "Wayne's World 2," and "The Deer Hunter." Famously, he even tap-danced in Steve Martin's "Pennies From Heaven." Early on in "Click," Michael, in disbelief about what his remote control can do and certain he's on a prank show, high-tails it back to Bed, Bath & Beyond and encounters a waltzing Morty. Walken's dance moves rarely take center stage, but they do steal a scene here and there.
The only Oscar-nominated Adam Sandler movie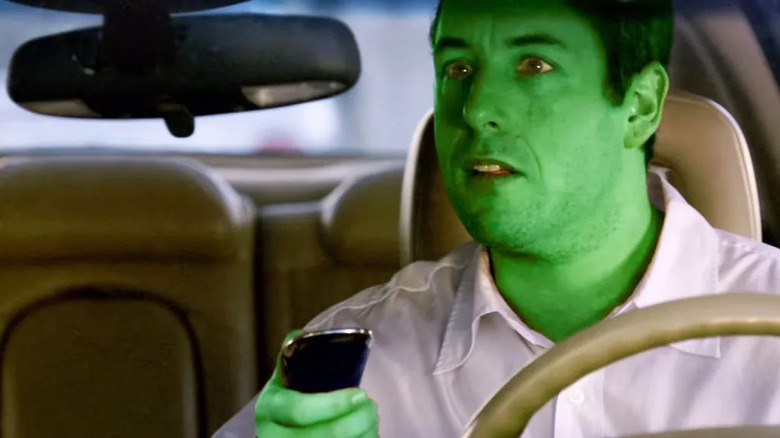 Sony Pictures Releasing
Surprisingly, after impressive lead turns in "Punch-Drunk Love," "The Meyerowitz Stories," and "Uncut Gems," Sandler has never been nominated for a Best Actor Oscar. But "Click" was, in fact, able to secure a nomination at the 79th Academy Awards for Best Makeup. Though it would lose to "Pan's Labyrinth," the movie is not just the only Happy Madison Productions feature to garner such an accolade, but it's the only movie from Sandler's 30-plus-year career to have its name included in film's biggest night.
The makeup effects in "Click" achieve nowhere near the same feat as those in "Pan's Labyrinth," but head artist Kazu Hiro would get nominated again the following year for "Norbit," and eventually take home statues for his work on "Darkest Hour" and "Bombshell."
What parts of "Click" earned it this prestigious recognition? The hue of Sandler's face at one point goes from purple to green, and he dons a fat suit for the future scenes. Meanwhile, Beckinsale's hair gets a silver re-do and Astin's turns a touch of gray. Most notably, Henry Winkler dons some silicone prosthetics that make him look 100 years old. But many of these effects have a notably CG-circa-2006 look, making it feel like we're not really seeing Hiro's best work. Whatever it was that the Academy saw, it's noteworthy that this remains they only time they've paid attention to a Sandler vehicle.
A critical flop, but a box office hit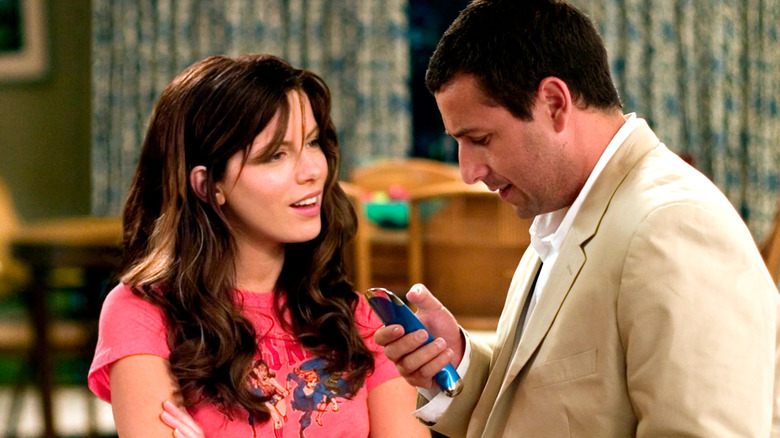 Sony Pictures Releasing
Though "Click" holds a 34% Rotten Tomatoes score and a 45/100 Metacritic score, it was a slam dunk at the box office in the summer of 2006. Riding the momentum of Sandler's turn in Peter Segal's remake of "The Longest Yard," which racked up a $47.6 million opening weekend, audiences turned out in droves for "Click," helping the film eclipse the $240 million mark in theaters on a budget of only $82.5 million. The buzz would carry over into Sandler's next film, "I Now Pronounce You Chuck & Larry," which would gross over $34 million across its opening weekend.
Despite the monetary successes, critics were displeased with "Click," especially Sandler's unlikable protagonist and the plot's gross-out humor. The Guardian's Philip French wrote, "There are more farts and embarrassing sex jokes than laughs — far more." And as Entertainment Weekly's Lisa Schwarzbaum said, "Adam Sandler still coasts on American pop culture's peculiar indulgence of boys who won't grow up."
Because it's a film centered on second chances and the repercussions of taking your life for granted, Schwarzbaum also pointed out the specific ways Sandler's Michael Newman fails to mimic James Stewart's George Bailey in "It's a Wonderful Life," because the former does so much less to earn the pathos of his final scenes. Reviews aside, "Click" remains the 4th most successful non-animated Sandler film at the box office, topped only by "Pixels," "Grown Ups," and "Grown Ups 2," which is still an important mark on the actor's resume.
Dolores O'Riordan's silver screen debut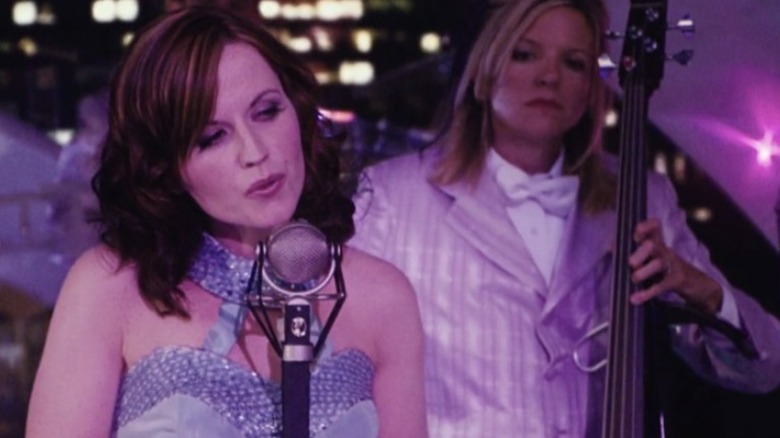 Sony Pictures Releasing
Sandler's relationship with music has always carried over into his films. He's played a musician (in "The Wedding Singer"), and the soundtracks are always finely curated with classic rock hits. Songs by The Cars and Peter Frampton make appearances in "Click," but it's The Cranberries' "Linger" that emerges as a bedrock in Michael and Donna's marriage. The seminal cut off of the band's debut album, "Everybody Else Is Doing It, So Why Can't We?" is a beautiful tune that encapsulates the young love between the Michael and Donna during their '90s courtship. At a bar, Donna writes, "Will you still love me in the morning?" on a napkin. Michael writes back, "Forever and ever, babe," as The Cranberries' ballad pours from the speakers.
Near the end of the film, Cranberries frontwoman Dolores O'Riordan makes a cameo appearance when she performs "Linger" at Samantha's wedding. It was the Irish singer's first — and only — time acting on screen in a non-music video role. The performance foreshadows the older Michael having a heart attack while dancing with Donna, giving the song a full arc and a life of its own. Prior to "Click," O'Riordan left The Cranberries in 2003, but eventually claimed that her cameo in the film inspired her to make a comeback, as she told Contact Music (via Cranberries World). The Cranberries would reunite three years later and continue touring up until O'Riordan's death in 2018 (per The Guardian).
Henry Winkler's coin trick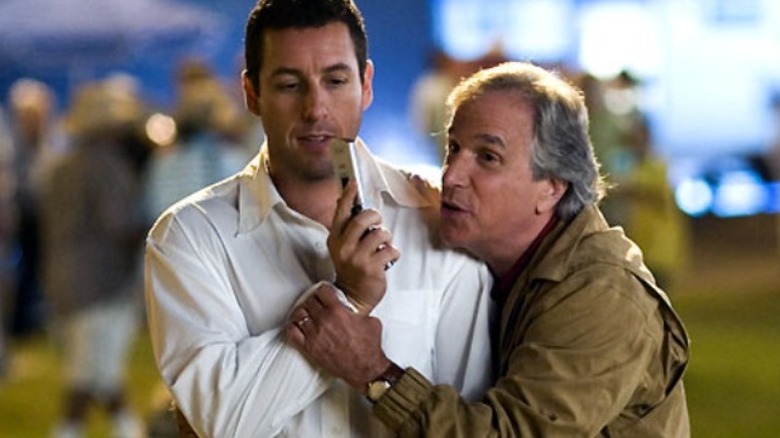 Sony Pictures Releasing
Michael's father, Ted (Henry Winkler), has a recurring gag throughout the film in which he eats the top of a quarter and then, magically, puts it back together. The coin trick gets mentioned again and again, including in a sweet flashback showing that Michael's parents were not wealthy when he was growing up, illustrating why he puts his work over his family in a misguided attempt to give them what he thought he was missing in his own childhood. 
Surprisingly, the coin trick is one of the most emotional plot devices in "Click," as Ted often tries using it as a way of growing closer with his son. 20 years in the future, when Michael is CEO of his own company and Ted stops by to invite him and Ben to a "boy's night out," Ted tries enticing Michael with the promise of showing him the secret to doing the quarter trick — to which Michael lashes out, by saying he's always known how it works.
Present-day Michael watching his future self dismiss a kind gesture by his own father, in what would be the last time he'd ever see him, is particularly heartbreaking. Sandler gets a chance to dig into some genuine emotion, and to make the scene even more poignant, the coin trick is based on something Winkler does in real life. Most recently, he performed it on "The Kelly Clarkson Show" while doing press for his performance in the third season of "Barry."
Adam Sandler's dad, on-screen and off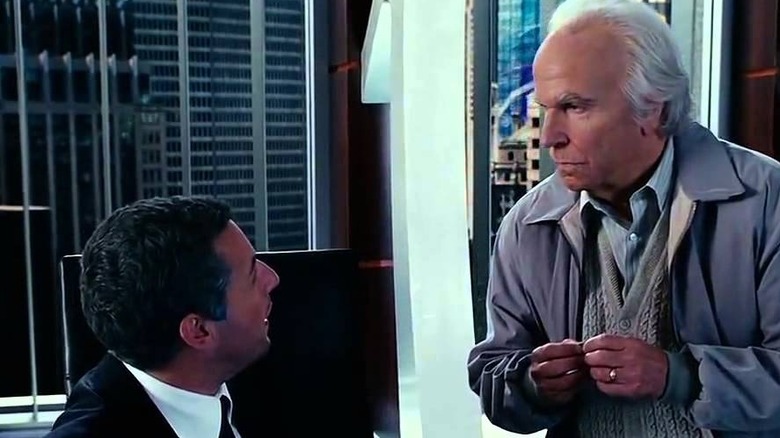 Sony Pictures Releasing
Ted loves Michael, but Michael often puts work above family. Beneath the overarching theme of mortality and the question of what might happen if you have the ability to fast-forward through parts of your life, there's a very moving, generational father-son subplot throughout "Click." As Michael is constantly rejecting his father's wishes to spend more time together, time is starting to run incredibly thin for the two Newman men, and the remote's autopilot feature has forced Michael to skip years at a time. 
When it all culminates in him yelling at Ted during the last time they would see each other, Sandler's performance gets very real — to the point where a perceptive audience might suspect there's a bit of method acting under the surface. A year prior to filming "Click," Sandler's own dad, Stanley, died. These days, the actor is no stranger to dramatic roles after his critically acclaimed turns in "Reign Over Me," "Funny People," "The Meyerowitz Stories," and "Uncut Gems. But as he told Black Film in 2006, his goodbye to his on-screen father hit closer to home than anyone initially knew. 
In an interview with Tribute, Winkler explained that it meant a lot to him to play a father to Sandler's character in the film, especially because of Stanley's recent passing, and because he recognized how important family was to Sandler. The culminating scene remains one of the movie's — and Sandler's — most emotional, and present-day Michael calling his future self "pathetic" for being so mean to his dad still tugs at our heartstrings every time.