The Real Reason House Of The Dragon's Paddy Considine Has No Interest In Talking To GoT Stars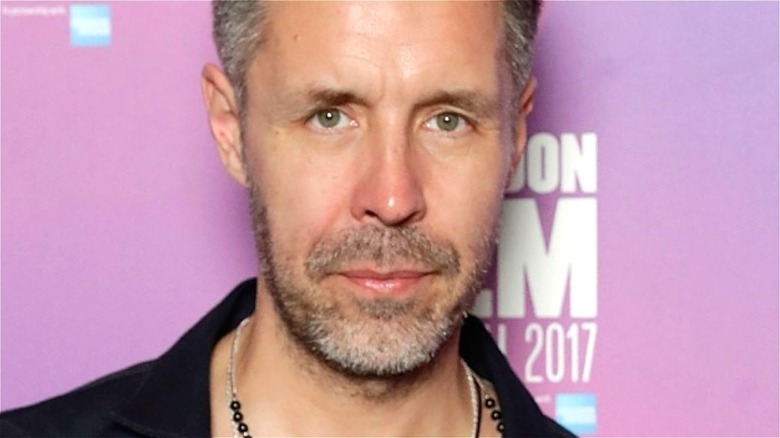 John Phillips/Getty
Paddy Considine has been waiting for a role like King Viserys I Targaryen in "House of the Dragon" throughout his entire acting career. Now that it's finally here, many have wondered what the "In America" and "Peaky Blinders" star has done — and who he's possibly spoken to from the show's parent series, "Game of Thrones" — to help prepare him for it.
"At one point I was talking to Miguel [Sapochnik, co-showrunner and Game of Thrones director] and he mentioned having a conversation [with Emilia Clarke]," the actor explained to GamesRadar in an August 2022 interview. "But oddly, it wasn't really necessary," he said, calling King Viserys a "beautiful" and "conflicted" character. "I've been waiting for a role like this," Considine added. 
For the two-time British Academy Film Award winner, meeting up with members of the "Game of Thrones" acting clan was something that just never came to mind for him, and the real reason why may surprise a lot of people. You see, the UK native actually had no desire whatsoever to speak or meet with any of the "GoT" cast — many of whom are fellow British screen stars — despite their extensive knowledge of George R.R. Martin's world and the Seven Kingdoms. Considine explained why, specifically, in a new interview.
Paddy Considine didn't feel the need to speak to GoT cast because his character lived over a century before them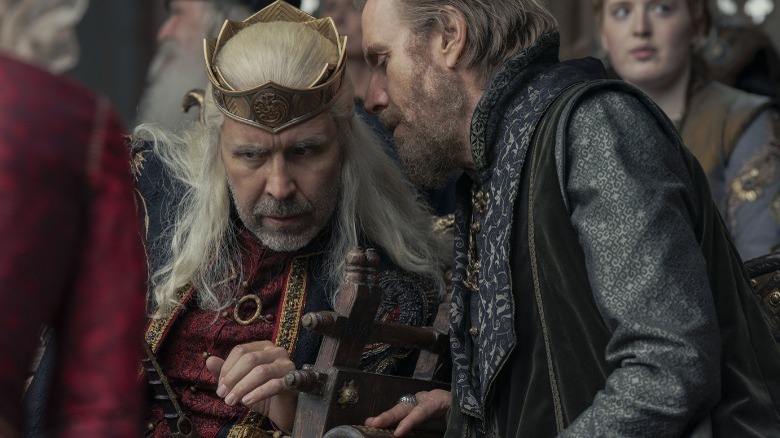 WarnerMedia/HBO
According to Paddy Considine, he didn't want to communicate with anyone from "Game of Thrones" prior to playing King Viserys because of the massive gap between the shows' timelines. To him, there was just nothing that the "GoT" cast could have brought to the creative table for him. But he understands why his decision may not sit well with others, especially in Hollywood.
"If you're in Doctor Who, I think it's a good idea to speak to the Doctor that came before you and find out a bit about passing the torch," Considine admitted to The Hollywood Reporter. "It's the respectful thing to do. But this was different. This is hundreds of years earlier. There doesn't seem to be the need."
HBO's "House of the Dragon" — which debuted on August 21 — takes place roughly 200 years before the events of "Game of Thrones" and sees members of House Targaryen vying to be King Viserys' royal heir. "I have nothing but respect [for the GoT cast]," Considine told THR. "But I didn't feel the need to speak to any of them considering I live [200] years before those guys." However, that wasn't the only reason why the actor refused to connect with the "GoT" crew. 
'House of the Dragon is our journey'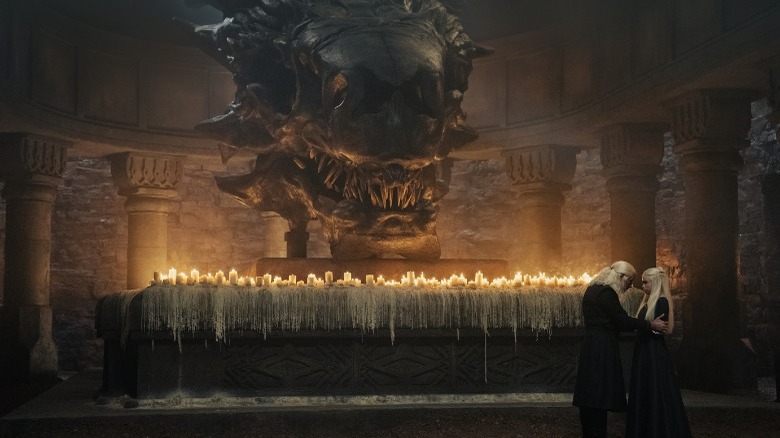 WarnerMedia/HBO
When it comes to passing the HBO torch from "Game of Thrones" to "House of the Dragon," Paddy Considine and others involved in the highly-anticipated prequel — including Prince Daemon Targaryen actor Matt Smith — want the show to stand on its own two feet, while not being heavily influenced by the "GoT" story and acting legacy. According to Considine, this was the other main reason he saw no need to meet with any "GoT" actors. 
"They were part of creating a phenomenon which we're very grateful for, but 'House of the Dragon' is our journey," Considine told The Hollywood Reporter. Speaking to GamesRadar in mid-August — while joined by Smith — Considine went into more detail about the "House of the Dragon" cast's desire to keep things from feeling overused or too similar to "Game of Thrones." 
"As much as we pay reverence to the original and what it did, I feel that we were very much like, 'But this is our journey. This is ours, we've got to own this. This is our experience,'" Considine said. "Even from some of the production sometimes, there were the odd comparisons that came up from time to time [to Game of Thrones]. And it was like, 'Hang on a minute, this is us telling this story now.' You can honor what went before so much and then at some point you've just got to do your job." Smith added, "It's a new set of actors as well. It's a new world. It's a new story." If there's one thing the "Got" crew has done, though, it's motivate the "House of the Dragon" team, Considine said. "They set the bar high, you know, some really great actors and performances in the first series and they set the tone for all of that," he told GamesRadar. Season 1 of "House of the Dragon" can be found airing on HBO every Sunday until October 23 and streaming on HBO Max.