Val Kilmer's Biggest Challenge Playing Batman Isn't What You'd Expect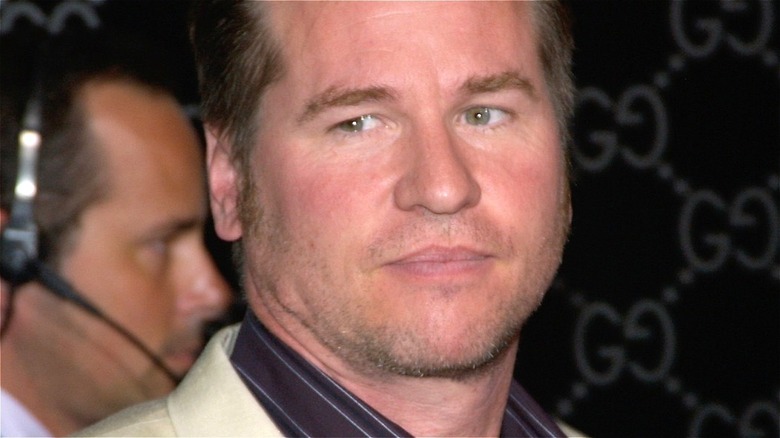 Featureflash Photo Agency/Shutterstock
Revered actor Val Kilmer recently enjoyed the opportunity to reprise an iconic character — Tom "Iceman" Kazansky opposite Tom Cruise's Pete "Maverick" Mitchell — in the summer blockbuster "Top Gun: Maverick," but not all opportunities to take on such a beloved role is as exciting as it seems. That appears to be the case, anyway, with Kilmer's one and only turn as DC Comics' legendary Dark Knight in 1995's "Batman Forever" — the third film in the Caped Crusader film series originated by director Tim Burton with "Batman" in 1989.
Burton dazzled moviegoers with his dark vision of Gotham City, which was amped up by the inspired casting of Michael Keaton as Bruce Wayne, aka Batman, and the benefit of having Oscar-winner Jack Nicholson step into the role as the clown-faced madman The Joker. Naturally, the film's success led to a sequel, 1992's "Batman Returns," adding the likes of Michelle Pfeiffer, Danny DeVito, and Christopher Walken to the cast, but when Burton and Keaton left the cinematic Caped Crusader in the rear-view mirror, director Joel Schumacher took over the franchise. Creating a glitzier and more glamorous view of Gotham, Schumacher needed a high-profile actor to complete his grand vision, so he cast the "Top Gun" star, who had appeared in such hit films as "True Romance" and "Tombstone."
Produced for $100 million and earning a worldwide box office tally of $336.5 million upon its release in 1995 (via Box Office Mojo), "Batman Forever" was a bona fide hit, and Kilmer had every reason to celebrate for playing the lead role in a blockbuster movie. But in later years, Kilmer made it clear that playing Batman in the film is a decision he would regret.
Val Kilmer found his time in the Batsuit 'isolating'
Val Kilmer fought a harrowing battle with throat cancer after being diagnosed in 2014 (via People). Kilmer beat the disease, but the aggressive treatment significantly diminished his ability to speak, which is chronicled in the 2021 Prime Video original documentary "Val" — assembled from thousands of hours of personal video footage the actor took throughout his career. Only able to speak through a breathing tube in a low, raspy tone, Val Kilmer had his son, Jack Kilmer, read the story of his life and career in "Val," which included some pointed observations about his time on "Batman Forever."
As it turns out, even though the film had all the makings of an exciting blockbuster with a cast that included Nicole Kidman as Dr. Chase Meridian, Tommy Lee Jones as Two-Face, and Jim Carrey as The Riddler, Kilmer found his time in the Batsuit limiting and ultimately, heartbreaking. "I took the part without even reading the script, but whatever boyish excitement I had going in was crushed by the reality of the Batsuit," Kilmer explained through his son's narration in the documentary (via Syfy). "When you're in it, you can barely move, and people have to help you stand up and sit down."
Kilmer also noted how he couldn't hear anything while wearing Batman's cowl, and eventually, people stopped talking to him. "It's very isolating. It was a struggle for me to get a performance past the suit, and it was frustrating until I realized that my role in the film was just to show up and stand where I was told to," Kilmer recalled.
The actor passed on another chance to play Batman, and the role went to George Clooney for 1997's "Batman & Robin." The film ended up being the last in the four-film series, earning only $238.2 million in ticket sales worldwide against a $125 million production budget (via Box Office Mojo).