The Real Reason Val Kilmer Quit Playing Batman After One Movie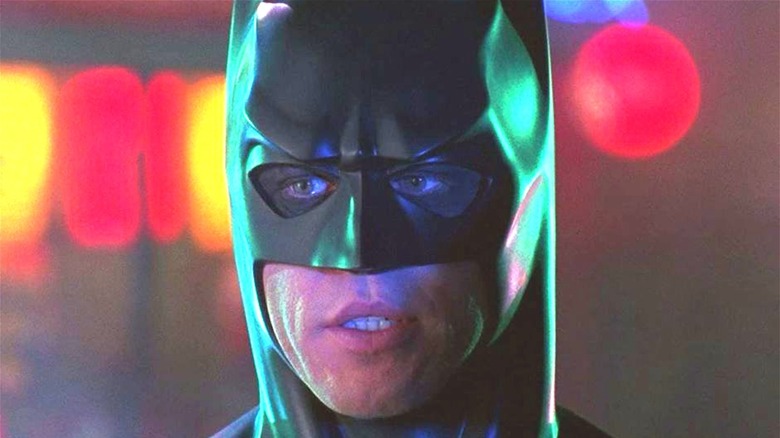 Warner Bros.
While DC Comics' legendary Batman film franchise has been reinvented time and again since Adam West made the character a TV icon in the 1960s, very few actors can lay claim to playing the time-honored role. Michael Keaton, of course, kicked off the renaissance in 1989 in director Tim Burton's "Batman," while the likes of George Clooney, Christian Bale, Ben Affleck, and Robert Pattinson — whose debut is set for 2022 — are the only ones to have adorned The Dark Knight's bat cowl in a live-action setting.
There is one more notable actor who has played Batman in a live-action film, but as viewers are discovering in his new Amazon Prime Video documentary, "Val," esteemed actor Val Kilmer wishes he never would have accepted the offer to play the character in the first place.
Culled from hundreds of hours of his personal videos, Kilmer's entire acting career — from the Broadway stage to his film career and stage again with his one-man show about Mark Twain — is chronicled in "Val." The film also presents an insightful and emotional look into the actor's life now. Following a battle with throat cancer, Kilmer's ability to speak has been greatly diminished, and the only way he can talk is by plugging an air hole in his esophagus, which gives off a low, gravely tone.
As a result, Kilmer's story in "Val" is narrated by his son, Jack Kilmer, who remarkably sounds like the younger version of his father. Among the tales Val Kilmer tells via his son is the reason why he stopped playing the Caped Crusader after his one and only turn as the character in the 1995 blockbuster "Batman Forever."
Val Kilmer felt restricted by the Bat suit in Batman Forever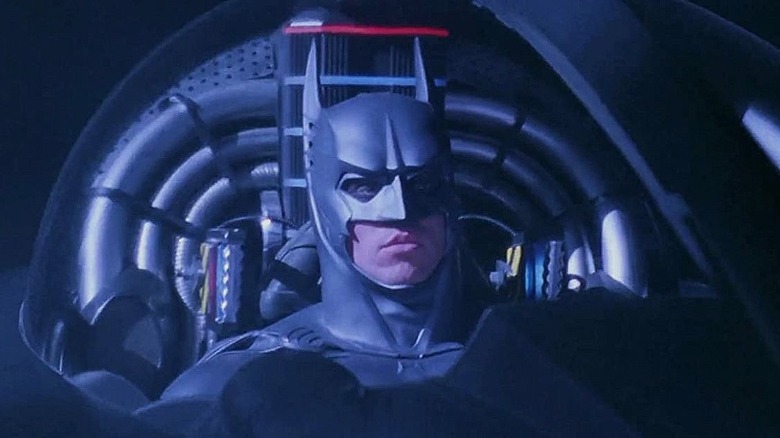 Warner Bros.
While Kilmer had the opportunity to properly convey his emotions in scenes as Batman's alter ego, Bruce Wayne in "Batman Forever," it's the character in the title who audiences came to see, so that meant the actor spent a fair amount of time in the rubber Bat suit. As such, Kilmer pointed out in the documentary, his acting ability was severely restricted in the costume to the point where he needed help even standing up — and that was only one of the issues.
"I couldn't hear anything and after a while people stopped talking to me," Kilmer said in the documentary. Given little chance to be as animated as his co-stars Jim Carrey and Tommy Lee Jones, who brought zany energy to their portrayals of The Riddler and Two-Face, respectively, Kilmer said among the few moves he could make as Batman was putting his hands on his hips. It's a move he deferred to over and over again in his scenes opposite Bruce Wayne's love interest, Dr. Chase Meridian, played by Nicole Kidman.
"I think it made no difference what I was doing," Kilmer said in the documentary. "I tried to be like an actor on a soap opera. When I would turn to Nicole ... I couldn't count how many times I put my hands on my hips."
Not surprisingly, Kilmer turned down the offer to reprise the role for another "Batman" movie and went on to star in the big-screen adaptation of the hit Roger Moore spy series "The Saint," which he said in the documentary "was like ten roles in one." Clooney went on to replace Kilmer in "Batman and Robin" in 1997, the last in the live-action Dark Knight franchise until director Christopher Nolan rebooted it with Bale in 2005.
Val Kilmer's lifelong love of Batman continues despite his experience on Batman Forever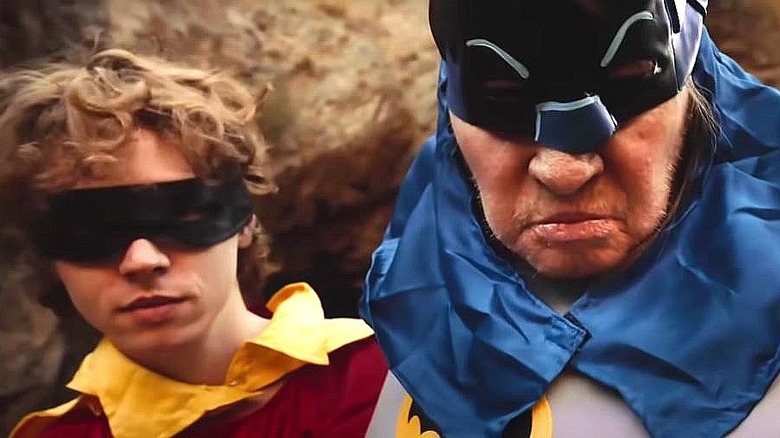 YouTube/A24/Amazon Prime Video
Kilmer's love of Batman, as revealed in the documentary, dates back to second grade, when his father took him to the set of the "Batman" TV series and he met Adam West. Many years later, in a serendipitous turn of events, Kilmer said in the documentary that he was vacationing in Africa and exploring, among other things, bat caves, when he got a call from his agent about the opportunity to replace Michael Keaton as Batman. With little hesitancy, the actor — whose credits at that point included the blockbuster "Top Gun," the heralded Jim Morrison biopic "The Doors," and the critically-acclaimed Western "Tombstone" — said yes to the role, without even reading the script.
Looking back on his actions in "Val," it was a quick decision Kilmer had come to regret: "Whatever boyhood excitement I had was crushed by the reality of the Bat suit. Yes, every boy wants to be Batman. They actually want to be him ... not necessarily play him in a movie," Kilmer conveyed.
Kilmer's love of the character clearly endured after his underwhelming experience of playing Batman. He included one scene in the documentary where he gives a vending machine-sized Batmobile to the then-young Jack, and in another more recent bit of video, Kilmer and Jack are dressed up as the Adam West and Burt Ward versions of Batman and Robin from the 1960s.
While fans will never see Kilmer return as Batman on the big screen, they will have the opportunity to see him reprise another one of the actor's legendary roles. Kilmer is set to play Tom "Iceman" Kazansky opposite Tom Cruise's Pete "Maverick" Mitchell in "Top Gun: Maverick" in November 2021, a sequel that comes 35 years after the release of the original "Top Gun."