House Of The Dragon Star Steve Toussaint Puts Critics In Their Place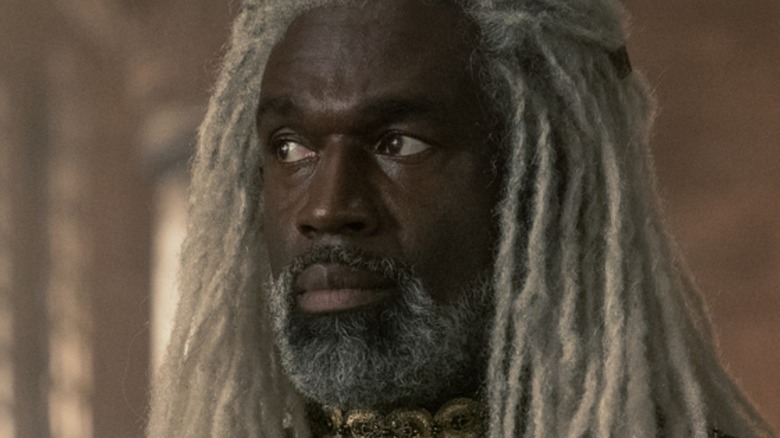 WarnerMedia/HBO
HBO's "House of the Dragon" finally debuted last week on August 21 to much fanfare and widespread critical acclaim. But there's something that's been getting under the skin of some viewers, who obviously have too much hate in their hearts to understand it. According to reports, Lord Corlys Velaryon actor Steve Toussaint has been getting blasted online for being cast as a "rich Black guy" in the "Game of Thrones" prequel — with some social media users calling his portrayal inaccurate and wrong (via the Los Angeles Times).
"This story about magic and dragons is set in Imaginaryland in the year Neverhappened, but racists still insist that it subscribe to 19th-century European theories of skin color and identity," wrote Twitter user @PaulWestRoberts in response to the backlash, which Toussaint himself has seen on social media for months. "I didn't realize [the casting] was a big deal until I was racially abused on social media," Toussaint said in a July 2022 interview with The Hollywood Reporter. "Yeah, that s*** happened. I was just like, 'Oh wow,' and then I thought: 'OK, so this means a lot to some people, but I can't allow that to bother me.'"
The topic of diversity in Hollywood has become a major issue in recent years, with more and more studios choosing to cast characters and actors who aren't white in classical and historical roles, as well as major franchises. Earlier this year, "Obi-Wan Kenobi" actor Moses Ingram caught the full brunt of racist Twitter users for her portrayal of the Force-wielding Imperial Inquisitor and new "Star Wars" villain Reva Sevander. In a similar fashion, the internet has brought out the pitchforks for Toussaint, who speaks more about the social media vitriol in a new profile piece for Men's Health. 
'They're happy with white hair and violet-colored eyes, but a rich Black guy?'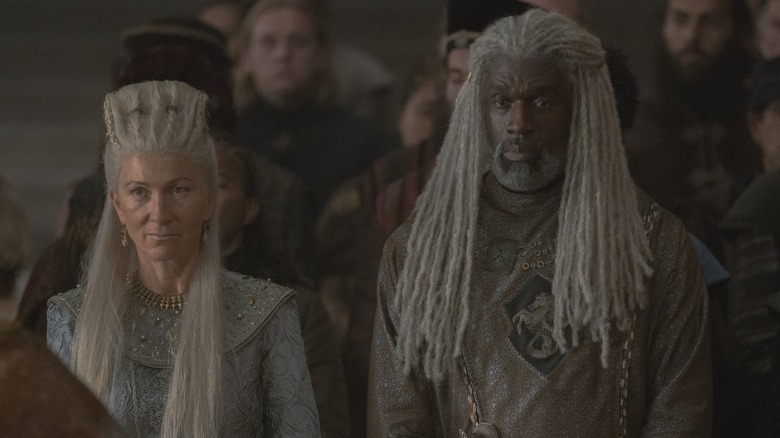 WarnerMedia/HBO
For Steve Toussaint, getting criticized for being a Black actor in a wealthy and prominent George R.R. Martin role — that is of Valyrian descent — is something that he finds not only ridiculous but also factless. And when it comes to fantasy, "Game of Thrones" and "House of the Dragon" fans have no room to talk. 
"They're happy with white hair and violet-colored eyes, but a rich Black guy? That's beyond the pale," Toussaint told Men's Health. He points out how people have been misguided for so many years after basing their ideologies and opinions on movies off "a few films and stuff that were made in the '50s, '60s, and '70s, which don't bear any resemblance to the truth." He added: "Historically, people of my hue and your hue, we didn't just turn up here in the '70s or the '60s. There was a point when the ruler of his country, 'the Caesar', was an African man. There are street names that tell you there were people who looked like us in this country even then, but for some reason, it seems to be very hard for people to swallow. And as you said, they are happy with a dragon flying." 
Lord Corlys Velaryon is expected to be a major player in the "House of the Dragon" storyline, so hateful fans will likely have a lot to say over the span of Season 1. The August 21 premiere wound up being a massive success for HBO, with nearly 10 million viewers reportedly tuning in. It was also said to be the biggest launch of all time for HBO Max (via The Hollywood Reporter).