Ewan McGregor Has Some Brutally Honest Words For Moses Ingram Critics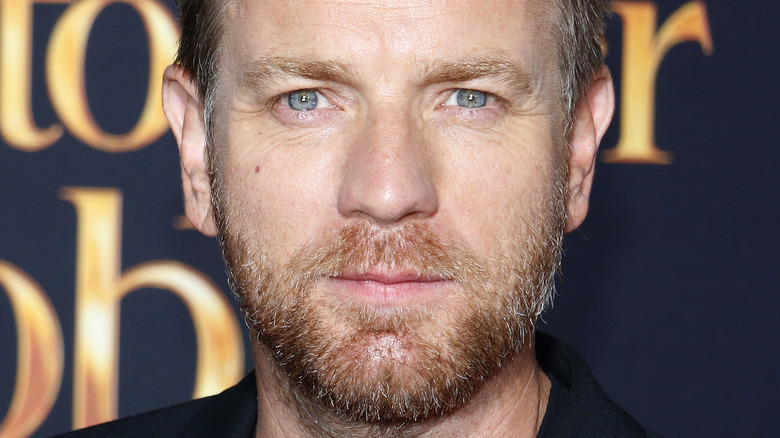 Tinseltown/Shutterstock
Almost 20 years after his last performance as the titular Jedi Master, Ewan McGregor made his triumphant return to the "Star Wars" universe for "Obi-Wan Kenobi" on May 27, 2022. The Easter egg-filled limited series came out of the gate strong with a two-episode premiere that took fans to a galaxy far, far away 10 years after the events of "Star Wars: Episode III – Revenge of the Sith." Now a lonely hermit in the desert of Tatooine, Kenobi guards a young Luke Skywalker (Grant Feely) from a distance while pondering the mistakes of his past. That is, before begrudgingly answering the call to adventure.
Upon speaking with Bail Organa (Jimmy Smits), Kenobi musters his courage and departs Tatooine for an impromptu rescue mission. Mercenaries captured Bail's daughter, Princess Leia Organa (Vivien Lyra Blair), and he's the only one who can save her. As it turns out, however, this isn't a standard, run-of-the-mill kidnapping. It's a part of a carefully orchestrated plan created by an Imperial Inquisitor named Reva Sevander, who has made it her mission to draw Kenobi out of hiding regardless of the risk or consequences she may face from the likes of the Grand Inquisitor (Rupert Friend).
Actress Moses Ingram brings the ambitious Reva to life on "Obi-Wan Kenobi," and despite just beginning her run in the "Star Wars" galaxy, fans have already begun to bombard her with hate-fueled messages online. In light of this, Ewan McGregor himself has commented on the situation, and he didn't mince words.
McGregor doesn't consider Ingram's critics to be true Star Wars fans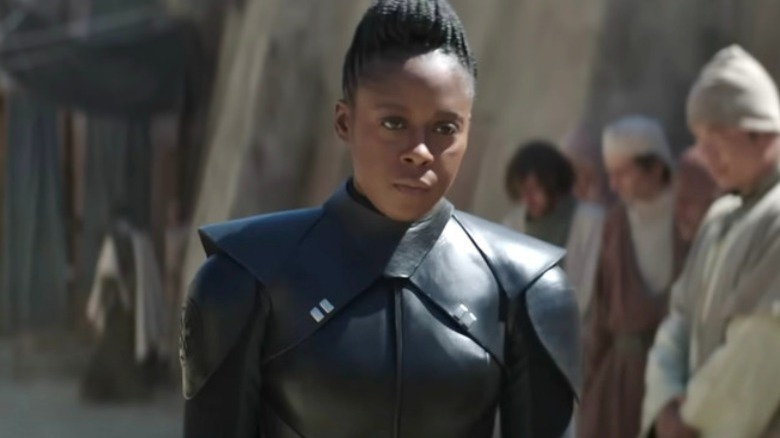 Lucasfilm/Disney+
As reported by Rolling Stone on May 31, 2022 — a mere four days after the debut of "Obi-Wan Kenobi" — Moses Ingram took to Instagram to call out some of the people who had sent her vicious, racist messages over social media. She told the world that she had no intention of just putting on a brave face to take the abuse, and shortly after, the official "Star Wars" Twitter page voiced its support of Ingram and denounced the harmful words that so many had hurled her way. Naturally, it didn't take long for Ewan McGregor to catch wind of his co-star's situation.
"I just want to say as the lead actor in the series, as the executive producer on the series, that we stand with Moses. We love Moses. And if you're sending her bullying messages, you're no 'Star Wars' fan in my mind. There's no place for racism in this world," McGregor said in a video message via the "Star Wars" Twitter account. He adds that of the messages he read, he found them incredibly disheartening and commended Ingram for her work as Reva on "Obi-Wan Kenobi," praising her for all she and her character bring to the "Star Wars" universe.
Sadly, for those who are new to "Star Wars" or haven't engaged too much in fan discussion over the years, it's worth noting that this kind of behavior isn't new in the fandom.
Star Wars actors have dealt with extreme fan backlash for years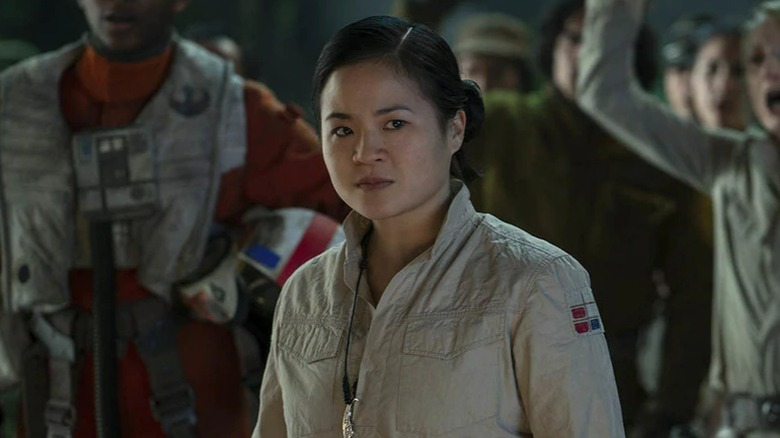 Lucasfilm
Several times throughout the expansion of the "Star Wars" saga, actors from all generations have come under fire from fans, amounting to real-life horror stories for big-screen stars. For instance, the actor behind Jar Jar Binks, Ahmed Best, received ruthless backlash from the "Star Wars" community for years after his turn in "Star Wars: Episode I – The Phantom Menace." As a result, his role in the two other prequel films reduced drastically, and his career, personal life, and mental health suffered immensely (via BBC).
Of course, one would be remiss not to draw comparisons between Moses Ingram's situation and that of Rose Tico actor Kelly Marie Tran. Following the release of the ever-divisive "Star Wars: Episode VIII – The Last Jedi" in 2017, fans brutally attacked Tran online, prompting her to eventually withdraw from all forms of social media and leave behind public life altogether. In response, 2019's "Star Wars: Episode IX – The Rise of Skywalker" saw Rose Tico reduced to a minor player in the overall story (via People).
Tragically, the list of "Star Wars" personalities who wound up on the wrong end of a hateful dogpile extends far beyond Moses Ingram, Tran, and Best. Young Anakin Skywalker actor Jake Lloyd, Rey Skywalker actress Daisy Ridley, and even "Star Wars: The High Republic Show" host Krystina Arielle have all faced the brunt of fan rage. One can only hope for the sake of franchise newcomers and legacy actors alike that this trend will dissipate sooner rather than later.