Whatever Happened To Cameron From Ferris Bueller's Day Off?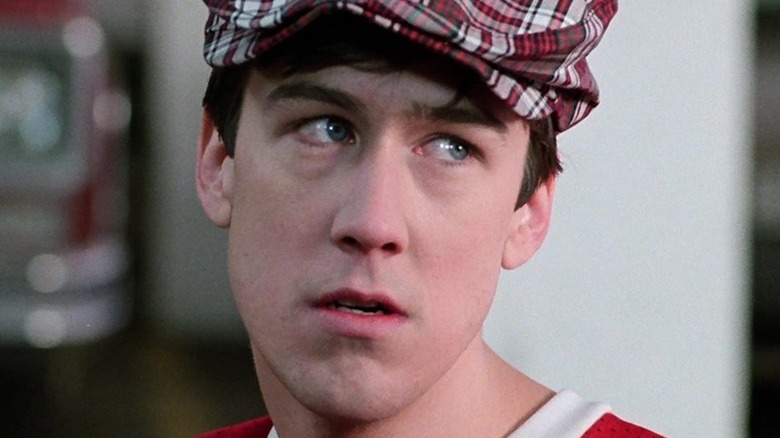 Paramount Pictures
It's a tried and true cinematic formula to see the lead character going on a wild adventure with his best pal. But in "Ferris Bueller's Day Off," the best pal steals many of the scenes. Alan Ruck plays Cameron Frye in the 1986 coming-of-age comedy directed and written by the late John Hughes. Cameron tries to be a voice of reason as Ferris (Matthew Broderick) plans to skip school one day during their senior year. He reluctantly joins Ferris on his adventure, and after some convincing, allows Ferris to drive his dad's 1961 Ferrari 250 GT California Spyder. Cameron, Ferris, and Ferris' girlfriend Sloane (Mia Sara) embark on an adventure through Chicago that includes a baseball game, a parade performance, and the impersonation of Abe Froman, the fictional sausage king of Chicago. There's even a side adventure with that sleek red Ferrari, which is now reportedly set to be the subject of an upcoming spin-off film titled "Sam and Victor's Day Off."
It's been more than 35 years since Cameron, Ferris, Sloane, and that 1961 Ferrari took Chicago by storm, and Ruck has since graduated to other significant roles on both the big and small screens.
The 1990s was Ruck's big decade on the big screen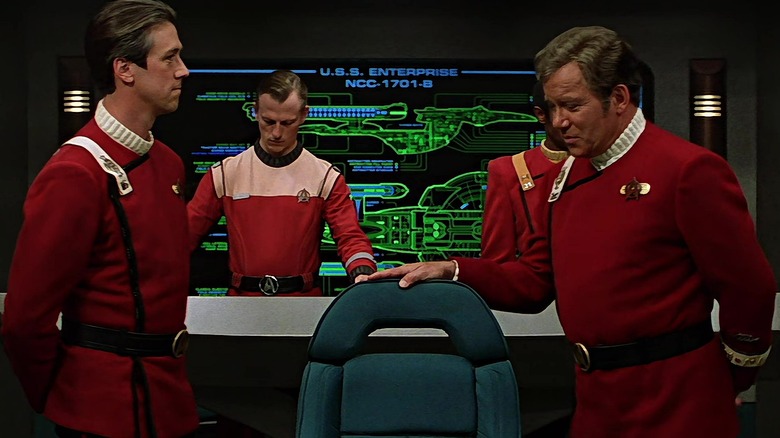 Paramount Pictures
A year after "Ferris Bueller's Day Off," Alan Ruck would once again find himself playing the best friend in another road trip movie titled "Three for the Road," also starring fellow "Ferris" alum Charlie Sheen. He would spend the rest of the 1980s taking roles in various action movies and dramas.
The 1990s would prove to be a big decade for Ruck as he took roles in several movies that are still considered by many people as pop culture mainstays. He kicked off the decade by joining Billy the Kid's (Emilio Estevez) entourage in "Young Guns II." Ruck played Hendry French, a grieving husband who is seeking revenge. After that, he'd go on another hair-raising adventure in "Speed," playing the role of Stephens in the blockbuster movie that follows Jack Traven (Keanu Reeves) and Annie (Sandra Bullock) as they try to stop a bomb from exploding on a bus. In 1994, he ventured to space to play Captain Kirk's (William Shatner) replacement in "Star Trek: Generations" before storm-chasing with Helen Hunt in the 1996 adventure "Twister." But while his big-screen credits have piled up, so have his small-screen roles.
Ruck has become a familiar face on TV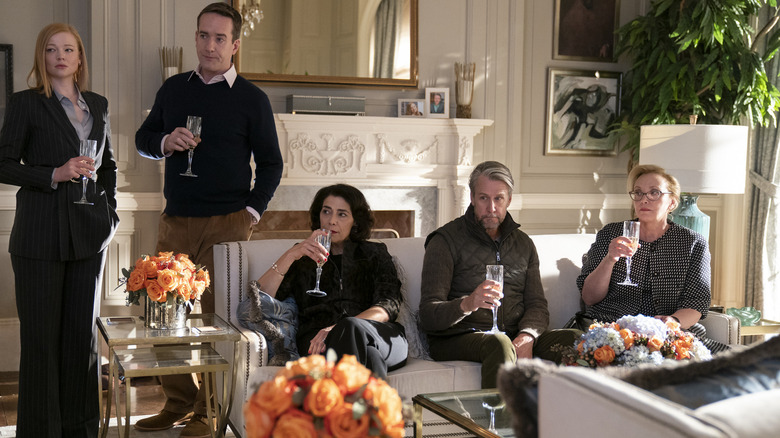 Peter Kramer/HBO
In 1996, Alan Ruck stepped into the shoes of Stuart Bondeck, the assistant deputy mayor in the popular workplace comedy "Spin City." The show follows the staff of the deputy mayor of New York City as they try to solve city issues and misadventures in their own personal lives.
Throughout the 2000s, Ruck made guest appearances on popular TV Shows, including "Scrubs" and "Psych." He also had a recurring role in the college comedy "Greek" before taking on his current role as Connor Roy on the HBO dramedy "Succession," which follows the Roy family as they face a big change in their entertainment company. Ruck plays Connor Roy, the sibling who feels unheard and is interested in running for U.S. president in the show's upcoming 4th season. 
Ruck talked about his character's venture into politics in a recent interview with Men's Health. "He's so deluded and marches to the beat of his own drummer that nobody else can hear, but he's really committed," he said. "And I just think because of how old he is, and the way things are going in the family, he's very determined to do something that's going to grab his father's attention, grab the family's attention. He's going to try, so his determination has been dialed up."