This Is Where Twister Was Actually Filmed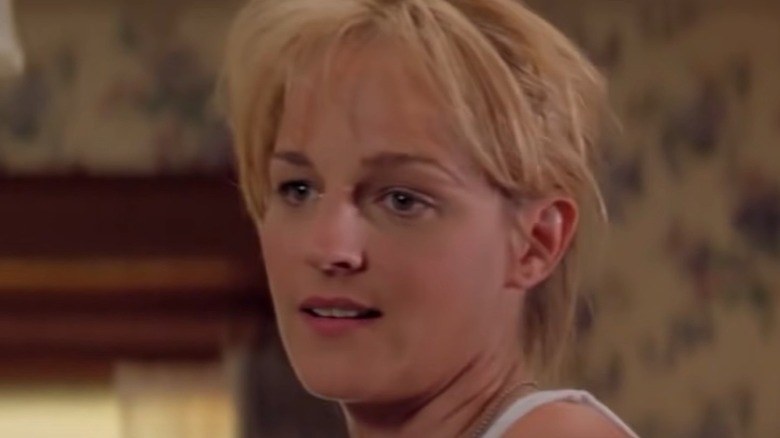 Universal/Warner Bros./YouTube
Dorothy Gale (Judy Garland) may have escaped to a bright and magical dreamland when a tornado plowed through Kansas in "The Wizard of Oz," but the same can't be said for Dr. Jo Harding (Helen Hunt) and Bill Harding (Bill Paxton), who have their work cut out for them in the epic 1996 action-adventure film "Twister."
Over the course of its nearly two-hour runtime, audiences stressfully watch as the estranged couple reunites in the midst of a deadly tornado outbreak in Oklahoma. Their mission is easier said than done: deploy DOROTHY, a research device that would positively influence meteorology, by driving directly into one of the massive cyclones. While others are fleeing and taking shelter from the wrath of mother nature, this dynamic duo is speeding through Oklahoma farmlands, dodging flying cows, vehicles, and other objects swept up by the winds, all in an effort to get the job done.
In "Twister," the tornados have vast fields and open spaces to aggressively make their way through, though the scenery is sometimes hard to see given the rain and dust ferociously whipping around. Let's take a look at where these intense moments were actually filmed.
Twister was actually filmed in and around Oklahoma
Rather than attempt to recreate the small-town feel in a Hollywood studio, director Jan de Bont opted for the real thing. Most of "Twister" was actually filmed in locations around Oklahoma and elsewhere in the midwest, according to The New York Times. One specific filming location was the small Oklahoma town of Wakita, which is featured in the latter part of the movie. Not only did Wakita boast the countryside look that film creators wanted, it already had a fair amount of debris, something that's needed for any natural disaster project. About two years prior to production, Wakita experienced a harrowing hail storm that destroyed numerous buildings, which were never fixed up (via Enid News). It was the perfect setting for "Twister." Additionally, Wakita locals, who were invited to serve as extras, were more than happy to get their sleepy town on the map. Tourists can now stop by the Twister Movie Museum, featuring memorabilia, including a DOROTHY model.
According to the Enid News, Wakita townsfolk made the cast and crew feel right at home. One of the main issues proved to be, ironically, the weather. Given the fact that Oklahoma is part of the United States' Tornado Alley, production was forced to battle actual real-life natural disasters. "It was like nothing that I've encountered in my life,"  The New York Times quoted de Bont as saying in 1996. "We had major rainstorms, and we were shooting with tornadoes all around us. We had the worst flooding last year in Oklahoma. We kept getting stuck in mud." Despite these challenges, de Bont created a successful film, which made nearly $500 million at the box office and received two Oscar nominations.