Mark Ruffalo Pens Hilarious Apology To Chris Evans After She-Hulk's Captain America Reveal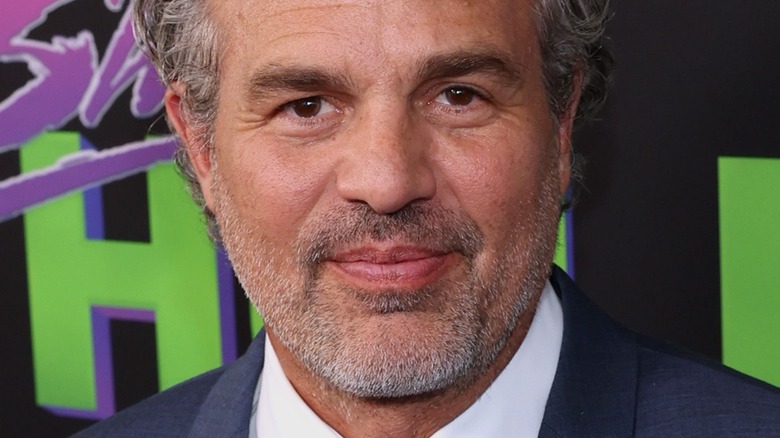 Jesse Grant/Getty Images
"She-Hulk: Attorney at Law" is already causing some hilarious interactions between Marvel stars following its inaugural episode on Disney+. The show not only marks the introduction of its titular character (Tatiana Maslany) to the Marvel Cinematic Universe, but it also pairs her up with Mark Ruffalo as Bruce Banner, aka Hulk.
Jennifer Walters is a powerhouse defense attorney, but she also happens to be cousins with Banner. He's the source of her Hulk powers via a car accident and some blood, so he takes it upon himself to train her at his Stark-funded Mexican beach-house-slash-laboratory. It is not, as they say, easy being green.
However, Walters doesn't seem that invested in learning the big green ropes of being a Hulk. She's far more interested in a much more important question: did Captain America (Chris Evans) die a virgin? She pesters Banner about the intimate history of the first Avenger just before the car accident that changes her life, and again while the two of them share margaritas at Banner's beach bar. Eventually, in a post-credit stinger, Banner is enough drinks in to tell her that Rogers lost his V-card during a USO tour in the 1940s. 
Jennifer's wonderfully inappropriate reaction is a perfect cap to the revelation, but the scene has since yielded another delightful outcome in the form of a wry apology from Mark Ruffalo to Chris Evans.
Mark Ruffalo apologized to Chris Evans for revealing the details of Captain America's love life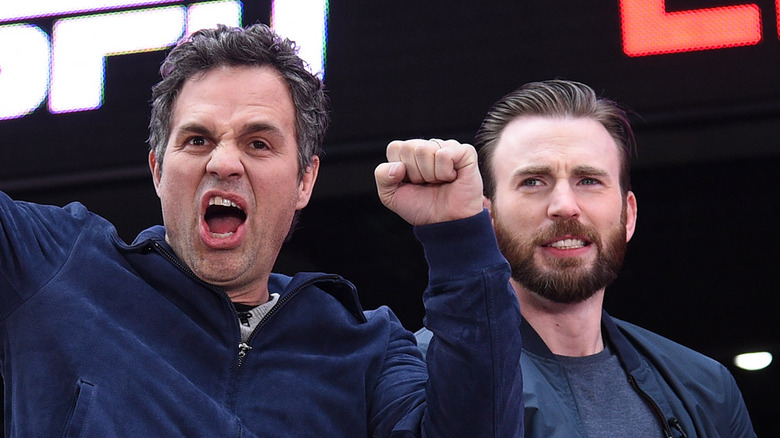 Bryan Bedder/Getty Images
After having the details of his iconic MCU hero's love life revealed by Mark Ruffalo's Hulk in Episode 1 of "She-Hulk: Attorney at Law," Chris Evans took to Twitter, posting a triplicate set of cry-laughing emojis, a lips-zipped emoji, and a hashtag shout-out to the show. Several hours later, Ruffalo wryly responded, "Sorry bro. It was under extreme duress."
The duress indicated in Ruffalo's quippy response might be interpreted in one of two ways. Of course, in the episode, Jennifer Walters hounds Bruce Banner persistently for the scoop on Cap's hookups, even pretending to be drunker than she really is in the post-credit scene to make him spill the details. But in real life, Ruffalo was handed a script and had a contractual obligation to act out the scene. Duress, indeed.
In either case, the Twitter repartee made for an excellent exegesis of the funniest moment of "She-Hulk" Episode 1, demonstrating the bond many of the original "Avengers" cast still have with each other. Moreover, the moment highlights the edgier (for an MCU property, at least) direction that "She-Hulk" appears to be heading in. After all, we already know that "She-Hulk" has an unusual set of influences, including boundary-pushing comedies such as Phoebe Waller-Bridge's celebrated "Fleabag."
Will fans get to know any more lurid particulars of the personal lives of the original Avengers? Head writer Kat Coiro says that "She-Hulk" fans should expect more details to come. But there's only one way to find out: new episodes of "She-Hulk: Attorney at Law" are currently streaming each Thursday, exclusively on Disney+.