She-Hulk Fans Can Expect To See More Of This Hilarious Marvel Gag
"She-Hulk: Attorney at Law" Episode 1 ("A Normal Amount of Rage") is very connected to the rest of the MCU. There are lots of fun easter eggs, calls to the past, and foreshadows for upcoming projects in the cinematic universe.
Since Bruce Banner (Mark Ruffalo) is heavily featured in this episode, there are lots of mentions of former Avengers like Natasha Romanoff (Scarlett Johansson) and Tony Stark (Robert Downey Jr.). Bruce tells Jennifer (Tatiana Maslany) that he and Tony spent time at the Mexican hideaway during the Blip, which also features an old, destroyed Iron Man helmet. Bruce also mentions how Natasha used to sing him a lullaby to get the Hulk to settle back into his human form. Luckily, we find out that Jen doesn't have an alter-ego, so she won't need anyone singing her songs or gently touching her hand.
But perhaps the best mention of a former Avengers is that of Steve Rogers (Chris Evans), who Jen seems to be a little obsessed with. She talks about the issue of Steve's virginity, a conversation that has long plagued the MCU fandom. Jen eventually gets Bruce to admit that Steve is not a virgin, resulting in Episode 1's best line, "CAPTAIN AMERICA FU—!" For viewers watching who loved that moment, it's far from over.
There's more Steve Rogers discussion to come in She-Hulk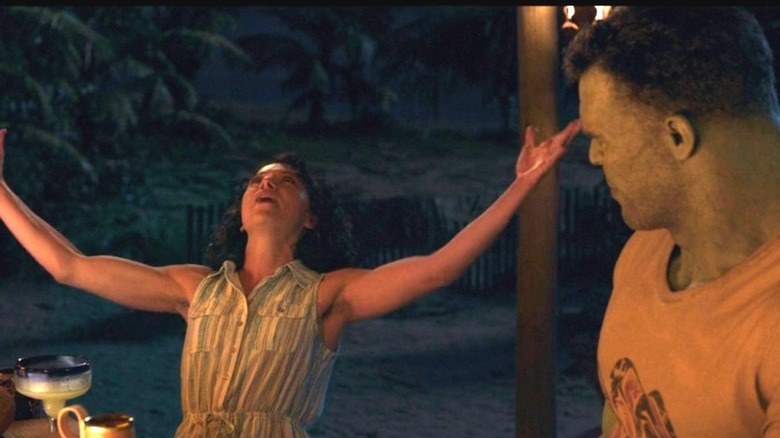 Marvel Studios/Disney+
"She-Hulk: Attorney At Law" director Kat Coiro caught up with Total Film and discussed the much-talked-about moment from Episode 1. "It's something that comes back, that's all I'll say," Coiro noted of the Steve Rogers nods. "One thing I love about Marvel is that everyone involved really listens to the fans and takes in their wishes and desires. I think it's what makes the MCU so strong."
Coiro said that the "She-Hulk" writers were in tune with what the MCU fandom talks about online, which resulted in the conversation surrounding Steve's virginity in Episode 1. "The show is very meta and conscious of what's going out into the world regarding the MCU, so that's a direct reflection of the writers' involvement with the internet," the director added.
Fans are certainly loving the addressing of the popular off-screen Steve discussion. Chris Evans himself even commented on Twitter, posting several laughing emoji while using the #SheHulk hashtag.