Mayim Bialik Reveals The One Thing That Can Change The Course Of A Jeopardy! Game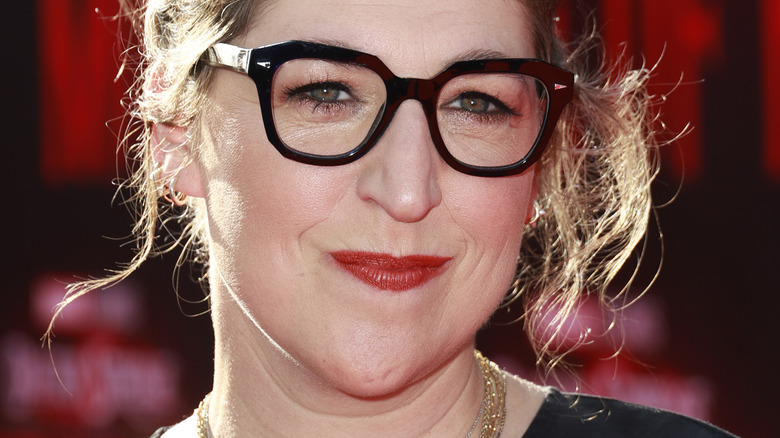 Frazer Harrison/Getty Images
There are several different types of game show fans out there. There are the ones who like to try out the new shows as they are released to add to their viewing schedule, as well as those who are dedicated to the immortal staples that have shaped the genre into what it is today. With shows like "The Price Is Right," "Wheel of Fortune," and of course, "Jeopardy!," diehard fans not only relish in the shows' evergreen structure but they can also easily spot even the smallest of unorthodox details.
Of course, no matter whether a game show is brand new or has been around for as long as "Jeopardy!" has, the experience of watching it on TV vastly differs from when actually being at a taping of the show, in person. According to The Atlantic, a day of taping on the Sony Studios Lot can swiftly finish off five episodes in one stretch. And although, when watching on TV, viewers only witness a total of four people on screen, there are around 100 folks actually contributing to the production of the show.
Witnessing all the ins and outs of this well-oiled machine is the studio audience, the three contestants, and of course, hosts Mayim Bialik or Ken Jennings. However, like every TV production, the set is bustling with crew members and staff, all with their own specific jobs to make sure they end the day with polished episodes all ready to air. In a recent podcast appearance, Bialik explained that there are even people you wouldn't expect to be found on the set of a game show, such as various types of lawyers. There is also one thing that could happen during any given game that has the potential to heavily influence its result.
When a correct answer can change everything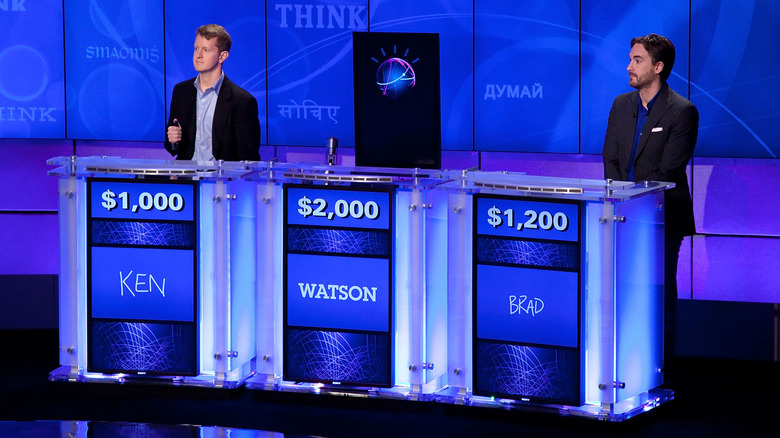 Ben Hider/Getty Images
For all game shows, especially ones that have been around as long as "Jeopardy!," the rules are laid out for fans to follow as easily as possible. Simply put, for "Jeopardy!," there is the proper answer for every question (or question for every answer, depending on how you look at it), and it's up to the contestants to nail it. However, Mayim Bialik revealed on the "Wild Ride with Steve-O" podcast (via Today) that some questions can have multiple correct answers. "So, for certain things, they'll already list other acceptable answers, for things where a couple answers are acceptable, or they'll make a note, if like, 'Oh, if they say this, they need to be more specific,' right?" she explained.
One thing that fans of "Jeopardy!" may not be aware of is that sometimes a contestant gives an answer that the show's judges didn't know should also be considered a correct response. We see these moments play out almost flawlessly in the short moments when either Jennings or Bialik pause the game in order to explain a change in score. This may seem like just moments to the viewer, but these checks and balances can sometimes take longer than expected. "We sometimes shut down for close to an hour over one decision," Bialik explained.
A change in score may very well alter the course of the game from that point on. Sometimes a contestant who is leading or trailing in the contest, score-wise, will find themselves in a much different position after the judges make their decision. The pressure on these important judges must be immense, as their decisions could result in things like a complete momentum shift mid-contest or a score becoming uncatchable before Final Jeopardy comes. However, they are an essential cog within the never-ending machine we call "Jeopardy!"