Mayim Bialik Just Opened Up About Becoming The New Jeopardy! Host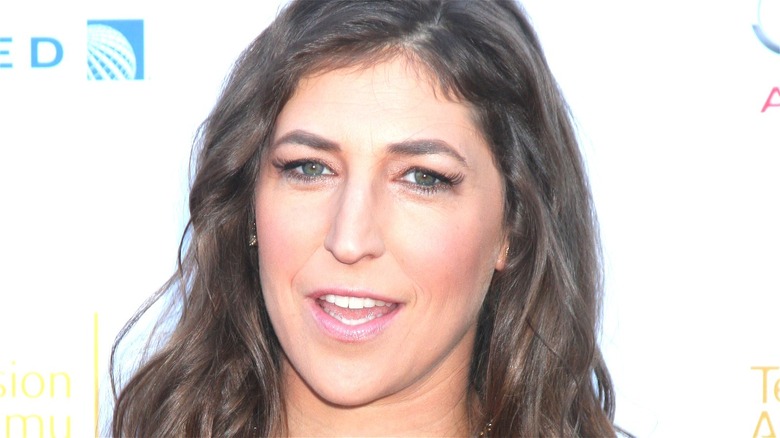 Shutterstock
By now, you might have heard the news that "Jeopardy!" will have two new permanent hosts: Mike Richards and Mayim Bialik, who were both apparently chosen on the strength of the ratings they garnered while guest-hosting following the death of former host and TV icon, Alex Trebek. The decision has received decidedly mixed reactions on social media, where "Reading Rainbow" alum LeVar Burton is the vocal, clear favorite. 
Richards, a veteran of the game-show scene and executive producer of "Jeopardy!", is set to take over as the show's daily hosting duties, while Bialik will handle its spinoffs and primetime appearances, including the Jeopardy! National College Championship on ABC next year. Richards' assumption of the post is a bit controversial because of his previous involvement with the show and recent allegations of harassment and discrimination brought by models from the set of "The Price Is Right" (as detailed by The Daily Beast). The Los Angeles Times also noted that he seemed "the dullest, most corporate choice possible." 
However, TV veteran Bialik, the neuroscientist who has always been endearing on shows like "Blossom" and "The Big Bang Theory," has now weighed in on the news, and her enthusiasm may very well have the power to win over some of the internet's harsh critics. 
Mayim Bialik says she's wanted to host since she was 15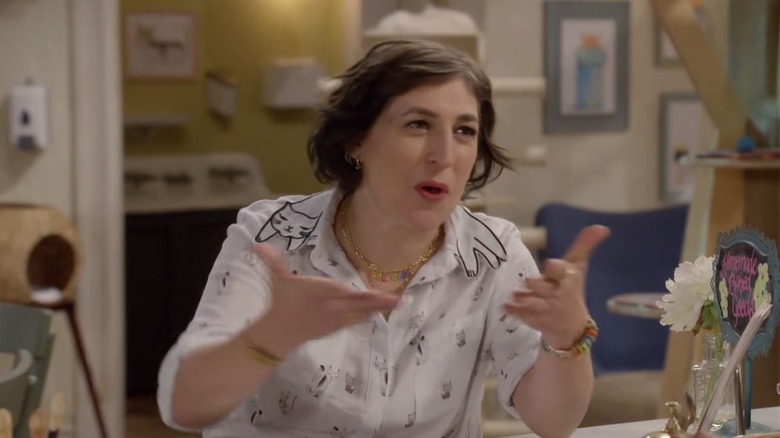 ABC
In an Instagram post from Wednesday, when the host announcement was made, Bialik said, "ITS TRUE!!! Been waiting a long time to tell you all. Really really honored and astounded and excited for this — it's beyond anything I ever imagined could happen." Alongside an image of herself on the set, she credited the photo to "Jeopardy Productions, Inc. and My 15 yr old who told me I should be the host which made me call my agent @richardweitzla and bug him about it." Apparently, her agent Richard Weitz might have already been on it.
Not long after, she posted a video from her bed as she became the No. 1 trending topic on Twitter. In the video, she says Richards was the one who trained her and that she had a "really, really amazing time with him." She said "I'm super freaked out about it, very very thrilled. I would be remiss if I did not acknowledge that I am a second-generation American and my grandparents were immigrants, my mother's parents in particular, who never really had a command of the English language. It's a tremendously bizarre and humbling and surreal experience to see that in the time that my grandparents fled Eastern Europe until now how much has changed in my life and this is crazy." 
She also noted she would still star in the Fox sitcom "Call Me Kat," which is expected to start its second season in 2022. Bialik will have plenty of multitasking ahead of her, and if the primetime specials prove popular, we could be seeing more of her behind the podium.
Bialik joins Mike Richards to split hosting duties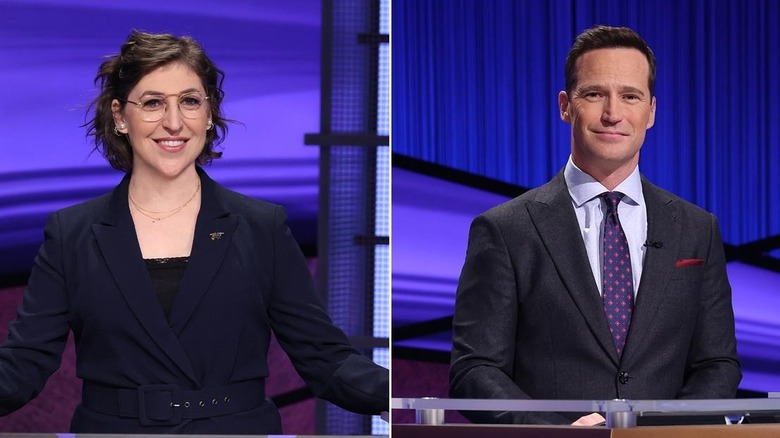 Sony Pictures Television
In a formal statement reported by media outlets when the hosting news was announced, Mayim Bialik used some of the same terminology as she did in her social media. "I couldn't be more thrilled to join the 'Jeopardy!' family," the statement said (via NBCNews). "What started out with my 15-year-old repeating a rumor from Instagram that I should guest host the show has turned into one of the most exciting and surreal opportunities of my life."
Despite the loud voices campaigning for Levar Burton to take over as the new host of "Jeopardy!" ever since Trebek's passing, Mike Richards and Bialik likely had the gig secured before anyone else was given a chance. According to a story from Deadline, a decision for Richards to be "quietly appointed" as the new "Jeopardy!" host was made weeks before the current run of guest hosts had finished airing. Furthermore, Burton's week faced competition and preemptions in certain syndicated markets due to NBC's coverage of the Olympics, which is reflected in the TV ratings the episodes he hosted. It's possible that Bialik's name was also attached to these negotiations, as the final announcement confirmed that they would both be equally billed as new hosts of "Jeopardy!"
Although not universally liked for statements and actions she's taken in the past, Bialik is definitely getting more online love than Richards. Episodes for the show's 38th season start production right about now and will start airing on Sept. 13, so it won't be long before fans can judge these new hosts in action as they settle into their permanent roles.