Paramount+ Has A Big Plan To Honor Nichelle Nichols On Star Trek Day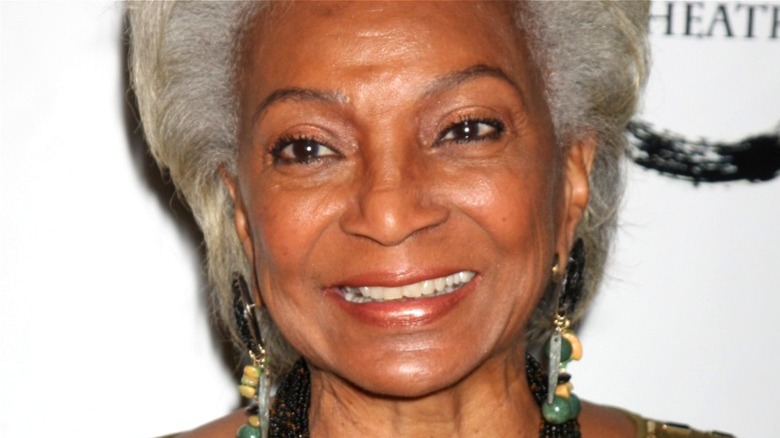 Kathy Hutchins/Shutterstock
Paramount+ has big plans to honor the late Nichelle Nichols, who played Lieutenant Nyota Uhura on "Star Trek: The Original Series." An icon for generations of Black people and women, Nichols lived to the age of 89, leaving behind a monumental legacy when she died at the end of July. As Uhura, Nichols made history both onscreen and off, sharing one of television's first interracial kissing scenes and even popularizing the fantasy of Bluetooth headsets long before the tech was part of our lives.
Nichols' cultural impact during her lifetime is difficult to overstate. Though she was often understandably conflicted about the degree of weighty responsibility that came with being so visible an icon for her community, Nichols chose to remain on "Star Trek" for all three seasons of its run. Nichols' tenure on the show drew the attention of luminaries, including Dr. Martin Luther King Jr. and later President Barack Obama. Throughout her life, she worked tirelessly to advocate for women and people of color entering careers in science and space exploration.
In the wake of Nichols' death, Paramount+ has prepared a special presentation to honor one of the franchise's most recognizable stars in memoriam as part of its annual Star Trek Day celebration in Los Angeles.
A video presentation will honor the life of Nichelle Nichols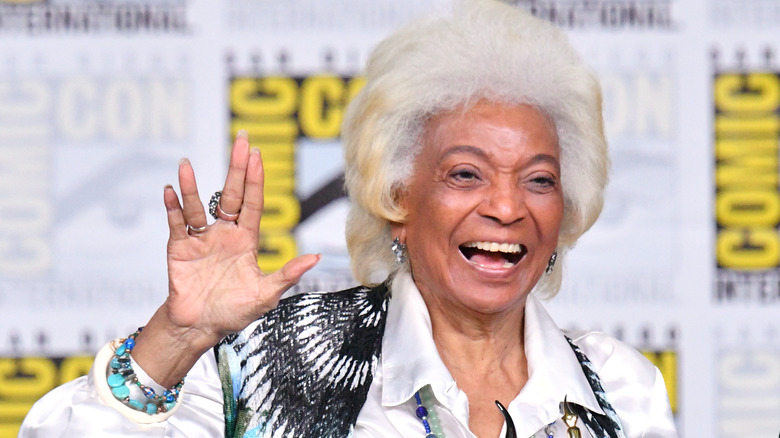 Mike Coppola/Getty Images
Paramount+ has prepared a "special video to honor the impact and influence" of "Star Trek" star Nichelle Nichols, Deadline reports. The company plans to display the video memorializing the late actor during its Star Trek Day event next month. The event will be held in Los Angeles at the Skirball Cultural Center on September 8.
Some 50 years after the fact, it's impossible to overlook Nichols' impact. As The Washington Post notes, Nichols, burdened by the responsibility of representing the Black community on so large a scale, once considered leaving the role of Uhura to pursue a career in theater but was convinced of Uhura's importance by none other than Reverend Dr. Martin Luther King Jr., who told her the world needed to see a Black woman in a position of significance before it could believe such a thing was possible.
In her personal life, Nichols continued the bold and hopeful vision of "Star Trek" by appearing in promotional videos for NASA encouraging women and people of color to pursue careers as astronauts. Many subsequently joined, citing her as their inspiration (via NASA). The Paramount+ documentary "Woman In Motion" chronicled her efforts to diversify the space program, in which Nichols recounts, "I said, 'If they let me in the door, I will open it so wide, they will see the world.'"
The honorary for Nichols at the Star Trek Day event may serve as a much-needed catharsis for fans of the franchise who grew up in the world she forever changed.