Kenan Thompson Clues Fans In On Potential Good Burger 2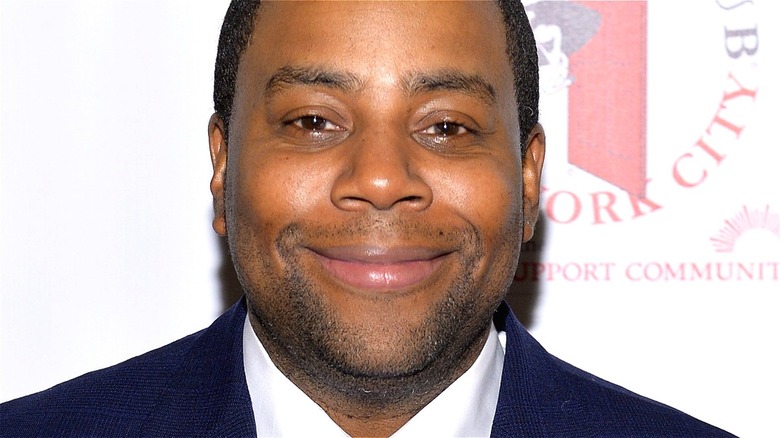 Noam Galai/Getty
It's been a long time coming for "Good Burger" fans and the movie's two stars — Kenan Thompson and Kel Mitchell — when it comes to the potential of a sequel for the iconic 1997 Nickelodeon flick. For years, both Thompson and Mitchell have reprised their Dexter Reed and Ed roles for special comedy sketches and other things. And they've even spoken publicly about wanting to do another "Good Burger" before in the past. But sadly, nothing's ever come of it. 
"Yeah, you know, we're gonna let [Nickelodeon] work it out," Mitchell told TMZ in 2018. "But all you need to know is that Kenan and I are down."
The Brian Robbins-directed "Good Burger," for those who never saw it, was based off an "All That" comedy sketch of the same name starring Thompson and Mitchell. It centered around a fast-food war between the old-school Good Burger restaurant and a new-wave corporate juggernaut called Mondo Burger, which was known for its gargantuan patties. Calls for a sequel have never stopped mounting since the film's release, and with "Good Burger" celebrating its 25th anniversary this year it's a great time for Thompson and Mitchell to make their hardest push yet for another run on the big screen — which, according to a new interview featuring Thompson, is exactly what the comedy duo is doing. 
'We are working harder on it than ever'
Appearing on "The Tonight Show Starring Jimmy Fallon," Kenan Thompson talked about how he and Kel Mitchell have been pushing harder than ever for a "Good Burger" sequel. And if they do get one, he's got the perfect idea for it. 
"We are working harder on it than ever," Thompson told Fallon. "So it's about meeting the numbers and letting the numbers match up because I need them numbers," the SNL star joked, before diving into his "Good Burger 2" plan. "I feel like Kel should have a million kids...and then I'm coming out of jail for something he put me in jail for."
If Nickelodeon were to actually give Thompson and Mitchell the green light on a "Good Burger" sequel, several things would likely have to change about the characters and overall schtick of Dexter and Ed to be geared toward an older audience and to address the Dan Schneider controversy. The '90s kids flick was originally panned by critics and wasn't embraced until years later by now-grown millennials, who have reportedly proven to be a strong enough market to keep Nickelodeon invested (via Marketing Dive). GQ magazine noted in 2017 how "Good Burger" was ultimately a movie that could never be released in today's social climate, calling it "a stoner film for children." But now that those children have grown up, there couldn't be a better time to try and get the ball rolling on a sequel. "I would like it to [happen]," Thompson told Fallon.