Why Cassie From Netflix's Purple Hearts Looks So Familiar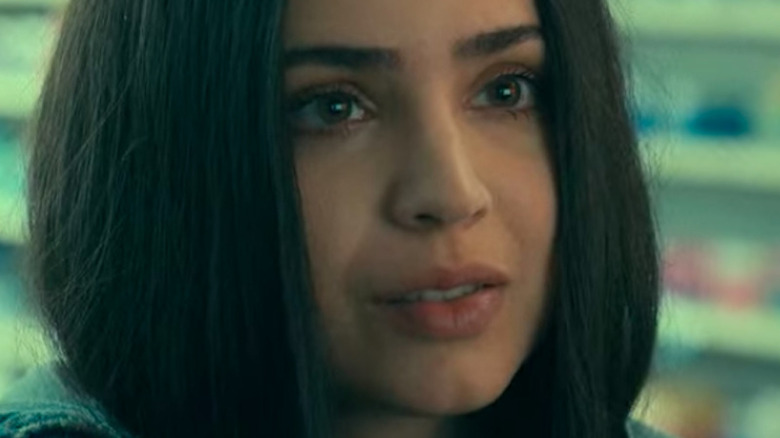 Netflix
"Purple Hearts" is Netflix's latest romance flick and it's been watched by a staggering number of viewers since its debut. The film employs the classic enemies-to-lovers trope, though at times the plot seems to waver between a love story and a horror film. The movie follows Luke Morrow and Cassie Salazar, two people who couldn't be less alike. Cassie is a free-spirited musician and Luke is a military man through and through, though both of them are facing challenges in their lives. Cassie can't afford the high cost of insulin after being diagnosed with Type 1 diabetes and Luke is a recovering addict struggling to pay off his dealer.
As a last resort, they decide to get married so that Luke can cash in on tax benefits and Cassie can utilize the health insurance given to military spouses. However, their marriage scheme becomes more complicated as Cassie and Luke get to know one another. Even as they struggle to accept each other's perspectives, their growing connection threatens to derail their original agreement. Although the film has been criticized for employing dubious rhetoric concerning sexism, racism, and military life, the palpable chemistry between the lead actors provides a decent distraction (via The Independent). 
The actress who plays Cassie, Sophia Carson is no stranger to the silver screen, so if you've found yourself wondering where you've seen her before, then look no further. Let's take a look at some of the most prominent roles in Carson's filmography.
Sophia Carson played Evie in the Descendants franchise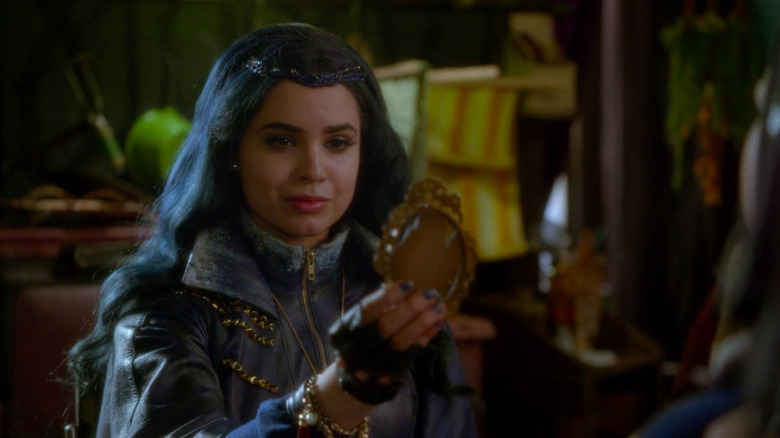 Disney+
Fans of Disney Channel Original Movies might know Sophia Carson as Evie, daughter of the Evil Queen (Kathy Najimy), from the "Descendants" film series. Inspired by the characters we all know and love, the film follows the children of famous Disney villains. Ben (Mitchell Hope), the son of Belle (Keegan Connor Tracy) and Beast (Dan Payne), is set to be the next ruler of Auradon. Extending his good faith, Ben invites Carlos (Cameron Boyce), son of Cruella de Vil (Wendy Raquel Robinson), Mal (Dove Cameron), daughter of Maleficent (Kristin Chenoweth), Jay (Booboo Stewart), son of Jafar (Maz Jobrani), and Evie to attend school in Auradon to give the next generation a chance to redeem themselves.
Although their parents pressure them to sew discord on their journey, the kids have their own agendas. Influenced by her mother's obsession with vanity, Evie wants to be seen as more than beautiful and struggles to get her peers to see her for who she really is. Carson lends her vocal talents to the upbeat soundtrack, evoking traits of classic Disney princesses in a way that manages to set Evie apart from a traditional heroine. Carson shares an infectious energy with the rest of the main cast in this fantastical franchise.
You might recognize Sophia Carson as Lola from Adventures in Babysitting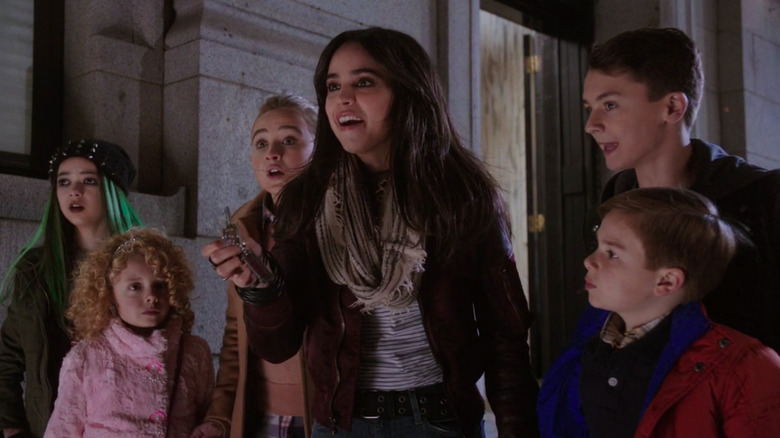 Disney+
"Adventures in Babysitting" features Sophia Carson as Lola Perez, a laidback teenager with a passion for photography. Lola finds herself at odds with Jenny Parker (Sabrina Carpenter) when both girls are considered for competitive photography internship. After accidentally switching phones, the pair end up on separate babysitting jobs for the night and, as in the adventurous original film, chaos quickly ensues. Pots boil over, washing machines explode, and the kids run amok, forcing Lola and Jenny to team up and get everything back in order before the clock runs out.
The group's shenanigans quickly devolve into a crisis when the kids earn the ire of a pair of seedy pawn shop owners, forcing them on a wild goose chase across the city. The film leans heavily on comedic elements, allowing the child actors the chance to strut their stuff, and Lola and Jenny's opposing personalities add another layer to the story. Although their different babysitting styles put them at odds, Jenny and Lola come to realize that the only way they'll all get through the evening in one piece is to learn from each other. Carson and Carpenter skillfully portray the pair's evolving friendship and Carson manages to make Lola stand out among the crowded cast of characters.
She starred in A Cinderella Story: If the Shoe Fits
Sophia Carson stars as the title character in "A Cinderella Story: If the Shoe Fits," the fourth installment in the "A Cinderella Story" film series. Carson plays Tessa, a young mechanic who suffers through life with her classically unbearable stepmother and stepsisters, though the story does have its own unique spin. When Tessa is forced to accompany her family to a competative audition for the starring role in an upcoming "Cinderella" musical, she becomes smitten with the show's male lead, Reed West (Thomas Law). After her stepmother forbids her from trying out, Tessa pulls a Hannah Montana and gives herself a makeover so she can audition undercover.
Tessa assumes the stage name Bella Snow and wins the part, growing closer to Reed as they rehearse. However, the Tessa's responsibilities and her family's suspicion threaten to derail her newfound happiness. Carson gets to show off her singing skills in this light-hearted retelling and gives a well balanced performance that plays on the both the romantic and humorous elements of the story, breathing new life into yet another version of "Cinderella."
She played Ava Jalali in Pretty Little Liars: The Perfectionists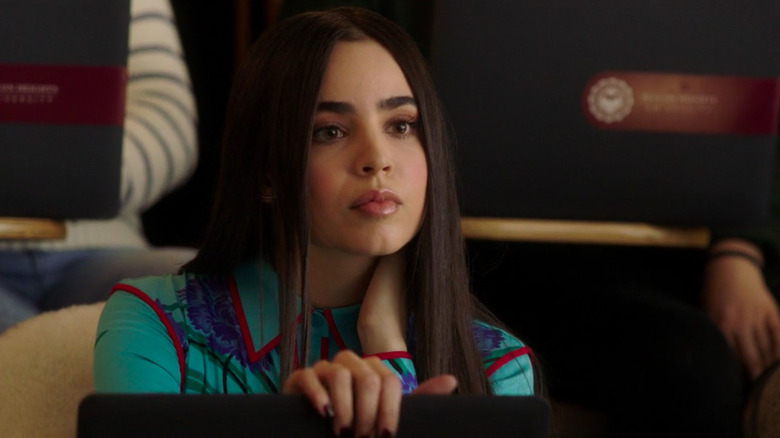 Freeform
"Pretty Little Liars: The Perfectionists" is a short-lived sequel to "Pretty Little Liars" that follows Alison DiLaurentis (Sasha Pieterse) as she relocates to the small town of Beacon Heights, Washington in pursuit of a fresh start. However, fans of the franchise are well aware that wherever Alison goes, murder and mayhem are sure to follow. Her new faculty position at the prestigious Beacon Heights University is complicated by the presence of Mona Vanderwaal (Janel Parrish) and the wealthy and mysterious Hotchkiss family. While Nolan Hotchkiss (Chris Mason) seems like the most popular student on campus, appearances can be deceiving.
Sophia Carson portrays Ava Jalali, a member of Nolan's posse alongside fellow students Dylan Walker (Eli Brown) and Caitlin Park-Lewis (Syndey Park). Although they seem like the perfect clique, it's all an act to satisfy Nolan's image-obsessed parents. As Alison catches on to their lies, the whole town is shocked when Nolan winds up dead. Although the show only lasted one season, Carson manages to portray Ava as a dynamic character who's struggling to make a name for herself as a fashion designer after her father's fraudulent dealings forced the rest of her family into hiding. Ava's exceptional coding skills come into play as the narrative unravels, giving Carson a chance to deliver a layered performance.