She-Hulk Head Writer Jessica Gao Talks Cameos, The Show's Biggest Stars, And Feminism - Exclusive Interview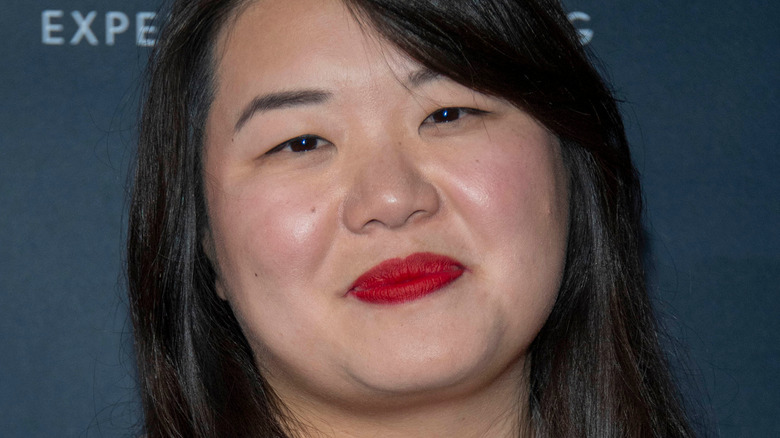 Eugene Powers/Shutterstock
"She-Hulk: Attorney at Law" is the feminist MCU content fans have been looking for — and it wouldn't be the same without head writer Jessica Gao. Starring Tatiana Maslany as Jennifer Walters/She-Hulk, the show chronicles the rise of the lawyer extraordinaire after an accident turns her into a Hulk. With a 30-minute combination of comedy and lawyering, "She-Hulk" lends itself perfectly to its plethora of cameos.
Some of the show's many appearances include Mark Ruffalo as the Hulk himself, Benedict Wong (as Wong), Charlie Cox (as Daredevil), and Tim Roth (as Abomination), among others. On top of familiar faces, the show boasts plenty of new MCU additions like Jameela Jamil as the villainous influencer Titania and Ginger Gonzaga as Jen's best friend, Nikki.
Of course, before landing the head writing gig on "She-Hulk," Gao wrote for shows like "Big Time Rush," "Robot Chicken," and "Rick and Morty." In addition to her head writing duties on "She-Hulk," Gao is also a producer on the series. During an exclusive interview with Looper, Gao dished on the show's many cameos, which MCU series she couldn't pull characters from, and how she crafted the show's feminist angles.
Breaking the fourth wall of sexism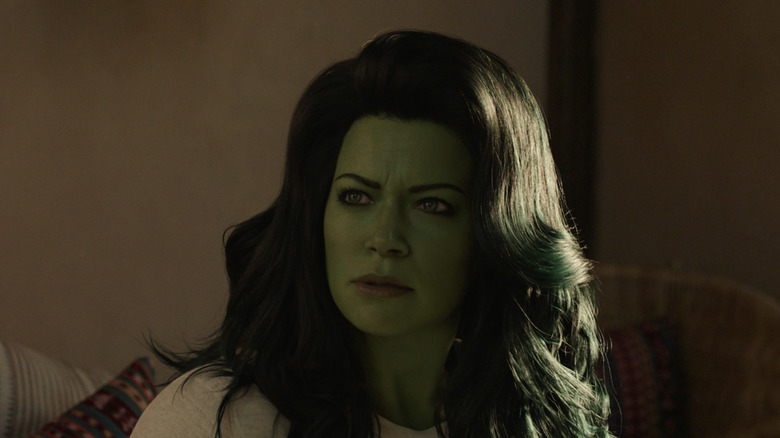 Disney+/Marvel Studios
Some of the show's best meta moments don't necessarily come when Jen breaks the fourth wall. There's a great moment when the show tackles sexist trolls, which is something all women and POC-led Disney and Marvel shows seem to face in real life to the point of driving actors and creatives off social media. Why was this an important component for you to tackle, and how do you hope it might reframe these behaviors for viewers?
Well, it's a very real thing. On this show, in particular, we wanted to focus on a very real, grounded, authentic, and true-to-life portrait of everything that would happen to this woman if she really did become a Hulk in our world. Realistically, that is what would happen. It's this endless cycle of art imitating life, then life imitating art.
When the show was announced, there were all these trolls who had an issue with it, especially trolls who claim to have these strong opinions about what Marvel should do, who have never read the comics. It would naturally make sense to bring all of that into the show, because even in real life, that was already happening to this character.
A new cameo for every episode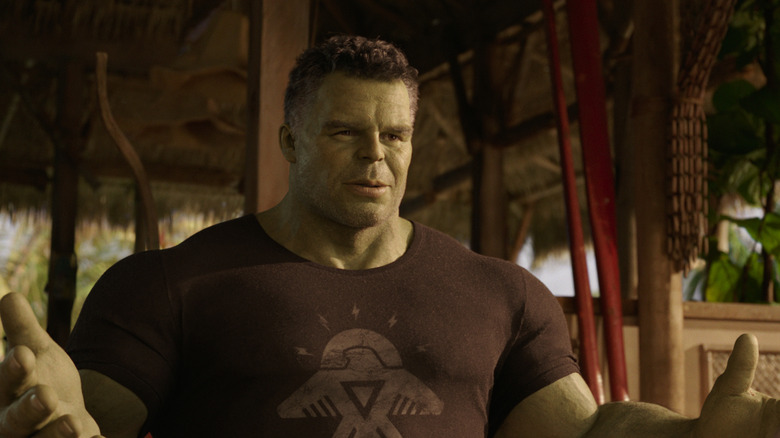 Disney+/Marvel Studios
There are a ton of incredible cameos in the show. Is there anyone that you tried to get but weren't able to? How did you balance infusing fan-favorite characters while still keeping the show fresh and feeling like its own thing?
There were a lot of characters that we wanted to use that we couldn't, both from the movies and from the comics. In particular, from the comics — usually, if we couldn't use them, it was one of two reasons: Either there was a rights issue with the character or there [were] already other plans in the MCU for them. [It was] the same with pulling characters from the MCU. Sometimes it's a rights issue, like all the characters involved with "Spider-Man." Other times, it might be availability, it might be [an] actor's interest, or maybe we couldn't afford it.
The format of the show itself, because it is a half-hour legal comedy, lends itself to organically bringing in cameos where you didn't feel like, "Is this a show with this person anymore?" Each episode — not every episode, but [in] most episodes — there is a lawsuit or some sort of trial or legal situation. There is a beginning, middle, and end in these episodes so that you felt like, "Okay. This person was brought in because of this so that we can see this story unfold. But then that story has been wrapped up, and now I understand they're not part of every episode of the show." They've come in, and we've told the story. Of course, She-Hulk is always involved.
Dare(devil) to dream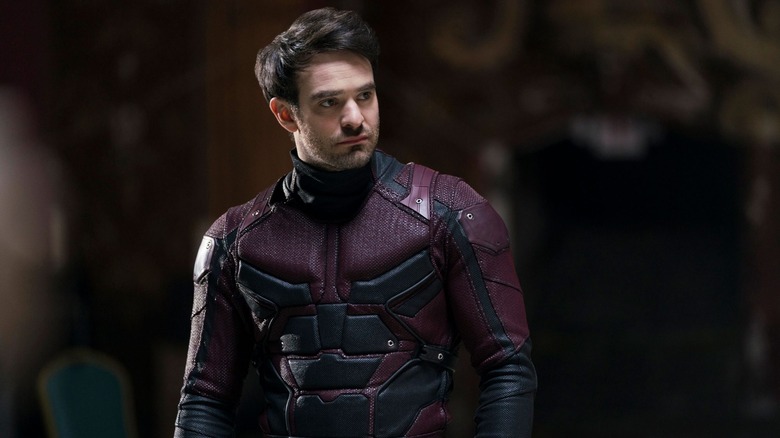 Disney+/Marvel Studios
What was your reaction when you found out that Charlie Cox and Daredevil were on board? Without giving anything away, how do you think their appearance will impact the MCU going forward?
We couldn't believe it. It was a dream we dared not dream. In the writers' room, when we got wind that not only was he on the table, but that Charlie Cox was back, it was jubilant celebration — but then tempered with, "This isn't real, right? They're tricking us. Someone's pulling a cruel joke on us." We were so happy. What a dream to have.
It also just makes so much sense. Uniquely, they are both lawyers who also are superheroes. They have so much in common, but they also live such different lives and have such different situations dealing with the same issues. All of that was fun to be able to explore. Seeing the dynamic between the two actors, Charlie and Tatiana [Maslany], they had such great chemistry. They instantly clicked.
It really is so fun ... I would personally love to see She-Hulk be able to do this on other shows. The way that we've had characters come into our show, I hope that She-Hulk gets to go and be a guest in a bunch of other shows.
Benedict Wong: a real-life magician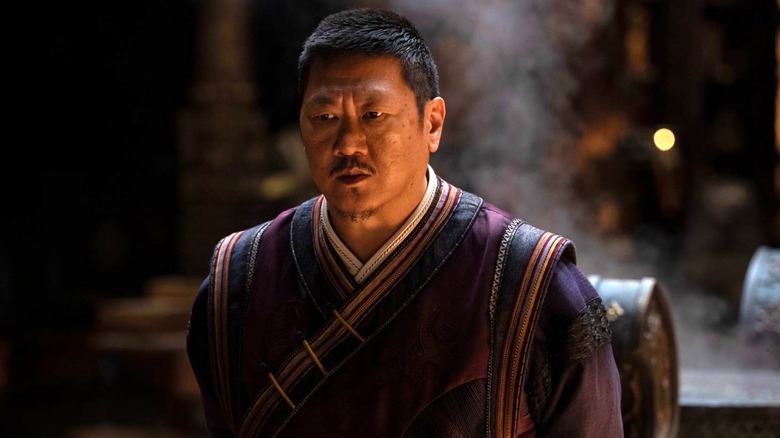 Disney+/Marvel Studios
We've seen sprinkles of Wong's pop culture affinity before, but he becomes a full-on pop culture junkie and begins an unlikely friendship with a very ditzy woman in the show — and it's comedy gold. What was it like getting to write this untapped area of Wong and seeing Benedict Wong bring this vision to life? Did he do any ad-libbing or improvisation in the moment?
It was so fun. Benny is such a funny actor. He immediately understood exactly where the comedy was. He knew exactly how to play his character perfectly for maximum comedy effect. The pairing of him and his new friend is Marvel gold. Truly, I need that show. I want [a] holiday special of the two of them together.
Benny also is such a gifted improviser. There were so many moments that he improvised. The times that he performed little magic tricks — that was him spur-of-the-moment doing it. Who knew?
The catharsis of turning drama into meaningful art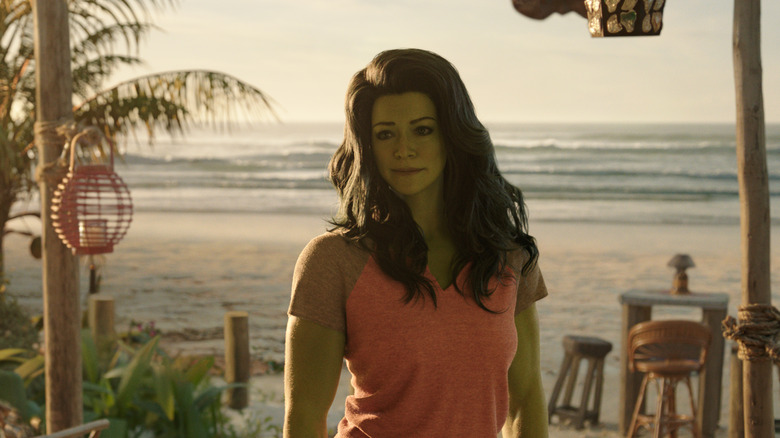 Disney+/Marvel Studios
Any woman watching the series will be able to relate to scenes like women helping each other in the bathroom, the mansplaining bits, and the struggles of advancing your career and having your voice heard in male-dominated fields. Was it at all cathartic for you to write these scenes? Were there moments when the women in the cast or on the creative side would share their own stories or brainstorm how these scenes might go?
Absolutely. Every writers' room that I've been in has come as a result of everyone mining each other's lives for content. We share our personal experiences. We share stories. We share things that have happened to us. We especially like to mine the depth of the cringiest moments of our lives. We turn that into content for the show. I really think people become comedy writers because this is a way to do therapy where we're getting paid to do it instead of the other way around. That's how we deal with our drama.
Also, it was wonderful that in every part of the creative process, there were so many different women working on this show. It's important that the representation behind the camera matches the representation in front of the camera, and also that there are so many different women, because everyone has different life experiences and different perspectives. To have so many different points of view creates a fuller picture of womanhood, and you get to have a lot of nuance, because women are not a monolith. We can't expect one or two women to represent what is half the population of the earth.
The first episode of "She-Hulk" airs Thursday, August 18 on Disney+ with new episodes airing weekly.
This interview was edited for clarity.