South Park's Creator Really Wishes He Could Delete These Seasons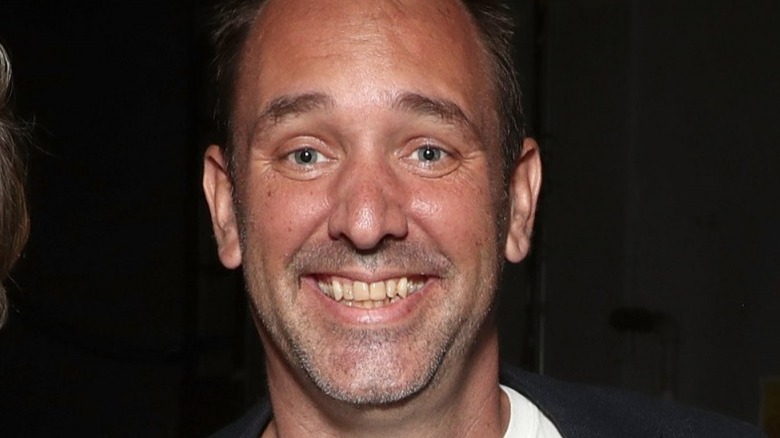 Todd Williamson/Getty Images
In case you haven't heard, this year marks the 25th anniversary of "South Park" and its premiere on Comedy Central. And there's been a lot of talk lately — with Trey Parker and Matt Stone's celebratory concert and television special airing August 9 and 10 — about which season from the show's iconic past was the best of all time. Well, we've already answered that question with a "South Park" Worst to Best list based off Rotten Tomatoes scores. Now it's time to dive into which seasons of "South Park" are the ones that Parker and Stone wish they could wash away completely, whether it be from sheer embarrassment or simple creative differences due to being older now.
"We care about different things today," Parker once told The Hollywood Reporter. "First, we were friends f***ing around, trying to get laid, breaking into Hollywood, sleeping on couches. Now Matt is married, and I've got a little family." For the two comedy legends, growing up was something that ultimately led to at least one of them — Parker — despising at least three seasons of "South Park," which he revealed in a 2011 interview.
Trey Parker would erase Seasons 1 to 3 of South Park permanently if he could
Speaking to EW, creator Trey Parker said he would easily get rid of the first three seasons of "South Park" if he could — calling them each "terrible" (via CheatSheet).
"If I had to permanently erase anything from the library, it would basically be anything before season 4," Parker said, per CheatSheet. "It's just embarrassing to watch. OK, we were, like, 26, 27. But it's like, 'Really?' We thought that was funny? We thought that was well-written? Oh my God, this is terrible." Fast-forward to 2022 and Parker's values and themes for "South Park" — which just aired its 25th season — are still very much simplistic and geared towards showing the social commentary between Stan Marsh, Kyle Broflovski, Eric Cartman and Kenny McCormick while the group just acts like kids.
"It's easier to be fresh about something topical because it's new," Parker told the Los Angeles Times. "The writers' room always starts with us sitting around a table going, 'All right, what's going on?' Just like in any office. But even in the season we just did, some of my favorite things were Butters riding a horse and Cartman living in a hot dog. Just kid stuff."
Surprisingly, even with a quarter century under their belts, Parker and longtime collaborator Matt Stone don't appear to show any signs of slowing up. The pair signed a massive $935 million, six-year deal with ViacomCBS to bring all of their future "South Park" content to Paramount+, with it calling for at least 14 made-for-streaming movies and five more seasons (via The Hollywood Reporter). The next "South Park" film is expected sometime in 2023, per Decider.