South Park Celebrates 25th Anniversary With A New Spin On This Classic Chef Song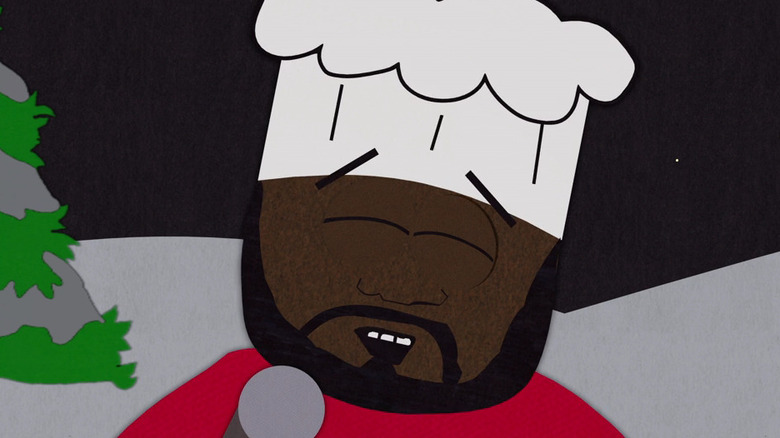 Comedy Central
The elementary school characters of "South Park" never age, but the Comedy Central show has officially been on the air for a quarter of a century. That's 25 years of irreverent, scatological satire, and it is perhaps a testament to the series' lasting cultural impact that it no longer feels out of place alongside other adult animated series with equally foul-mouthed characters. The likes of "Archer," "Rick and Morty," and even the more philosophically minded "BoJack Horseman" might never have treated audiences to their audacious blends of lurid, yet intellectual humor were it not for the work of "South Park" and its creators, Trey Parker and Matt Stone.
Though it's hard to remember now, there was a time when "South Park" drew outrage and protest as it hurled comedic barbs toward everyone from the Church of Scientology to Kanye West, the latter of whom promised to "choke a 'South Park' writer with a fish stick" on his 2010 song "Gorgeous." Though the show still draws occasional ire, often for legitimate reasons, Parker and Stone were recently treated as homecoming heroes by Colorado Gov. Jared Polis, and they're buying up the Denver landmark Casa Bonita, which they made famous in an episode of "South Park" named after the restaurant. These are not things people do when their brand is considered toxic.
That's why it feels something like a victory lap for "South Park" to mark its silver jubilee with a new take on a hilariously gross musical number from early in the show's history, released today by South Park Studios with a classical twist.
A 30-piece orchestra invites you to enjoy Chef's 'Chocolate Salty Balls'
In honor of "South Park's" quarter centennial, South Park Studios has released an orchestral performance of the song "Chocolate Salty Balls," first sung by Chef (the late Isaac Hayes) in a Season 2 episode by the same name. That episode featured Chef venturing into business as a confectionery baker, and the balls in question are indeed cacao-based delights with a dash of sea salt, despite whatever alternative interpretation the lyrics may invite.
With a swinging trumpet line and a full string section, the new rendition of "Chocolate Salty Balls" features Jeff Kready on the lead vocals, backed by a sublime chorus as he implores listeners to "suck, suck, suck on my balls." It's truly a delightful performance, made all the more uproarious by the juxtaposition of musical talent on display with the suggestive subject matter, and almost nobody in the orchestra seems able to keep a straight face for the entire time.
Of course, musical numbers have been a big part of "South Park" creators Trey Parker and Matt Stone's legacies. They went on to write and direct "South Park: Bigger, Longer, and Uncut," as well as the political satire "Team America: World Police," both of which were musicals, and even created the Tony award-sweeping Broadway show "The Book of Mormon." Despite their success, they've stayed at the "South Park" helm for its entirety, and Season 25 of the show will premiere on March 2 on Comedy Central.