Cobra Kai Season 5's Trailer Finally Shows Us Terry Silver's Newest Sensei In Action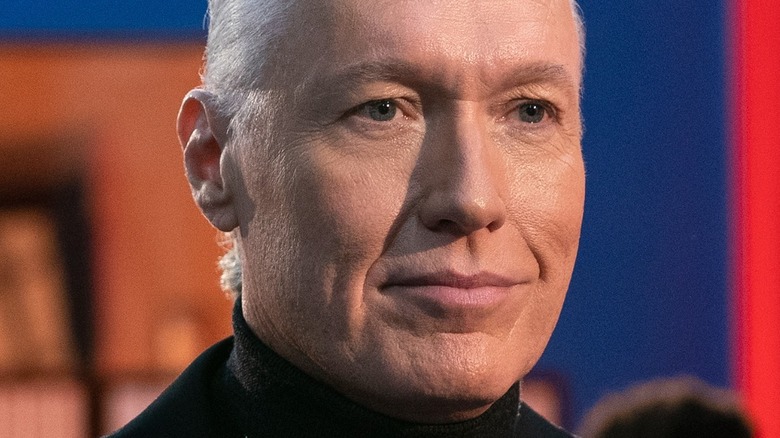 Curtis Bonds Baker/Netflix
The recently-released, intense Season 5 trailer for "Cobra Kai" not only piqued fans' interest but got us seriously pumped up for what's to come. We first see Johnny Lawrence (William Zabka) working as a rideshare driver, remarking that he "Washed his hands of Cobra Kai after losing the tournament — I'm not a sensei anymore." Then Daniel LaRusso (Ralph Macchio) tells his students that he is shutting down Miyagi Do Karate. While things look bleak for Cobra Kai and Miyagi-Do, we also see some new faces and, of course, Terry Silver (Thomas Ian Griffith) returning as the villain. As an added bonus, we get to see how John Kreese (Martin Kove) is getting along in prison.
In Season 4, Silver framed Kreese to get him out of the way and to have complete control over the Cobra Kai dojo. In the trailer, we see a woman get off a plane, and Silver approaches her, telling her he's "Thinking a lot bigger than the Valley" in regards to expanding the Cobra Kai franchise. We also see her observing and teaching the students, and she falls in line with the Cobra Kai dojo's "Show no mercy" karate methods.
Kim Da-Eun shows she's willing to see Cobra Kai win
The woman we see in the "Cobra Kai" Season 5 trailer is South Korean sensei Kim Da-Eun, played by Australian actress Alicia Hannah-Kim. Skilled in Tang Soo Do, Da-Eun has obviously been asked to come to the San Fernando Valley to help speed up the expansion of Cobra Kai into a formidable franchise. We don't know yet what she's like, but Da-Eun working with Silver can only mean she's a villain and not on the side of heroes Daniel and Johnny.
Fans have many predictions about who new sensei Kim Da-Eun is, with one of the biggest predictions being that she's related to Tang Soo Do master Kim Sun Yung. "[Definitely] related to Kim Sun Yung," Redditor u/senzukai said about the appearance of Da-Eun, with u/Claim_Intelligent responding, "Exactly what I was thinking." In "Karate Kid" lore, Kim Sun Yung taught Captain Turner (Terry Serpico) Tang Soo Do in Vietnam, and Turner then taught Kreese and Silver the martial art that would end up being the basis for the Cobra Kai dojo. Whoever Da-Eun is, it's clear she is skilled in Tang Soon Do and willing to do what's needed to succeed.
Speaking with Deadline, co-creator Jon Hurwitz said that with Season 5, fans can expect "A lot of insanity; if you're a fan of the franchise, maybe some familiar faces show up, maybe not; there's going to be a lot of karate." What role Kim Da-Eun plays in that insanity remains to be seen.