Small Details You Missed In The New Cobra Kai Season 5 Trailer
Do you hear that? That's the sound of an army of black belts and killer bandanas tightening for another round of everyone's favorite karate school-based war. A brand new trailer for "Cobra Kai" Season 5 has landed, hinting at the fallout from Season 4's jaw-dropping finale. With Miyagi-Do closing its doors and Eagle Fang's wings seemingly clipped, how can our favorite high-kicking odd couple — Johnny Lawrence (William Zabka) and Daniel LaRusso (Ralph Macchio) — stop Terry Silver (Thomas Ian Griffith) from taking over the valley? We can't confirm that just yet, but we're pretty sure it will involve someone being punched in the face — a lot.
Beyond that, there's a lot to spot and sweep over in the new trailer, some of which might cause concern for different reasons. Are we getting glimpses of Daniel's further shift to the Dark Side of the dojo? Will therapy do more good for John Kreese (Martin Kove) than prison brawls? Where is the recently teased return of Mike Barnes? And who on earth let Johnny Lawrence become an Uber driver? Here's where we bow to our opponent and break down all the small details you missed in the new "Cobra Kai" Season 5 trailer.
All hail Silver's squad of sensei
Continuing to prove that you can take the villain out of the 80s, but you can't take the 80s out of the villain, Terry Silver looks to have gone through his little book of bad guys and made a few calls. With plans to get Cobra Kai striking further than the valley, the pony-tailed terror has hired a new group of sensei to mold pupils into the future karate terrors of tomorrow, and they mean business. Looking like rejected "Street Fighter" designs and loving it, one addition to Silver's school that stands out is steely-eyed enforcer, Kim Da-Eun, played by Alicia Hannah-Kim.
Confirmed to be joining the show as a sensei in May, the new South Korean trainer is an expert in the martial art of Tang Soo Do and looks to be laying down the law on one of Silver's students more than the rest. Providing major Bond baddie energy as soon as she steps off the plane, Kim Da-Eun sets her sights on Cobra Kai's current champion Tory (Peyton List), who is struggling enough already following her undeserved win last season. With an inner conflict already brewing, we can only wait and see how the young student handles further training at the dojo, especially under Silver's new staff member. Of course, that's all before the arrival of a familiar face that is noticeably absent from the trailer — the T-1000 to Johnny's T-800, also known as Mike Barnes.
Where is Mike Barnes?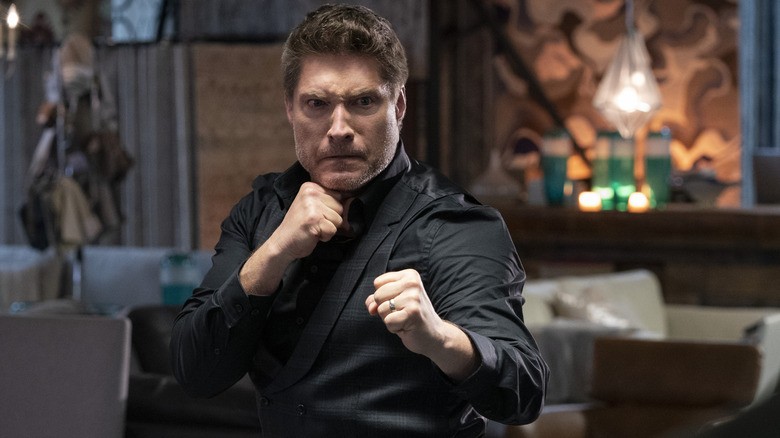 Curtis Bonds Baker/Netflix
Perhaps one of the most intriguing things about the new trailer is that Mike Barnes (Sean Kanan) — the chief antagonist from "Karate Kid III" and a figure already slated for a big return in Season 5 — is nowhere to be seen.
For those who don't remember the ultra-serious Barnes, he was hired by Terry Silver to oppose Daniel in the All Valley Karate Tournament and represent the faltering Cobra Kai brand. Mike is a talented but rule-shattering bad boy type much like Johnny, only a hundred times more ruthless. Promised a 35% ownership stake in the Cobra Kai chain of dojos, he shows Daniel no mercy during their matchup, which Barnes almost wins. It takes a sudden death round, Daniel's catlike reflexes, the unwavering support of Mr. Miyagi (Pat Morita), and the application of a new move called a kata to defeat Barnes and disgrace Cobra Kai yet again.
There may be a myriad of reasons for the show keeping Barnes under wraps — perhaps his reentry into the lives of Daniel and Johnny is supposed to be a surprise, or perhaps his return provides a shock to the storyline that can't be summarized in a brief trailer. Either way, his omission is quite a surprise.
Miguel won't be out the valley for long
After the closing of last season and the trailer that preceded this one, expectations were that Johnny and his estranged son, Robby (Tanner Buchanan), were headed on a long trip to Mexico to retrieve Miguel (Xolo Maridueña). Well, it looks like they accomplish their mission at some point, as Lawrence's original student is seen back in the valley and is still no closer to burying the hatchet with his arch-rival.
There's a lot of history between Miguel and Robby, comprised of broken hearts and backs in equal measure, and the new trailer for Season 5 looks to give us an all-new chapter. Besides squaring off by the pool (every season needs a new fighting arena, after all), the trailer also teases the two throwing down on Miguel's home turf. How will Miguel handle another battle against the guy put him in the hospital in Season 2? Might the score finally be settled over who is the better fighter, or could Season 5 finally see the two team up in a way that their respective mentors have been reluctant to do so for so long? Place your bets.
Johnny's new life
If "Cobra Kai" fans thought Johnny and Miguel were going to be out of action for a long time and separated from the rest of the cast for much of Season 5, it looks like they're dead wrong.
During the trailer, it appears that Johnny — still smarting from Miyagi-Do's defeat himself — has left the business of being a sensei behind him, and the running of Miyagi Do to Daniel. In Johnny's case, this apparently means using his van to make ends meet and driving customers around for an Uber-like ridesharing service. Apparently, he's not doing too well; two teenagers he's tasked with transporting give him a single star due to the fact that his van smells like beer. "That's because there is beer, a******!" Johnny ripostes. 
Fans will have to wait to find out how Miguel and Johnny make it back from Mexico and what causes Johnny to make such a starling choice.
Kreese is working on himself
It wouldn't be a "Cobra Kai" trailer without a hype-inducing stinger, and we thankfully get just that in one of the most unexpected ways. On the list of things we expected to see here after the confirmed return of Mike Barnes and a Johnny and Chozen team-up, witnessing Kreese in therapy didn't even make the list. And yet, the shamed former sensei of Cobra Kai that was betrayed by Silver is doing just that, simmering in smugness behind bars. The only concern is how long he is going to stay there.
Looking to be getting some me time while doing time, Kreese's brief moment of reflection is intercut with the original villain of the Miyagi-verse wiping the floor with other inmates. Could this altercation prove more trouble than its worth, though? Or is this just prep for the real battle he has in store to take back Cobra Kai? Whatever happens, it's clear he won't be able to do it alone, brewing the thought that we may see something even more unthinkable than Kreese in a therapy session — siding with a longtime enemy to bring a new one down. Let battle commence when "Cobra Kai" strikes back on Netflix on September 9.