Cobra Kai Goes Full Franchise In Epic Season 5 Trailer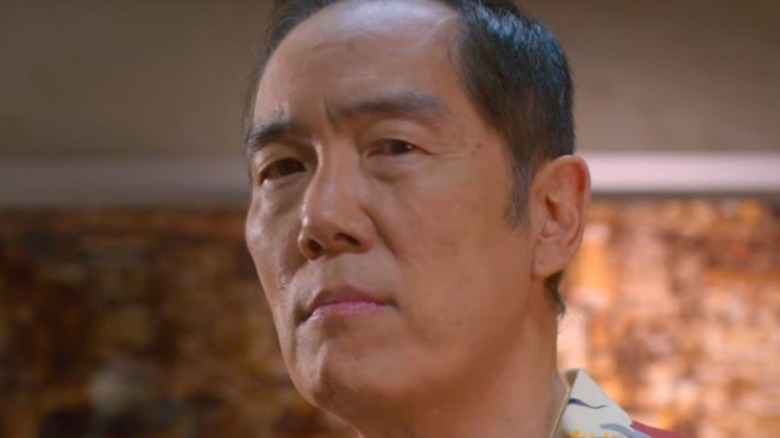 As one of the most beloved 1980s movies out there, "The Karate Kid" always had plenty of goodwill, but while its various sequels have their moments, there's no denying that the movie franchise was suffering from a serious case of diminishing returns. Because of this, any casual fan would've been forgiven for thinking that the franchise was destined to spend the rest of its existence as a nostalgic property that's subjected to a reboot attempt every decade or so.  
And then, "Cobra Kai" arrived. Riding on the original movie's deep nostalgia reserves and adding several layers of fun comedy and surprisingly deep storylines, the middle-aged misadventures of Daniel LaRusso (Ralph Macchio) and Johnny Lawrence (William Zabka) snuck into "The Karate Kid" fandom's collective heart like a slice of fried bologna. The fifth season of this unlikely but welcome success story might be closer than you think, because an epic trailer for "Cobra Kai" Season 5 just dropped ... and it reveals some very interesting things about the show's intention to embrace and expand the entire franchise. 
Up to now, every installment of both "The Karate Kid" movies and "Cobra Kai" has revolved around heroic and villainous martial artists facing various challenges in their lives and beating the tar out of each other. While the trailer for "Cobra Kai" Season 5 makes it clear that this isn't about to change, it appears that the action is a lot closer to tentpole franchise-style action-adventure than high-kicking high school drama.
The Cobra Kai Season 5 trailer is all around the place, in the best possible way
The trailer (via YouTube) reveals that following their defeat to Cobra Kai in Season 4, the main characters have scattered in the wind, and they all have different adventures all around the place. Johnny has taken his son Robby (Tanner Buchanan) on a road trip to Mexico in order to find Miguel Diaz (Xolo Maridueña), a plotline that seems to include underground cage fighting and punchy encounters with some pretty shady people. Meanwhile, Daniel has joined forces with his "The Karate Kid II" adversary Chozen (Yuji Okumoto), who appears to enter the show in full action hero mode, wielding a pair of sai and throwing ominous one-liners. Sam (Mary Mouser) is seen in some pretty cinematic battles, and Tory (Peyton List) is looking mighty worried. 
"Cobra Kai" Season 5 has also seemingly lost the nefarious, yet comparatively small-scale John Kreese (Martin Kove), who was arrested in the Season 4 finale. Now, the assorted martial artists have to deal with the truly irredeemable Terry Silver (Thomas Ian Griffith), who's in full supervillain mode in the trailer. He's opening dojos left and right here, recruiting kids in his troops and training in dangerous ways. 
All of this makes it seem that "Cobra Kai" Season 4 might be experimenting with a tried and tested team-up plot, as the vastly diverse characters and their different storylines all seem destined to pull them back together, in order to join forces against the seemingly invincible Silver and his black-clad karate forces. 
"Cobra Kai" Season 5 premieres on Netflix on September 9, and from the looks of it, it's going to be a doozy.