What Spy X Family Fans Could Be Missing From The English Translations
Though "Spy x Family" has only aired part of its first season so far, the anime hit is already shooting up the charts in terms of popularity (via ComicBook.com). The wacky anime follows the misadventures of a fake family made up of a world-class superspy, a deadly assassin, and a precocious young psychic as they try to stave off a major armed conflict between rival nations.
With its likable cast of characters and zany premise, fans have fallen head over heels for "Spy x Family," and a second round of episodes is already on the way. However, those who watch the show in English might be surprised to know that there are little details they may be missing in the show. While the subs vs. dubs debate has long been a lightning rod for discussion in the anime community (via TV Tropes), it seems with some anime adaptations, you're going to miss certain things no matter which version you choose to watch.
Some things are easier to translate than others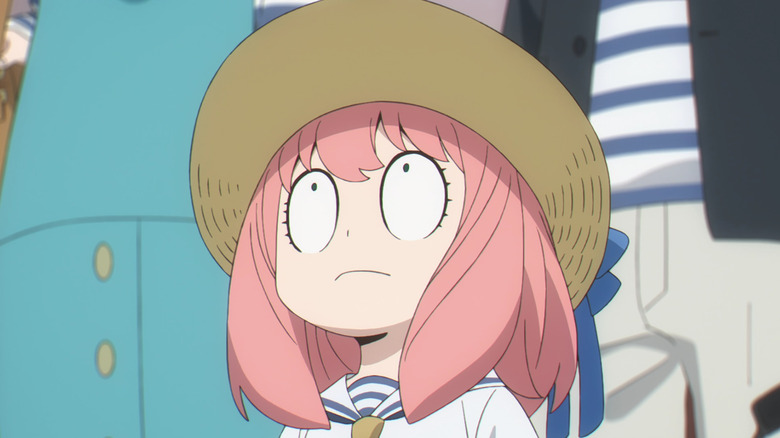 TXN (TV Tokyo)
On the r/SpyxFamily subreddit, u/Toki_Madoushi offered a painstaking list of some of the elements and concepts of the series that were more difficult than others to translate from Japanese to English. For example, when Yor (Saori Hayami/Natalie Van Sistine) considers murdering a parent to help Anya (Atsumi Tanezaki/Megan Shipman) land a spot in a prestigious prep school, the Japanese text that pops up translates roughly to "(living) sacrifice." What we got in English instead was a clever name for that prospective victim: "Zachry Feiss."
The user also provided context for a pillow on the Forger bed that says "Yes" on one side. Apparently, the pillows are a trend in Japan that are meant to communicate to your partner whether you're feeling amorous or not. As such, the other side of such a pillow generally says "No" on it. This, of course, doubles as further cover for the fact that Loid and Yor are supposed to be a married couple. 
Fans were quick to show their appreciation for the post and the level of nuance it revealed about "Spy x Family." Being that such knowledge would be hard to come by unless a viewer happens to be deeply familiar with Japanese trends and customs, it's easy to see why other fans were so appreciative.
Meanwhile, another user offered a further example where a joke could easily be missed due to the subtlety of the Japanese language. "[Yor] says the only skill as a housewife is 'cleaning house' in the translation I read," observed u/GelatinPangolin. "In the sub I watched, it gets translated as only 'cleaning.'" The distinction here is that "cleaning house" is definitely more of a transparent euphemism for killing, which is Yor's real profession. 
Fans seem to love the dub performances regardless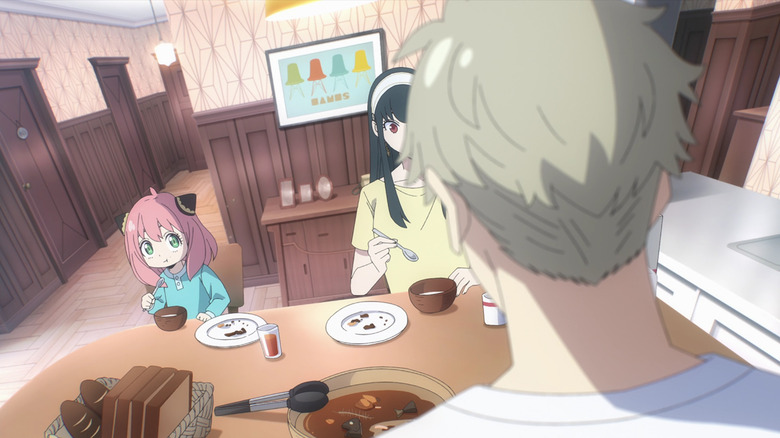 TXN (TV Tokyo)
Megan Shipman and Natalie Van Sistine, who provide the English voices for Anya and Yor, respectively, sat down to talk about their roles on the show with Temple of Geek. Shipman spoke at length about the process of voicing Anya and watching the show come together behind the scenes. "For me, I'm like gee, I hope this is funny because I think it's funny," she said, trying to relate her experience to that of viewers. She also mentioned how much she enjoyed seeing what fans highlight from a "Spy x Family" episode on Twitter. "It's so fun getting to see people, like what parts of the episodes are their favorites."
Van Sistine shared Shipman's enthusiasm. "It's just been amazing to see the fan reaction and just realize that you're in something that's so big and encompasses so much and is reaching so many people," Van Sistine said. She also seemed happy that the show was bringing new fans to anime and manga. "A lot of people who don't like anime or haven't watched a lot of anime, they actually know about this one, and they've seen this one, and that's just amazing to me," she concluded. 
It definitely has to be satisfying working on a breakout show and watching it achieve what it does while being a part of that appeal. Either way, look for more Easter eggs from Japanese culture when "Spy x Family" returns for more later this year.