15 Romantic Movies Like Pretty Woman That You'll Probably Love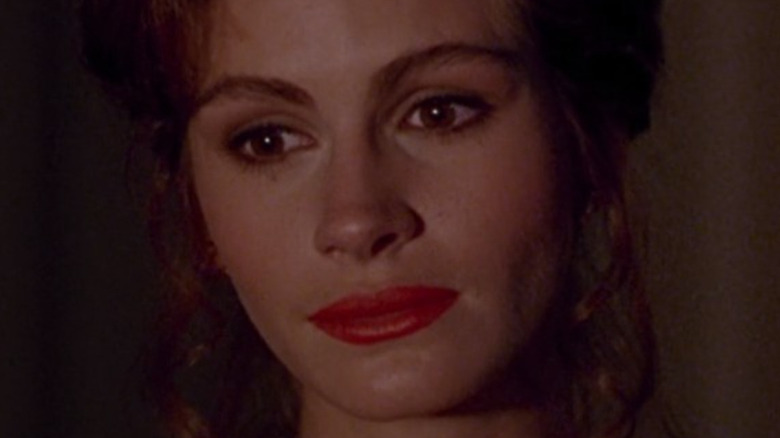 Buena Vista Pictures Distribution
Remember the time when romance movies dominated the box office? You might have to think back a bit, more than a couple of decades ago — back when CGI-laden franchises hadn't taken over the box office, and it was still possible to draw large audiences to theaters based on the chemistry between the A-list romantic leads.
A prime example of that era is 1990's "Pretty Woman," starring Richard Gere and Julia Roberts. The film follows a rich businessman (Gere) who's become jaded with life in general. One day he happens to meet a bubbly sex worker (Roberts), a woman he hires to spend time with him without getting physically intimate. As the businessman and the sex worker get to know each other, love blossoms in the most unlikely of places. 
Not only did "Pretty Woman" establish Julia Roberts as a bona fide star, it's also widely hailed as one of the best rom-coms of all time. However, in an era where movies like "Pretty Woman" are few and far between, how can you scratch that rom-com itch? Well, don't worry, we've got you covered. Read on to discover the films you'll probably love if you enjoyed "Pretty Woman."
Maid in Manhattan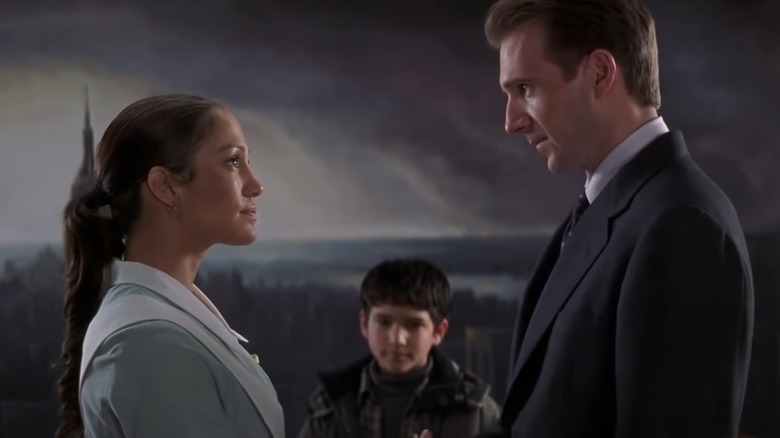 Sony Pictures Releasing
Jennifer Lopez has had one of the most diverse careers in the entertainment industry. She first rose to prominence as a dancer on "In Living Color" before making a name for herself in the music industry. A film career soon followed, with the actress appearing in a string of successful projects — one of the most popular being "Maid in Manhattan." 
Here, Lopez stars as Marisa Ventura, a single mother struggling to raise her son on her own while working as a maid at a posh hotel in Manhattan. Marisa' dreams are quite modest, which include getting her son a proper education and moving up to a managerial position. Her life is thrown into disarray with the arrival of handsome politician Christopher "Chris" Marshall (Ralph Fiennes), who mistakes Marisa for a wealthy socialite. Sparks fly between Marisa and Chris even as the truth about the former's life threatens to tear them apart. 
There's a Cinderella-like fairy tale quality to "Maid in Manhattan" about the love between two people who belong to such wildly different strata of society. Fans who know Fiennes best as the villainous Lord Voldemort might be surprised to see him in the role of the charming romantic lead. But it's Lopez who shoulders the majority of the burden for carrying the movie with a spunky charm and winsome appeal.  
Devdas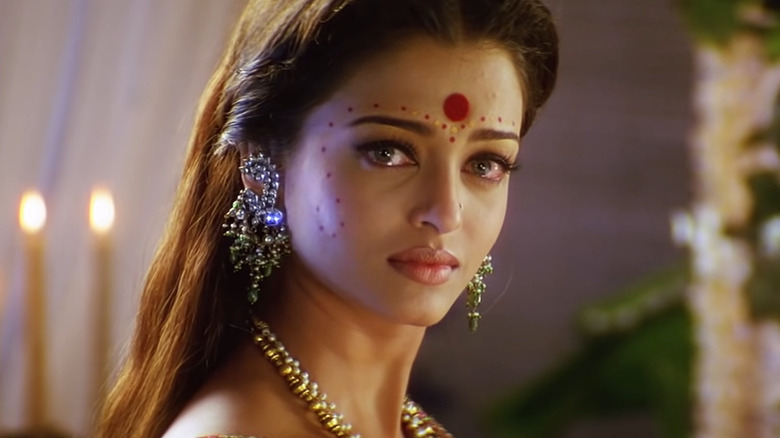 Eros International
Romance has long been a staple of the Indian film industry, and one of the most popular sources of inspiration for Indian filmmakers has been the 1917 novel "Devdas" by Sarat Chandra Chattopadhyay. The book has been adapted for the big screen a number of times over the years, and one of the most popular adaptations is filmmaker Sanjay Leela Bhansali's 2002 take on the story.
The titular Devdas (Shah Rukh Khan) is the charismatic but spoiled son of a wealthy family. He's always been in love with his childhood sweetheart Paro (Aishwarya Rai), but the prospect of their marriage is nullified by the fact that Paro belongs to a lower class of society. Angry and embittered, Devdas turns to heavy drinking and a sex worker named Chandramukhi (Madhuri Dixit) for comfort, all the while pining over Paro and the love they shared. 
Sweeping, melodramatic, and larger than life, "Devdas" was a huge success at the box office upon release. The movie also got acclaim outside of India after it premiered at the 2002 Cannes Film Festival, where critics praised the lead performances and Bhansali's dramatic new vision for bringing the classic novel to life. "The sets and costumes are intoxicating," J. R. Jones wrote for The Chicago Reader, "and whenever the tabla [a kind of drum] kicked in, I understood why people of my parents' generation used to dream about the movies."
Notting Hill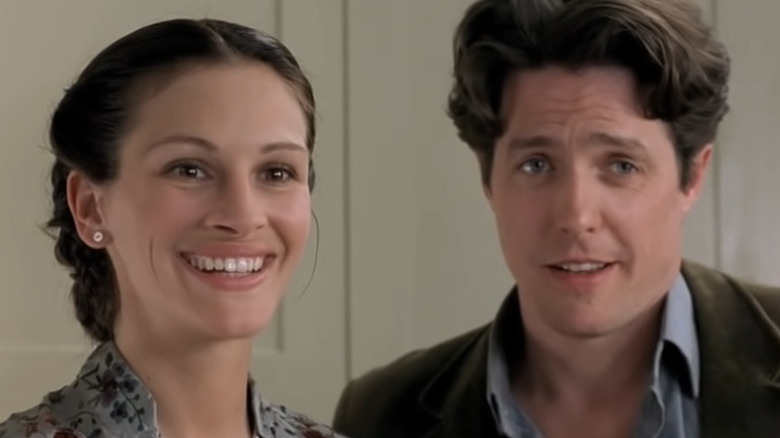 Universal Pictures
Thanks to the success of "Pretty Woman," Julia Roberts established herself as one of the biggest stars in Hollywood in the '90s and the unofficial queen of the rom-com. Across the pond, British actor Hugh Grant was also gaining a similar reputation thanks to the success of "Four Weddings and a Funeral" in 1994. In a shrewd move, the duo joined forces to perform the rom-com equivalent of a double body slam with 1999's "Notting Hill." 
Grant plays William Thacker, the owner of a low-key book store in London's Notting Hill. William's quiet life is turned on its head after he gets visited by Roberts' Anna Scott, one of the most popular actresses in the world. Anna and William feel an intense attraction to each other, but the star-crossed romance is hampered by the constant attention of the paparazzi and William's own insecurities about dating someone positioned so prominently in the public eye.
Naturally the main selling point of "Notting Hill" is the lead pairing of Roberts and Grant. The film was a big hit at the box-office, and it was also praised by critics for the chemistry between its leads and a memorable supporting cast that elevates the simple premise of the storyline.  
The Notebook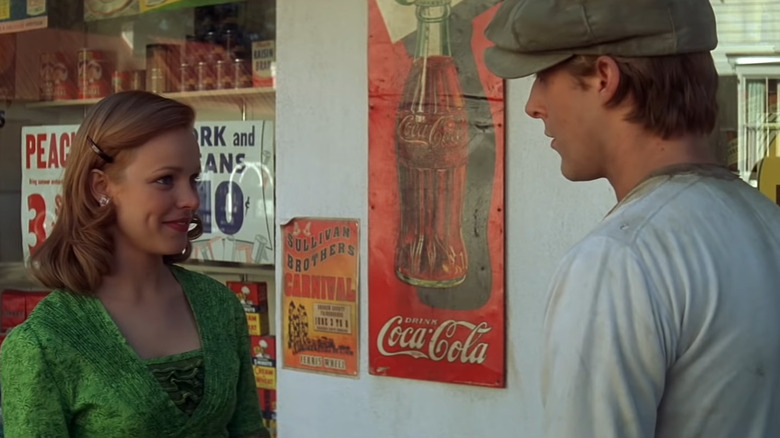 New Line Cinema
While the 2000s were light on films built around a grand, sweeping romance, some filmmakers did dare to make movie in the genre that were about more than the lead couple having a misunderstanding that resolves itself thanks to a mad dash to the airport. "The Notebook," based on the 1996 novel by Nicholas Sparks of the same name, aims higher than being a simple rom-com.
Noah Calhoun (Ryan Gosling) is a poor lumber mill worker who dares to pursue a romance with rich heiress Allison "Allie" Hamilton (Rachel McAdams) in 1940s South Carolina. Despite his humble background, Noah is aided greatly in his wooing of Allison by the fact that he looks like Ryan Gosling. Despite being in love, the duo's romance is beset by Allie's parents trying to break them up and the looming advent of World War II. But how does the elderly couple in the opening play into all this? Well, you'll just have to watch to find out.
With the plot telling a complex story spanning different generations, it's left up to Gosling and McAdams to keep audiences hooked to their star-crossed romance, and the actors rise magnificently to the occasion by giving serious heft and weight to the somewhat overdramatic storyline. "Now here is a story that could have been a tearjerker," Roger Ebert noted in his review of the film, "but — no, wait, it is a tearjerker, it's just that it's a good one."
Breakfast at Tiffany's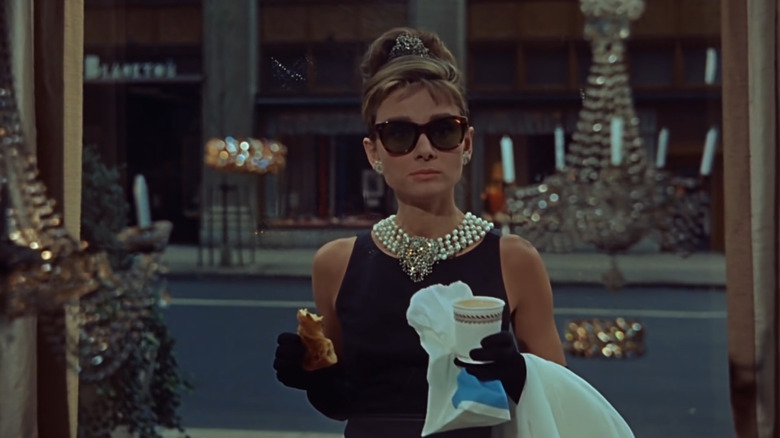 Paramount Pictures
Few romantic movies have become quite as iconic as "Breakfast at Tiffany's." Much of the shine bestowed on the production by critics and audiences alike is due to its leading lady, Audrey Hepburn, in a star-making role that's become a quintessential part of film history. 
Hepburn's Holly Golightly is seemingly a wealthy socialite. But the truth is her background isn't as elite as she wants the world to think, and her financial affairs are in an increasing state of disarray. Holly meets and is attracted to her new neighbor Paul Varjak (George Peppard), but instead of listening to her heart, Holly is determined to marry a rich man who could help her resolve her monetary issues. Will Holly ultimately listen to her head or her heart? (Hint: It's a romantic film, what do you think?)  
With that black Givenchy dress and the heartbreaking tune of "Moon River," "Breakfast at Tiffany's" has firmly become an all-time classic. Granted, the movie does have one glaring problem — white actor Mickey Rooney playing the Japanese Mr. Yunioshi, complete with stereotypical accent and offensive yellowface prosthetics. The film's producer Richard Shepherd admits in its 45th anniversary edition DVD release commentary (via Far Out Magazine), "If we could just change Mickey Rooney, I'd be thrilled with the movie." And if you want to just fast forward Rooney every time he comes on, you'll be thrilled with the movie too.
The Bodyguard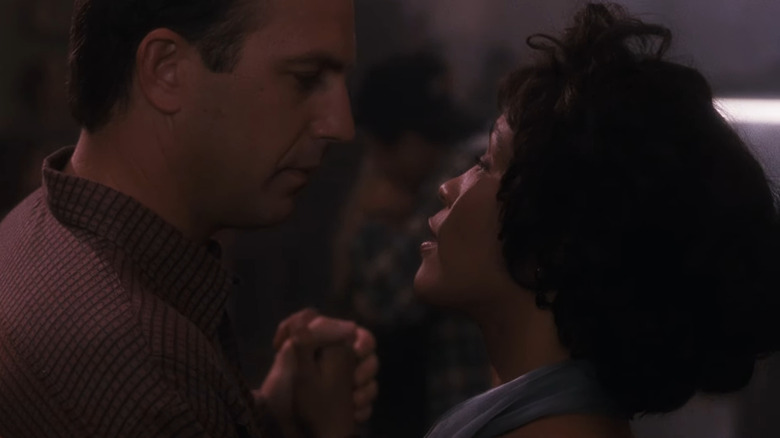 Warner Bros. Pictures
What if an ordinary guy dated a super famous celebrity? And what if there were a whole lot of shootouts and punching to boot? That's the high-concept idea explored in "The Bodyguard," which sees the effective pairing of Kevin Costner opposite Whitney Houston at the height of her fame as a singer-actress.
Costner plays the role of Frank Farmer, a former member of the U.S. Secret Service who now makes a living protecting individuals as a freelancer. Houston is Rachel Marron, a popular singer and performer who's also been nominated for an Oscar for Best Actress. When a stalker threatens Rachel's safety, Frank is hired to look after her. While Frank takes his job seriously, Rachel resents being watched over so closely. An unspoken attraction between them makes things even more complicated as Rachel's life turns out to be in more danger than anticipated.
"The Bodyguard" puts a big emphasis on the action, with Frank's attempts to keep Rachel safe. But we wouldn't care about all the danger if it weren't for the chemistry between Houston and Costner. To paraphrase the singer herself, we will always love "The Bodyguard," and it's definitely worth seeking out if you want the kind of sweeping action and romance that we rarely see anymore.
Sweet Home Alabama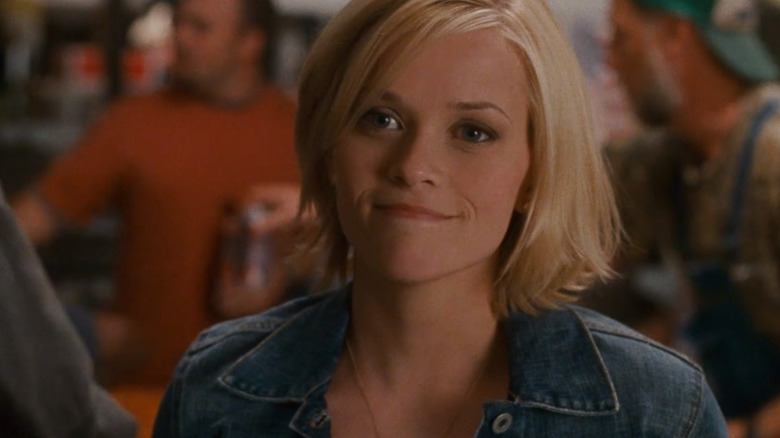 Touchstone Pictures
Fresh off the success of "Legally Blonde," Reese Witherspoon delighted audiences again with 2002's "Sweet Home Alabama." In the film, she plays Melanie, a hotshot fashion designer living in New York. Coming from a poor family down south, Melanie is ashamed of her roots and tries to hide her background from her social circle. However, she's forced to go back to her Alabama hometown to get a divorce from her secret husband, Jake (Josh Lucas), so she can finally be free of her small-town legacy. But matters are complicated when Melanie realizes what saying goodbye to her hometown would mean ... and that her feelings for Jake are stronger than she'd anticipated. 
As with "Legally Blonde," much of the success of "Sweet Home Alabama" rests on Reese Witherspoon making her character actually likeable despite Melanie acting like a spoiled, ungrateful person at some points. And while the film's Rotten Tomatoes score isn't the most impressive, almost all the critics agree that Witherspoon is an absolute delight, brimming with energy and charm. The supporting cast — featuring the likes of Patrick Dempsey, Jean Smart, Mary Kay Place, Fred Ward, Melanie Lynskey, and Candice Bergen — is also pretty darn delightful.
Bridges of Madison County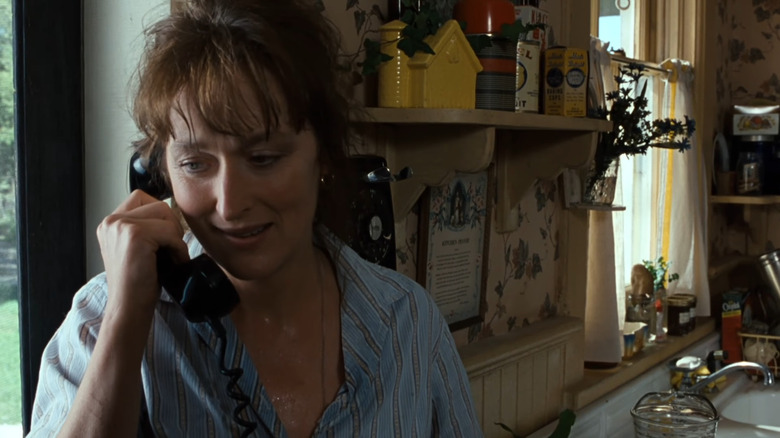 Warner Bros.
While Meryl Streep is best known for playing in hard-hitting dramas a la "Silkwood" and "Doubt," she's dipped her toe into the romance genre from time to time with impressive results, such as 1992's "The Bridges of Madison County."
The actress plays the role of Francesca, a World War II Italian war bride who was compelled by desperate circumstances to marry Iowa farmer Richard (Jim Haynie). Unhappy in her marriage, Francesca finds her passions stirred by Robert Kincaid (Clint Eastwood), a photographer who comes to the farm looking for inspiration for his next assignment. Francesca and Robert have a brief but passionate affair, and Francesca must now decide whether she wants to leave her family with Richard behind to take a chance on starting a new life with Robert. 
"The Bridges of Madison County" offers no easy answers to the dilemma facing its main characters, which means the ending is a lot more bittersweet than your typical rom-com looking to end with a happily-ever-after. Naturally, Streep's performance is a highlight of the movie. The actress was nominated for an Academy Award for her role as Francesca, while the combined star power of Eastwood and Streep helped the film win big at the box-office.  
Cocktail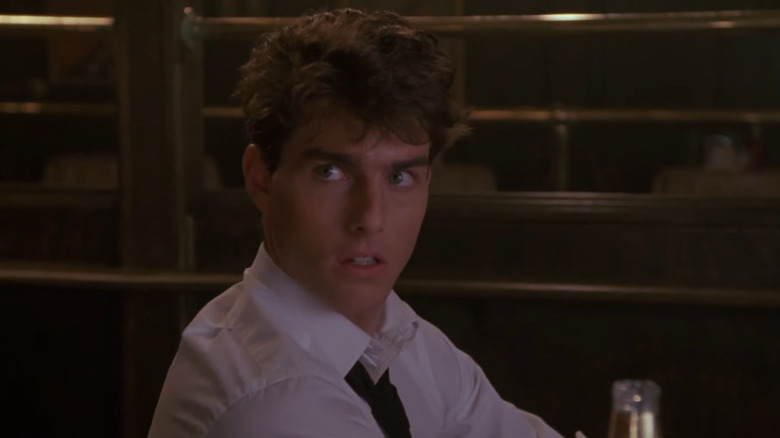 Buena Vista Pictures Distribution
Decades before Tom Cruise became everyone's go-to definition of an action star thanks to the "Mission: Impossible" films, the actor started out his career with a string of well-received roles in dramas and romances. One movie that majorly cemented Cruise's status as a heartthrob at the time was 1988's "Cocktail." Here, the actor plays Brian Flanagan, a version of the "hotshot up-and-comer" character that he uses so effectively in movies like "Top Gun" and "Jerry Maguire."
Brian dreams of becoming a high-powered executive in New York while working as a bartender at night and attending business school. Brian's talents as a bartender and his attractive personality bring a lot of women to his doorstep. Now, he has to decide whether he wants to have a meaningful relationship with a woman he genuinely loves or whether he should try to find a woman who can bring him the wealth and status he so deeply desires. 
The romantic politics of "Cocktail" would raise more than a few eyebrows by the standards of modern film audiences. But as messy as Brian's various affairs become at times, Cruise does a good job of keeping his character likeable and edgy. Thanks to his star-power, "Cocktail" became a big hit at the box office and gave a boost in popularity to the bartending technique of "flairing" that Cruise's character uses in the film.     
A Walk in the Clouds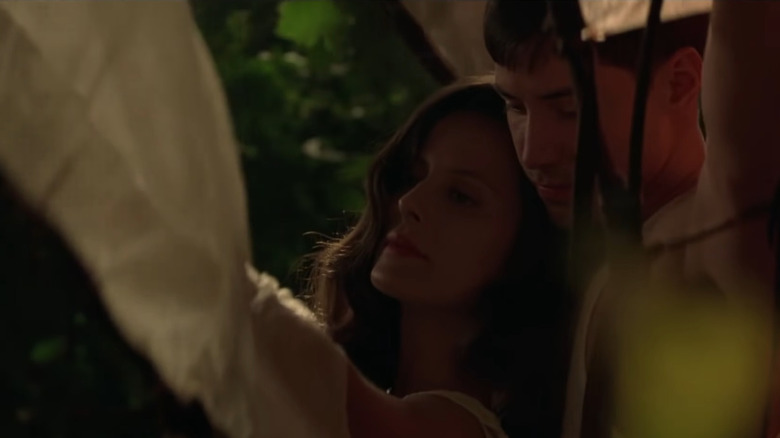 20th Century Fox
Keanu Reeves made his start in Hollywood as a heartthrob before turning into an action star with "The Matrix" and "John Wick." And in 1995, Reeves starred in "A Walk in the Clouds," an adaptation of the 1942 Italian film "Four Steps in the Clouds," which takes a look at love in the time of war and hardships. 
Reeves plays the role of Paul Sutton, a former sergeant in the U.S. Army who returns home after World War II. Paul had impulsively married Betty (Debra Messing) before leaving for the war, and he discovers upon his return that they're not as compatible as he'd hoped. Trying to find a regular profession, Paul embarks on a journey where he meets pregnant train passenger Victoria Aragon (Aitana Sánchez-Gijón). Paul agrees to pretend to be Victoria's husband in front of her strict family, and as Paul and Victoria feel a growing attraction, thoughts regarding Betty plague Paul's conscience.     
The high-end melodrama of "A Walk Among the Clouds" divided critics over the film's merits, but Roger Ebert gave the movie a rare four stars rating, declaring, "'A Walk in the Clouds' is a glorious romantic fantasy, aflame with passion and bittersweet longing," while noting that, "One needs perhaps to have a little of these qualities in one's soul to respond fully to the film."  
Titanic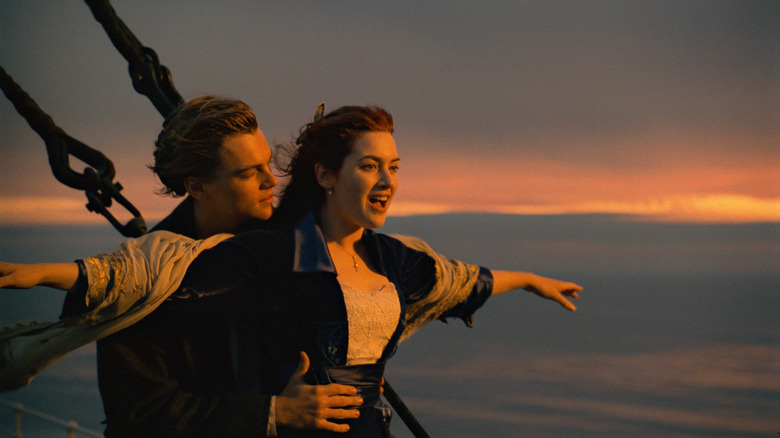 Paramount Pictures
By the '90s, James Cameron had established himself as one of the best action filmmakers in Hollywood, following the success of the "Terminator" franchise and "Aliens." Little did audiences know that the guy who could direct action scenes unlike anyone else would also make one of the most popular romantic films in the history of Hollywood with "Titanic." 
Rose (Kate Winslet) is the daughter of a high-class family, and her mother wants her to marry the wealthy Cal (Billy Zane) to save them from financial straits. But Rose's life is turned upside down when she boards the biggest ship in the world, the RMS Titanic. There she meets the impecunious but charming vagabond Jack (Leonardo DiCaprio). Together, Jack and Rose embark on a passionate but forbidden romance, while the looming danger of an iceberg crash threatens to doom their young love. 
"Titanic" is generally considered one of the most successful movies ever made, breaking box office records around the world and amassing a staggering number of award nominations and wins. Despite being inspired by a real-life tragedy, the emotional center of the film is the fictional romance between Jack and Rose, which launched DiCaprio and Winslet into superstardom and made that "arms spread together" pose a staple for photographs of vacationing couples for the next two decades. 
Bridget Jones's Diary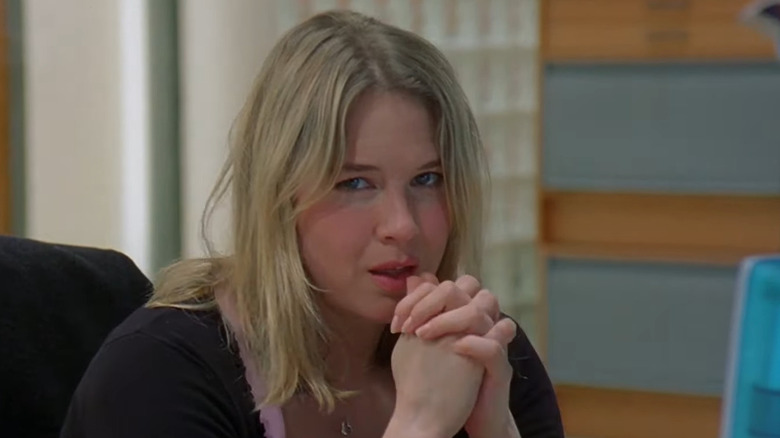 Miramax Films
When it comes to romance movies, Hollywood is very fond of adapting the works of Jane Austen, particularly "Pride and Prejudice." Writer Helen Fielding had a similar idea when she decided to adapt Austen's book with her own novel, "Bridget Jones' Diary," which Hollywood then decided to adapt with the 2001 film of the same name starring Renee Zellweger as the titular Bridget.
A single woman in her 30s, Bridget is worried about her weight, worried about her career, and worried she will never find a man to settle down with. In between fantasizing about her boss Daniel (Hugh Grant), Bridget meets Mark Darcy (Colin Firth). The two have a difficult time getting along at first, but gradually, the relationship ripens into something deeper, even as Bridget finds herself on the receiving end of a great deal of romantic attention from her employer. 
Funny, charming, and filled with affecting performances, especially from Zellweger, "Bridget Jones' Diary" is considered one of the best adaptations of Austen's work that Hollywood has ever pulled off. The success of the movie also spawned a rare franchise outside of the action-adventure genre with two sequels, "Bridget Jones: The Edge of Reason" and "Bridget Jones's Baby." 
Jab We Met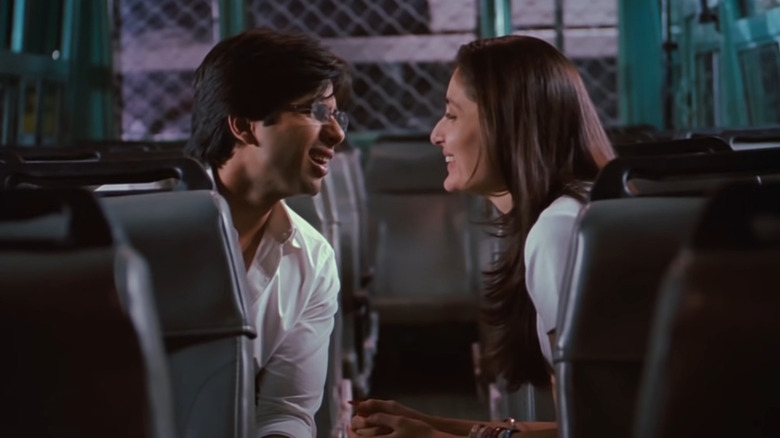 Shree Ashtavinayak Cine Vision Limited
Indian filmmaker Imtiaz Ali is well-known for making romance films about strangers meeting while travelling and falling in love through a series of shared adventures on the road. This formula used proves particularly effective in Ali's second film, 2007's "Jab We Met," the movie that basically laid the blueprint for his later works like "Tamasha" and "Highway."
"Jab We Met" starts with Aditya Kashyap (Shahid Kapoor), the son of a wealthy businesswoman who's suffering from depression over the end of a significant romantic relationship. Lost and despondent, Aditya randomly boards a train to take him away from his troubles. On the train Aditya meets Geet (Kareena Kapoor), a bubbly and talkative girl who's planning to elope with her lover. Aditya finds himself being unwillingly dragged into Geet's plans, and in the process, he starts to forget his own troubles while falling in love with Geet.
Briskly paced, with a memorable soundtrack and moments of genuine joy and pathos, "Jab We Met" relies a great deal on the sparkling chemistry between its lead actors. Aditya's evolution from a man lost in his own misery to someone who learns to live for others through his association with Geet plays out in a heartfelt manner thanks to Shahid Kapoor's performance, while Kareena Kapoor manages to make Geet into a character that can be grating and charming at the same time.   
My Sassy Girl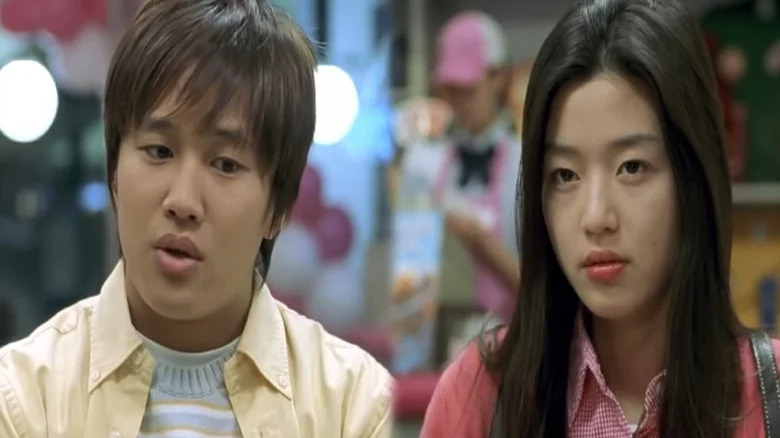 Communications IM Pictures
Today, Korean cinema is acknowledged to be a formidable creative force that can set box office registers ringing while also garnering critical acclaim from international circles. The "Korean wave" of cinema started to spread outside of Korea in the early 2000s, and one of the vanguards of the movement was 2001's "My Sassy Girl." 
Mild-manned Gyeon-woo (Cha Tae-hyun) is a college student who's being pestered into marriage by his family. A chance encounter at a train station brings Gyeon-woo across a girl (Jun Ji-hyun) who's drunk and close to passing out, and Gyeon-woo feels honor-bound to help the girl reach her apartment. As the unlikely friendship between Gyeon-woo and the unnamed girl develops, he finds himself ending up in all sorts of bizarre and uncomfortable situations. The main question of the story then becomes, can Gyeon-woo get over his feelings for the girl before she pulls him into a situation he cannot get out of?
Dirty Dancing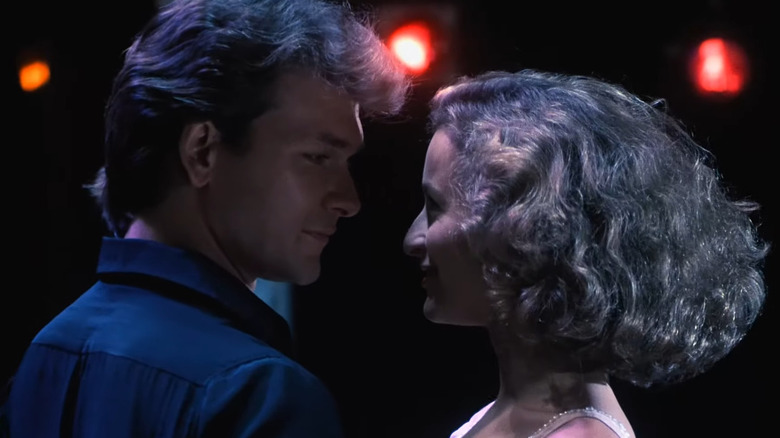 Vestron Pictures
There's something about seeing people from opposite sides of the track falling in love that makes romantic films like "Pretty Woman" particularly compelling. This law of "opposites attract" is used to great effect in 1987's "Dirty Dancing," as is the chemistry between its main leads Patrick Swayze and Jennifer Grey, coupled with one of the most iconic soundtracks ever heard in a Hollywood film. 
Frances "Baby" Houseman (Grey) is spending her holiday at an upscale Catskills resort with her wealthy and snooty parents. Baby is fascinated by the after-hours lives of the hotel's wait staff, particularly Johnny Castle (Swayze), the hunky dance instructor. A subplot involving a pregnant friend leads to Baby and Johnny becoming dance partners, during which they discover a mutual attraction that threatens to spill over into the public sphere where it can ruin both their reputations. 
Best remembered for its dance sequences between Baby and Johnny, "Dirty Dancing" is the kind of old-school Hollywood romance that rarely gets made anymore. The chemistry between Swayze and Grey as Johnny and Baby carries the whole film, leading up to a sweeping climactic dance scene.