Blue Bloods Fans Have Some Brutal Opinions About Margaret Dutton
Michael Loccisano/Getty Images
The CBS police drama "Blue Bloods" has a wide variety of characters in many different positions, allowing the show to explore all the various aspects of New York City and the perspectives that go along with them. One of the positions often portrayed many times is the mayor of the Big Apple. And of the actors who have had the pleasure of running New York from the mayor's office is Lorraine Bracco.
Bracco is an actress with a long list of appearances in films and TV shows going back to the late 1970s. She is best known for her role in Martin Scorsese's gangster masterpiece "Goodfellas," where she played Karen Hill. She wasn't finished with the gangster life as she later appeared in 71 episodes of "The Sopranos" as Dr. Jennifer Melfi. After taming Ray Liotta's Henry Hill and serving as Tony Soprano's therapist, there was nothing she couldn't do in the gangster world.
Of course, a consummate professional like Bracco isn't satisfied with only one kind of role; therefore, she built a career of more than 60 credits so far, spanning all genres. In 2017, she appeared in five episodes of "Blue Bloods" as the interim mayor of New York, Margaret Dutton. Her time on the series was short-lived, and judging by many of the fan's responses to her, it isn't hard to see why.
Mayors typically go toe-to-toe with Frank Reagan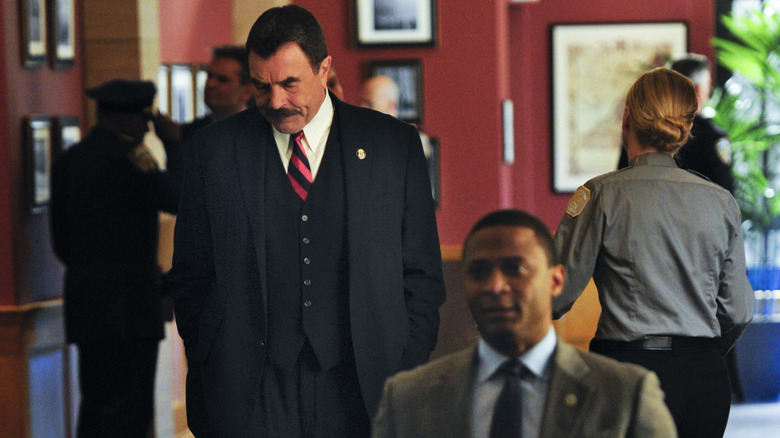 John Paul/CBS
Lorraine Bracco, as Margaret Dutton, spent her time going head-to-head with Frank Reagan (Tom Selleck). In fact, in her first appearance, she threatened to fire Frank from his job as police commissioner. Luckily for Reagan and his team, they discovered she didn't have the power to do so. But this wasn't a new idea for "Blue Bloods."
Dutton wasn't the first mayor to butt heads with Reagan. Frank Russo (Bruce Altman) began the series in the mayor's office and debated with Frank nearly every time he appeared. His political aspirations were No. 1 in his mind, and despite any facts presented, he never relented on bending to the winds of political change. He was followed by Mayor Carter Poole (David Ramsey), who brought a more nuanced character to the office. While they had their fair share of conflicts, the pair became very adept at finding a middle ground. Poole seemed to understand that running a city and policing the city called for two different approaches. Their relationship seemed to blossom to the point that Frank was sad to see him go when he decided to step down. 
Dutton stepped up as the interim and bridged the gap from one elected mayor to the next, deciding not to run for a full term and turning the office over to Peter Chase (Dylan Walsh). While Chase's first order of business is to cause a rift between the Reagans by convincing Erin Reagan (Bridget Moynahan) to run for New York City district attorney, some fans were ready to see Dutton move on.
Some fans believe Margaret Dutton is a terrible character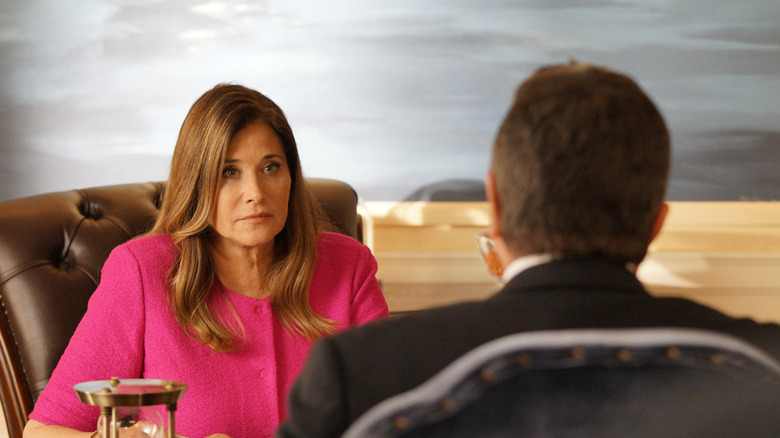 John Paul/CBS
For only appearing in a total of five episodes, Dutton found a way to seek out the ire of fans. u/ADPL34 posted a comment on Reddit showing how much they despised the interim mayor, "Creating unnecessary problems by talking about everything she doesn't know. Always step on the NYPD's toes before they can figure out what actually happened," they wrote. It was evident from the moment she took office that she wasn't as familiar with police procedure and often had a tendency to hold press conferences and speak on matters by shooting from the hip.
u/lachavela responded that they believed the character was meant to be parallel to people who hold power but don't know how to use it. They think she wants to create a change but doesn't have all the facts to be able to do so. u/BuffytheBison believes the exact opposite. In their response, they asserted that the character wasn't intended to be written as a parallel to anything purposefully, but more that bad writing caused them to miss an opportunity. While "Blue Bloods" attempts to approach law enforcement from all perspectives, they arguably miss the mark when writing opposing positions and did so constantly with Mayor Dutton.
The fans weren't the only ones who didn't like the interim mayor. In a scene after a police shooting left an officer dead, she appeared to pay her respects, only to have the entire force literally turn their backs on her. It isn't easy to be hated by all the other characters and the people watching the series. Still, her portrayal as Margaret Dutton showed how good of an actress Lorraine Bracco is at eliciting your emotions.