The Blue Bloods Character That Fans Are Really Starting To Miss
There are plenty of reasons to continually enjoy over 200 episodes of the Emmy-nominated series "Blue Bloods," and one of the many justifications to back up this bold claim is, without a doubt, the compelling characters the CBS crime drama has on the roster. There is no shortage of intriguing personas that enter the frame in every entry, and certain fans may find it difficult to point out which individual on the show is the best to root for. Meanwhile, others have a pretty good idea of who they would consider worthy of the coveted fan-favorite status.
It's no secret that Commissioner Frank Reagan (Tom Selleck), ADA Erin Reagan (Bridget Moynahan), and the rest of the Reagan family rank high within the fandom of "Blue Bloods." But it isn't just the first family of the hit CBS crime drama that is highly adored, as many followers of the series enjoy some of the personas that aren't members of the Reagan criminal justice dynasty. Detective Anthony Abetemarco (Steve Schirripa) has proven to be an undeniable winner with viewers, and some people have expressed interest in Detective Abby Baker (Abigail Hawk) getting more screen time on the series.
Fans even love it when recurring characters come back after a hiatus from the show, like the return of Jack Boyle (Peter Hermann) in Season 13. But there is one personality that fans definitely miss and would like to see back in action on "Blue Bloods."
Fans of Blue Bloods miss Anthony Renzulli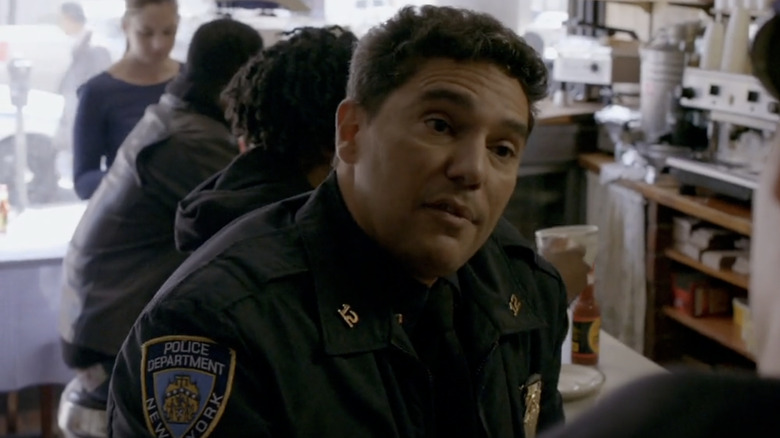 CBS
Nick Turturro was last seen as Sergeant Anthony Renzulli in Season 6, Episode 12 ("Cursed"), and ever since his departure, certain fans have felt there is a Renzulli-sized void they want to be filled. On Reddit, u/sevenpastzeero asked if anyone else missed Sergeant Renzulli, saying, "I know his story arc served its purpose. But I really liked him and his dynamic with Jaime. I really wished they would [bring] him back as a Captain of the precinct or something." Several users strongly agreed the character should return in some way, with u/JerseyJedi saying, "I wish he'd guest star again." And u/LennyMcCartney65 commented, "I'd love to see him come back."
It's clear Turturro enjoyed the part, previously indicating he'd be interested in getting his own spinoff in a tweet from 2013. But, on his podcast "Breaking Bread with Nick Turturro" (via YouTube), he mentioned one of the factors that led to his exit: "After a while, you do hit like spots where you feel, like, 'Wow, I'm kinda stale' ... I [thought] that way on 'NYPD Blue' after a while where you felt like, 'Wow, I've done these scenes;' how do you keep it? You have to try to keep it fresh." 
Another reason for Turturro leaving "Blue Bloods" is the fact that his schedule was always pretty stacked, and the actor has a vast array of credits in both movies and television under his belt. Out of all his roles, many will always remember his tour of duty on "Blue Bloods" as Sergeant Anthony Renzulli.