The Side Character That Blue Bloods Fans Would Like To See Get More Screen Time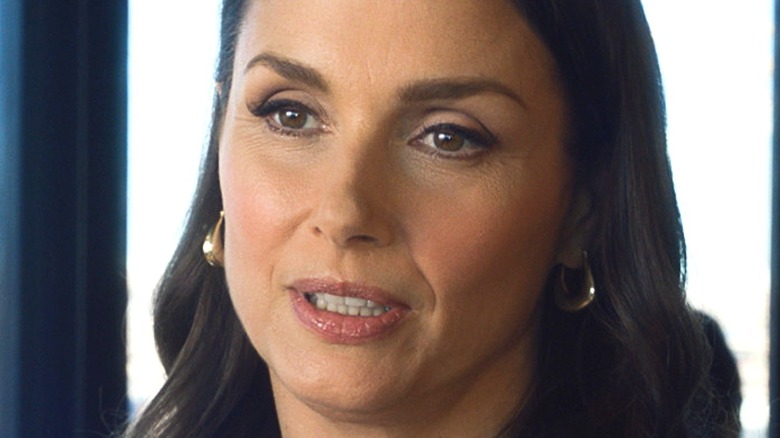 CBS
CBS's successful crime drama, "Blue Bloods," has been beloved enough to persevere for over a decade. The stories of Frank Reagan (Tom Selleck) and his children — Danny (Donnie Wahlberg), Erin (Bridget Moynahan), and Jamie (Will Estes) — defending New York have endeared the dutiful family to scores of audiences every week. But the Reagans aren't the only driving force in the series. Throughout the seasons, many different characters have shown up to support the family and their quest to rid the city of the worst of the worst.
Of course, the nature of side characters is that they don't get much screen time. Some can come in and out, serve their purpose, and are gone without so much as a second thought. Others can show up, rattle the viewer, and enthrall them to the point that they clamor for more. Hence the question posed by Redditor u/ohlordwhyisthishere: "Which side character should get more screen time?" 
They followed up the question with a poll so their fellow fans could make their voices heard. The selections they presented were Abigail Baker (Abigail Hawk), Anthony Abetemarco (Steve Schirripa), Rachel Witten (Lauren Marie Patten), Maria Baez (Marisa Ramirez), Sid Gormley (Robert Clohessy), and Garrett Moore (Gregory Jbara). All of these characters would make fascinating solo episodes. But which one do the fans want more of?
Fans want more Abigail Baker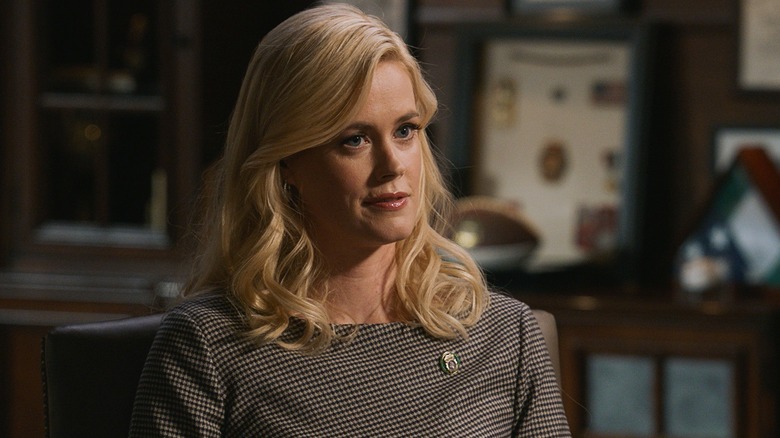 CBS
When we say fans want more of Abigail Baker, we mean it wasn't even a contest. Of the 184 votes cast in the poll, Baker landed nearly half of them at 81. In fact, she scored more votes than the next two combined (Abetemarco with 38 and Baez with 34). Sid Gormley came in fourth with 13, while Rachel Witten picked up 12 votes of her own. And only six fans want to see more of Garrett. The prevailing feeling among fans, as u/drainspout said simply, appears to be, "Baker!!!"
It isn't hard to see why 44% of voting fans want to see more of Baker. Since the pilot episode, she has been a trusted confidant of Frank Reagan. She is intelligent, capable, and fearless. She speaks up when needed, but also knows when it's best to stay quiet. Out of all three of Frank's inner circle, she is the only one who constantly seems sure of herself and comfortable in her own skin. She belongs there, and nobody has to tell her. She knows it. 
As for what it might mean for Baker to get some more screentime, well, Abigail Hawk herself has some ideas. During an interview with Showbiz Cheatsheet, Hawk was asked about what else she'd like to see from her character. "I would love to gain some insight into her home life," she said. "We know her husband, a fellow cop, was shot and survived but was there permanent damage? Is he still on modified assignment? How has this traumatic experience changed their marriage? Their parenting?"
While Season 12 did investigate the Bakers' marriage in a bit more depth, with a character as rich as Abigail, there still remains plenty to explore. 
There is a deep roster of side characters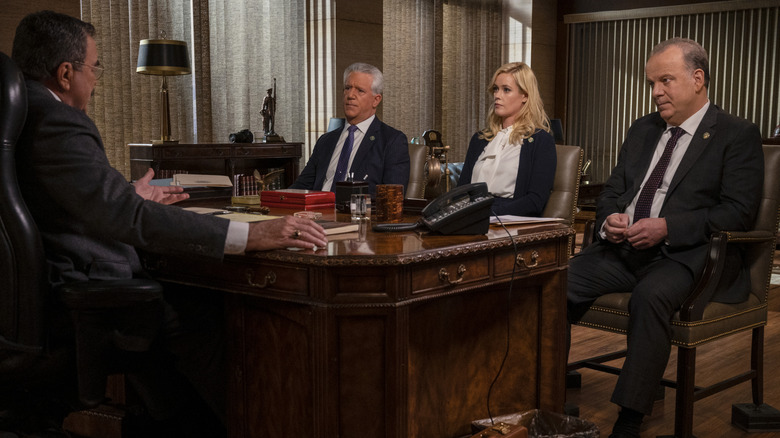 John Paul Filo/CBS
Although Abigail Baker was the runaway winner of the poll, there was a lot of general interest in the comments in seeing more from a variety of the "Blue Bloods" side characters. In fact, u/TalesToAstonish even suggested, "I know this show is about the Reagans, but I'd love to see a 'lower deck' episode where we see them from the perspective of the supporting characters."
With Baez being by Danny's side each week for the investigations, it's likely that any episodes centered on her wouldn't really break away from the Reagan focus. As for Baker's cohorts at 1 Police Plaza, each has had their own moments in the spotlight. Garrett got himself into trouble multiple times, once when a woman in Atlantic City was blackmailing him, and once when he appeared to be taking payouts. Sid was forced early on to face a fellow officer quasi-illegally making money in the real estate business and became the victim of a beating outside his home. That leaves Officer Whitten and Anthony Abetemarco.
Officer Whitten seems like she is Janko (Vanessa Ray) 2.0 in many ways. She is a young female officer facing many obstacles and roadblocks in her first few years. While Janko may have avoided a lot of what female officers may face due to her proximity to a Reagan, it would be interesting to see a few episodes showing a more realistic take on women on the force. For Abetemarco, we know very little about him other than his time with Erin. As u/Phantommike20 wrote, "I want to see more of Anthony Abetemarcos love life for sure."
With all the possibilities facing the writers, though, it seems obvious the priority from viewers is on Baker.